The Foxes won the Premier League in 2016 but the current side is performing at an even higher rate
16:00, 07 Dec 2019
Leicester won the Premier League title against all the odds in one of the most epic seasons. It had to be seen to be believed.
It was a complete fairytale but, fast forward four years and they are right up there again.
Could the unthinkable really happen again?
Yes, they trail leaders Liverpool by eight points but they are contenders, serious contenders.
Back in 2016 when they lifted the famous trophy, they had been tipped for relegation at the start of the season, having only stayed up after winning seven of their last nine games in the previous campaign.
However, under the affable Claudio Ranieri, and the pursuit of a Jamie Vardy scoring record acting as a catalyst, the Foxes created history.
N'Golo Kante, plucked from the French second division, enjoyed one of the most influential seasons seen, the evergreen Wes Morgan formed a colossal centre-back pairing with Wes Morgan, Vardy scored and scored and scored
They fought, they scrapped and they were a machine. Most importantly, they believed.
Under Brendan Rodgers, they believe again.
Now, they are polished, they entertain and go toe to toe with real genuine quality and attacking verve.
They can play better football than much of the league. They are superior on current form to Manchester United, Arsenal and Chelsea.
Leicester are modern, ultra-modern. With Rodgers, they boast one of the most forward-thinking coaches in the game and his appointment was a masterstroke.
The Northern Irishman has nurtured a good squad into a quality side.
2019-20 - In comparison with their title-winning campaign in 2015-16, Leicester City are currently posting superior numbers this season on a per game basis across the following metrics: Goals, Goals Conceded, Shots, Shots Faced, Possession and Points. Impressive.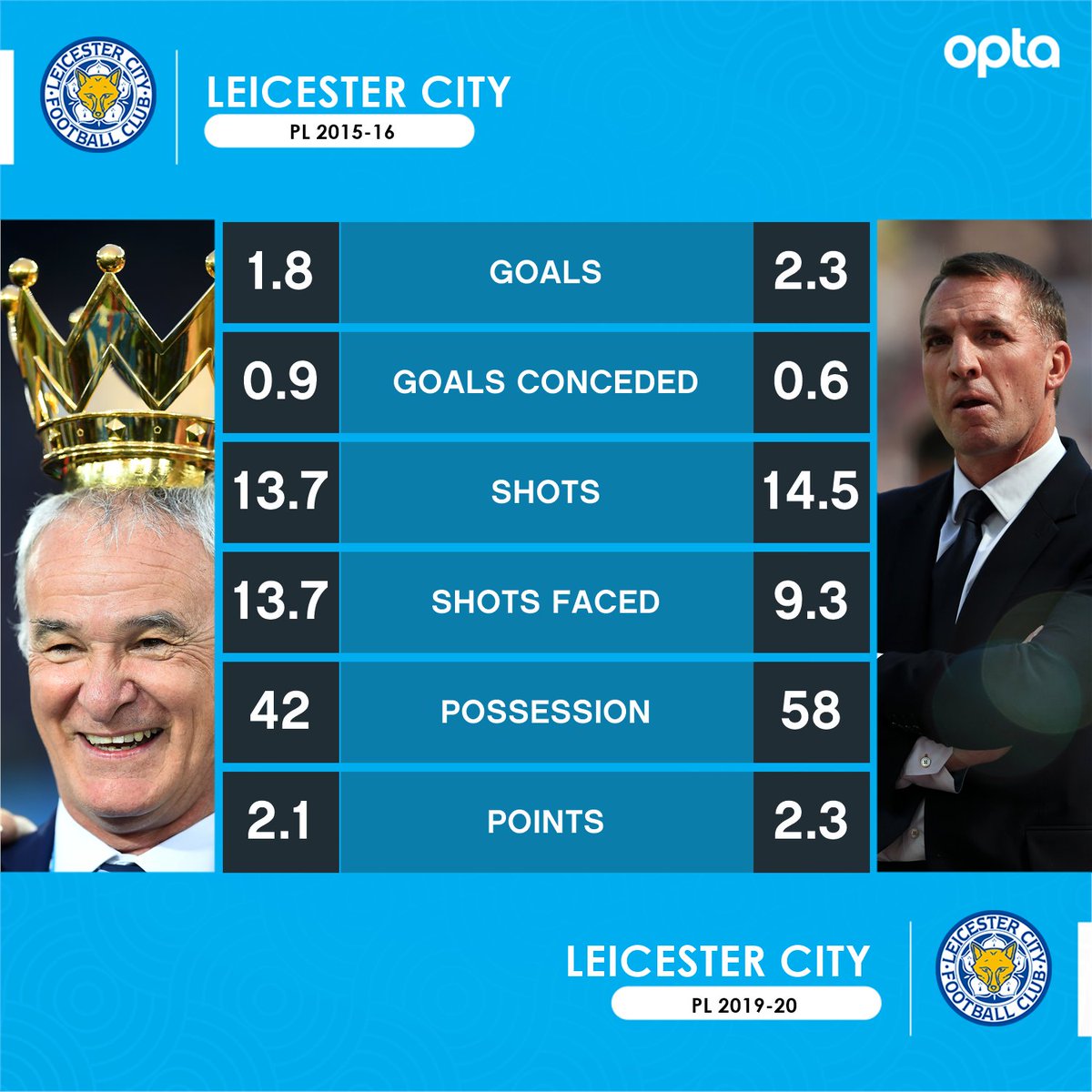 Their full-backs maraud forward as prime examples of how the game is played in 2019.
Ben Chilwell and Ricardo Pereira, are just as important in attack as they are defence, perhaps more so.
James Maddison and Youri Tielemans are the creative hub while the rangy, imposing Wilfred Ndidi shields and recycles the ball like Kante.
Jonny Evans and Çağlar Söyüncü are bold in the tackle, dependable and can play too while Vardy and goalkeeper Kasper Schmeichel are as good as four years ago. One keeping goals out, another desperate to score them.
Under Ranieri, Leicester won at all costs, not fazed by only a slender margin. A win was a win on their crusade for glory.
Now, they are rarely satisfied as evidenced in their stunning 9-0 romp against Southampton at St Mary's. Against Everton, they played to the bitter end and were rewarded with an injury-time winner.
It's been argued this side under Rodgers is in fact better than the team which won the title.
The stats back it up.
Ranieri's men scored 1.8 goals per game, Rodgers' side net 2.3. Today's side use attack as the best form of defence and concede 0.3 goals less than the 2016 team.
They boast more shots, way more possession and even have more points per game.
They look the real deal. They're not unlikely winners anymore, they're real competitors.
On Friday, Brendan Rodgers signed a new five-and-a-half-year deal and Leicester could really qualify for the Champions League again.
Foxes fans have already had the time of their lives but it seems the good times are back and here to stay.