Lennox Lewis Was Quick To Respond To The Jibe Too
12:34, 15 Aug 2019
The frosty relationship between former-heavyweight champions Lennox Lewis and Anthony Joshua appears to have hit a breaking point after the latter labelled Lewis a "clown."
The 'feud' between the two has been building for some time now with AJ previously drawing criticism from the last undisputed heavyweight champion of the world, for "chasing the money" and for not ditching long-time trainer Rob McCracken following his devastating loss to Andy Ruiz Jr. in June.
Speaking on Sky Sports documentary AJ: The Untold Truth, Joshua said: "Lennox is a clown. I don't respect Lennox.
'Me and Lennox are not the same. My legacy is to sit back and enjoy the younger generation coming up, and not to be involved. Just to appreciate what it takes to get there."
It didn't take long for Lewis to respond to the barb and he placed some blame on Joshua's promoter, Eddie Hearn, who, he claims, is portraying him as a "jealous hater" in a bid to boost AJ's career.
Speaking on Twitter he said: "Wow! He's right! We ARE cut from a different cloth. Undisputed wasn't something I "worried" about. It was something I went after until it was accomplished!"
He added: "Disappointed in AJ's words but I understand that this "jealousy" narrative was only fabricated AFTER I criticized them for Wilder negotiations. All of the sudden I'm a hater. Ask who benefits from such a simple-minded narrative? Not AJ. Not me."
I think this speaks for itself. Casting me as a "jealous hater" for AJ's career is nonsense. It all started with rightful criticism for not doing enough to make wilder fight happen. I won't be pitted against AJ.
#TheHearnAgenda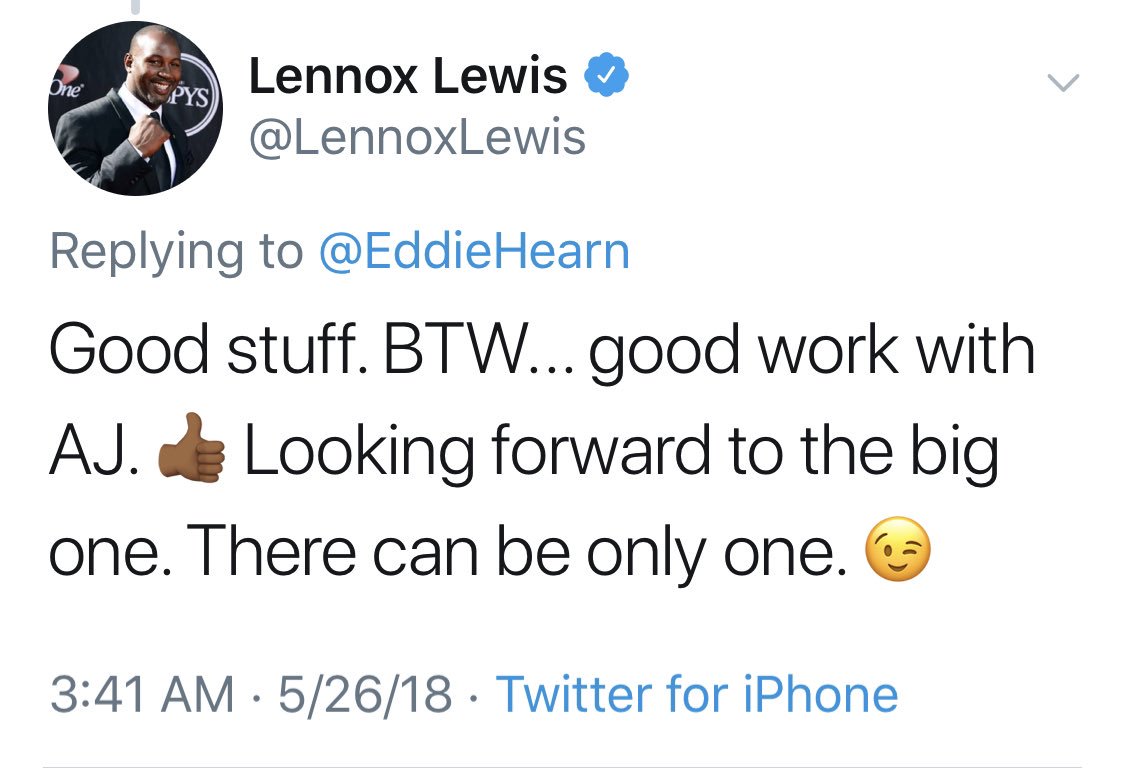 Meanwhile, Joshua looks set for a rematch with Andy Ruiz Jr on December 7 but despite claims the bout is set for Saudi Arabia, Ruiz is adamant the fight will be held Stateside.
Speaking on Instagram yesterday, the IBF, WBA, WBO and IBO champion said: "Of course [I'm taking the rematch] but it's going to be on our terms; we're going to bring it back to the United States."
Hearn responded by saying that the 29-year-old could face legal action if he doesn't accept the terms.