Leonardo Spinazzola Realises His 'Dream' Of Joining Juventus Squad
19:00, 25 Jul 2018
There is no doubt that everyone was rocked by Cristiano Ronaldo's arrival at Juventus, the deal bringing the Portuguese star from Real Madrid to Turin instantly altering the landscape of European football completely. The Bianconeri are now legitimate Champions League contenders, while the attention and media spotlight shone upon the Serie A club was brighter than it had been in decades.
Such was the interest in Ronaldo's unveiling that the media gathering had to be moved from the usual spot of the press conference room at Juventus Stadium, to the "Gianni and Umberto Agnelli Club" upstairs. With reporters from across the globe crammed into the luxurious lounge, images of the new no.7 were shown in thousands of countries and his words repeated in countless reports of a day that will long be remembered.
However, later that same week normal service was resumed as Leonardo Spinazzola took his turn to speak to reporters. Dressed in a club suit, he – much like Ronaldo – could not stop smiling as he fielded questions, but while his famous new team-mate clearly revels in being the centre of attention, there was something childlike about the 25-year-old's demeanour throughout.
While hailing from Umbria, there is little doubt he is a life-long Juve fan, joining the club's youth sector back in 2010 after first coming to prominence with Siena. Having won various honours with the Bianconeri Primavera (under-19's), Spinazzola was then sent on a seemingly endless list of loan spells, spending time with Empoli, Lanciano, Siena (again), Atalanta, Vicenza and Perugia.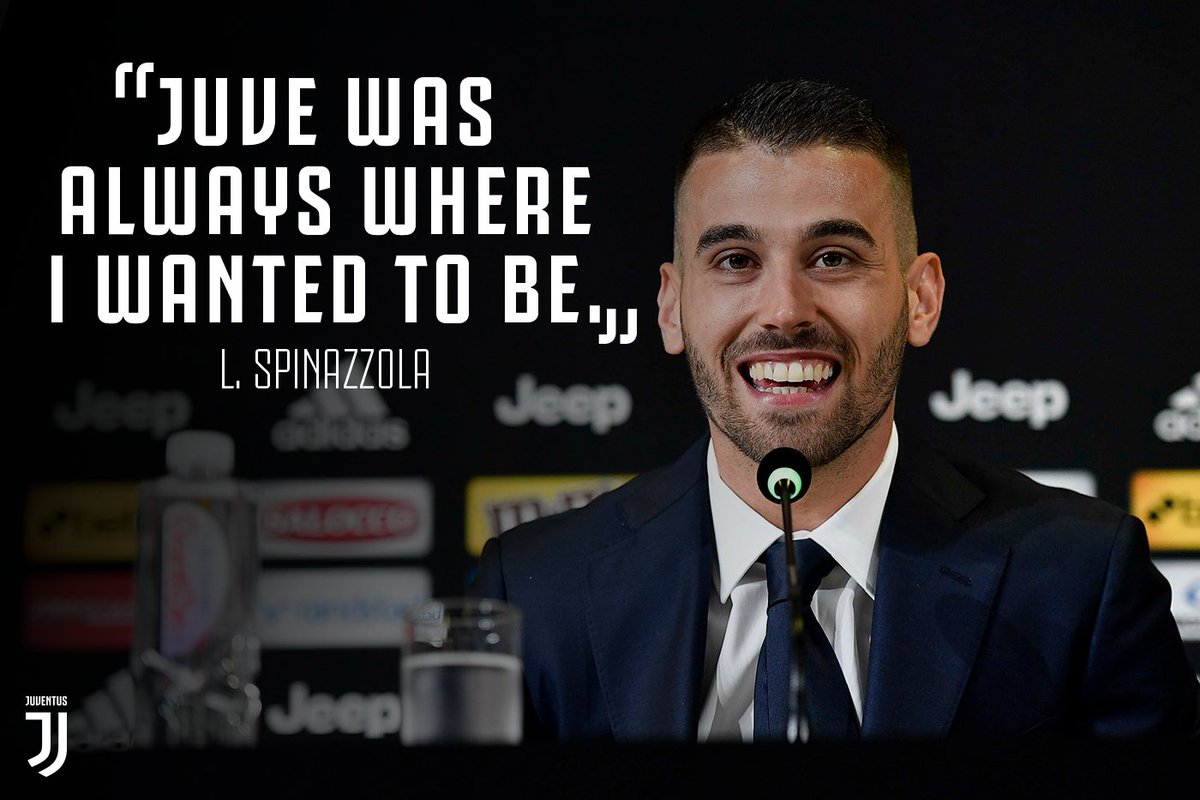 Playing in midfield, on the wing and occasionally in attack, the last of those temporary moves saw him take a major step forward, his performances for Serie B side Perugia convincing top flight outfit Atalanta to give him a chance. They agreed a two-year loan with Juve, believing that Spinazzola could fill a void at left wing-back, a role he had only become familiar with the season before, Pierpaolo Bisoli testing him there over the full 2015/16 campaign.
"He helped me grow in terms of concentration and in thinking properly, but he also converted me into a full-back," Spinazzola told the Corriere della Sera when asked about the Perugia Coach's influence. "It's my preferred role because I have enough space in front of me to get out and run, and there I can use what I learned back when I used to be a winger in the youth teams."
But in that same interview he reserved special praise for Atalanta's Gian Piero Gasperini, who helped instil a confidence and work ethic in a player who grew dramatically under his guidance. "Every day destroys us," Spinazzola continued, "but that's okay because on Sunday your legs never give up and you want to show that all the effort of the week was worth something!"
Spending time with Gasperini at the Zingonia training ground, the two also focussed on how to negate his direct opponents, and the player undoubtedly took those lessons into his matches. In over 57 appearances for Atalanta, Spinazzola weighed in with nine assists, but made an even greater impact on his own reputation, including making his full Italy debut in March 2017.
The following summer he was part of a tug-of-war between the Bergamo-based side and Juve who wanted their player back, Atalanta rightly digging their heels in and insisting he finished the second year of his agreed spell with them. That meant a continental bow and six outings in the Europa League last term, Spinazzola impressing against the likes of Lyon and Borussia Dortmund while continuing to pick up caps for Italy.
A torn ACL disrupted his summer, but he seems on the road to recovery and could not be happier to finally be part of the Juve squad. "It's a dream for me, I've had to wait such a long time and I'm so happy for this," he said at the aforementioned press conference. "Last year, I really tried hard to make the move happen and didn't want to miss the opportunity, but Atalanta told me I needed to stay and I was happy to stay where we had a great season also with Europa League which was positive for the whole team.
"I have to thank the whole club, Gasperini and my teammates for two great seasons. Without them, I may not be here now. I have to thank Juventus too who has been waiting for me a long time as well. I'm just very emotional and excited."
With Spinazzola expected to remain sidelined until at least October they'll have to wait a little longer but, having allowed Kwadwo Asamoah to leave, it seems Spinazzola has finally won the faith of the Bianconeri. It is easy to see why given he averaged 0.8 tackles, 2.1 interceptions and 2.2 clearances per 90 minutes last term, as well as completing 2.3 take-ons and creating 1.1 scoring chances per outing according to WhoScored.com.
Those figures underscore his abilities at both ends of the field, and having waited six years and endured all seven of those spells away, he will finally be given his chance to shine in black and white. However, he will do so wearing no.37, as he admitted with great delight (and a good self-deprecating laugh) at his media unveiling, that his first choice – the no.7 – "was already taken!"
Leonardo Spinazzola might not be Cristiano Ronaldo, but he's just as happy to be playing for Juventus, no matter what number is on his shirt or how many reporters were at his press conference.