Keep up to date with the latest football news on our LIVE blog!
08:43, 29 Sep 2022
Last Updated: 15:16, 29 Sep 2022
It's Thursday, which means that there's not too much on the TV in terms of football tonight, but there is a clash between Everton and Leicester in the Women's Super League. Stick with us throughout the day as we'll be updating the blog with the latest news from the world of football.
Money spent on injured players table
This is The Telegraph's table of the Premier League's highest spenders on injured players.
🚨💰 The Premier League clubs who suffered the most injuries and illnesses last season according to a new report from an insurance broker, along with the amount of wages paid out during absences.
@TeleFootball
#MUFC
🔴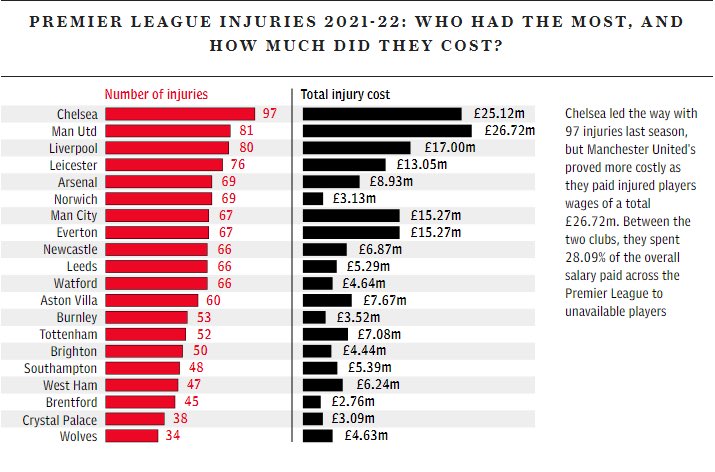 Injury Update (MCR Derby)
It was confirmed earlier that John Stones and Harry Maguire had picked up thigh injuries with England and that they would miss their next game for their clubs upon returning. In addition, Marcus Rashford and Anthony Martial are also doubts for Sunday's game with both players reportedly missing training this week.
Emile Smith-Rowe undergoes surgery
Arsenal's Emile Smith-Rowe has undergone surgery on a groin injury and will return to training in December.
Stones misses City training
John Stones is absent from Manchester City's training today, after he picked up an injury on international duty.
Bruno Bolchi passes away at 82
The first ever footballer to become immortalised as a Panini sticker, Bruno Bolchi, has passed away at the age of 82.
Nella notte ci ha lasciato all'età di 82 anni Bruno Bolchi, ex giocatore ed allenatore. Ricordato anche per essere diventato, il 27 agosto1961, il primo giocatore ad essere rappresentato in una figurina Panini.
Ciao "Maciste" 🖤