"It seems clubs are continuing to take advantage of travelling fans."
11:14, 17 Sep 2019
European football returns this week with a new cap on the price of match tickets for away supporters in UEFA's two major club competitions, the Champions League and the Europa League.
Last season, years of ticket price increases for travelling fans culminated in a scarcely believable zenith – or nadir – when Barcelona charged Manchester United and Liverpool supporters €119 in the Champions League quarter and semi-finals, prices as dizzying as the seats on the top tier of Camp Nou.
Earlier in the competition, United supporters had already been charged €85 away at Paris Saint-Germain, ten euros more than Bayern Munich supporters had paid in the French capital the season before.
That same year, the Bavarians were also charged €100 by Anderlecht, although the Belgian club were later instructed to reimburse some of the money after being found to be in breach of Article 19 of UEFA's Safety and Security Regulations which states that "the price of tickets for supporters of the visiting team must not exceed the price paid for tickets of a comparable category that are sold to supporters of the home team."
This season, following campaigning by Football Supporters Europe (FSE) and other club-specific fan groups, UEFA have capped the price of away tickets at €70 in the Champions League and €40 in the Europa League - figures based on the current price of a category 4 tickets for the finals of each competition.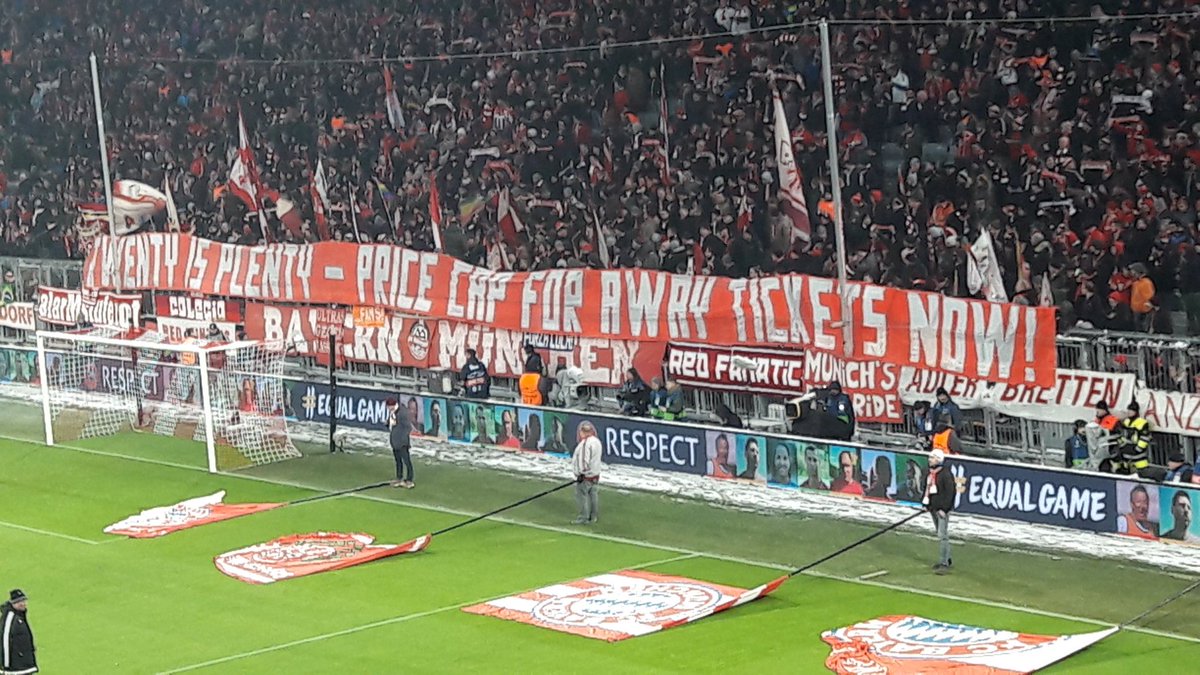 "Fans are the lifeblood of the game and those who follow their teams to away matches must have access to tickets at a reasonable price, bearing in mind the cost they have already incurred for their trip," said UEFA President Aleksander Ceferin.
"By capping ticket prices, we want to make sure that away fans can still travel to games and play their part in making the atmosphere inside football stadiums so special."
Fans groups across the continent have welcomed the caps but have lamented that they are still too high, while also expressing fears that clubs could view the caps as default benchmarks rather than an absolute maximum.
"This represents progress and we commend UEFA for their forward-thinking," said FSE executive director Ronan Evain, who led discussions with the governing body personally. "The cap will eliminate the most egregious cases of overpricing, but it is, in our opinion, still too high."
"We see this change as a first step," added the Manchester United Supporters' Trust (MUST).
"The level of the cap is excessive compared with the Premier League [£30] and new caps in the French [€10] and Dutch [€15] leagues and we are cautious of the risk that it becomes a default price for teams with significant away support."
Those fears have already been realised. For the second consecutive season, Liverpool have been drawn against Napoli in the Champions League group stage. The current holders have been allocated 2,558 tickets for the Group E clash at the Stadio San Paolo on Tuesday night, priced at £63/€70 each – ten euros more than what visiting fans were charged for the same fixture last season, and equalling the new maximum price cap.
Liverpool supporters' group Spirit Of Shankly said they were "outraged" at what they called an "abuse" of the new regulations, which they see as "a ceiling, not a floor."
"It seems clubs are continuing to take advantage of travelling fans," they added.
We are outraged that Napoli are charging LFC fans €70 - the maximum allowed under
@UEFA
price cap - a €10 increase on last season.
This is abuse & misuse of the rule - it is a ceiling not a floor. It seems clubs are continuing to take advantage of travelling fans.
@FansEurope
Next week, Bayern Munich supporters will again be hit hard when they travel to London to support their team against Tottenham Hotspur at the New White Hart Lane, where tickets in the away end have been priced at £60/€67 – only three euros short of the cap and an "outrageous" price, according to fan group Munich's Red Pride (MRP).
"A price cap was long overdue," they told The Sportsman. "But when we learned that it was to be set at €70, it seems that Ceferin and UEFA's definition of 'reasonable' is based more on the wallets of UEFA and club functionaries rather than those of ordinary football fans."
Instead, MRP, who have carried out several visible protests over ticket prices in the Champions League in recent years, have demanded a further reduction to €20, in line with the "Kein Zwanni" (Twenty's Plenty) campaign initiated by Borussia Dortmund supporters in Germany as early as 2010.
"It's the only reasonable solution," say the Bayern fans, who are also critical of their own club's decision to charge away fans €50 at the Allianz Arena in Munich, €20 more than the cheapest home end seats.
After UEFA last season lifted its ban on the sale of alcoholic beverages at Champions League and Europa League matches (although ultimate decisions still lie with the clubs in question), fans also demanded a return of standing terraces, launching the "Europe Wants To Stand" campaign.
That campaign, as well as demands for a further reduction in ticket prices, look set to continue this season.