Jurgen Klopp's side put on a masterclass as Mikel Arteta's Gunners run out of ammo.
19:24, 20 Nov 2021
It took a while to get going, but when Saturday afternoon's meeting between Liverpool and Arsenal caught fire, there was only one team bringing the heat. Jurgen Klopp's side edged in front at the end of the first half, before turning a win into a domination with a superb second-half display.
The first half was a cagey affair, ignited by an unlikely source. Each team had patiently prodded the other, looking for openings and rarely finding them. It was a game of few clear cut chances, with both teams having spells of possession that were more promising than penetrative. But an innocuous challenge brought managers Mikel Arteta and Jurgen Klopp nose to nose on the touchline, ready to give Shawn Porter and Terence Crawford a run for their money. The handbags in the dugout brought the crowd, and by extension the players, to life.
Liverpool seemed to benefit most from ManagerMania, drawing a series of excellent saves from Arsenal goalkeeper Aaron Ramsdale. There was a brilliant stop from Mohamed Salah at close range, as well as a superb effort in tipping over Trent Alexander-Arnold's distance strike. For all the questioning the signing received, Ramsdale has been a titan in the Arsenal net this season.
Unfortunately, his next act would be to pick the ball out of said net. Sadio Mane nodded home a Salah free-kick to give his side a deserved lead. The home team had started slowly, struggling to impose themselves on Arsenal. But after the touchline fracas fired the crowd up, Liverpool began attacking with real intent that made a goal inevitable. Truthfully, only Ramsdale stopped the Gunners going into the break further behind.
Ramsdale's stubborn resistance would be broken again shortly after half time. Diogo Jota twisted and turned into the box, sending the defence one way and the goalkeeper the other, before cooly finishing into an empty net. The game was only going one way now, as Klopp's men took the initiative.
It's all kicking off... 😡
Mikel Arteta and Jurgen Klopp come face to face on the touchline!
📺 Watch Liverpool v Arsenal on Saturday Night Football on Sky Sports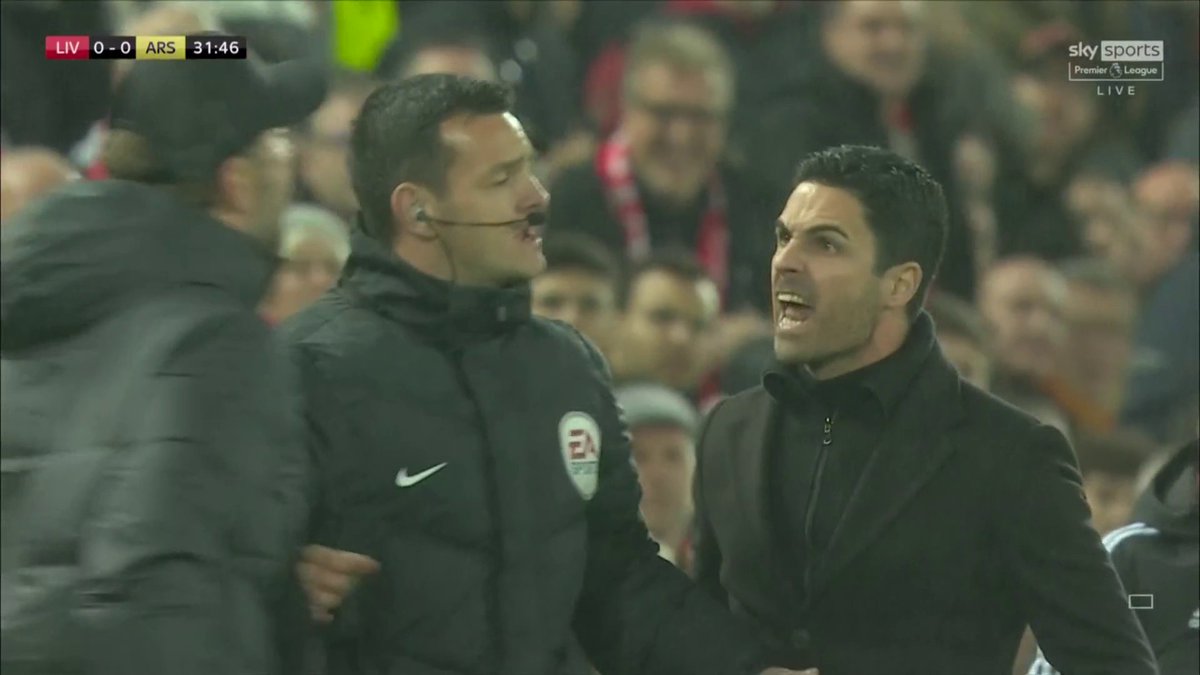 Ramsdale came to the rescue again, stopping a Mane drive before smothering a Salah follow-up that turned out to be offside. Not wanting to be left out of the highlight reel, Alisson made a smart save with his feet at the other end from a Pierre Emerick-Aubameyang finish. But Ramsdale remained the keeper most under the cosh. A square ball from Salah found goalscorer Jota, and his close-range drive was spectacularly saved. The ex-Bournemouth stopper had dived the wrong way but contorted his body to claw away what looked like a certain goal.
Salah had been noticeably frustrated at not joining his fellow forwards on the scoresheet, but he made his contribution with just over a quarter of an hour left. Mane burst clear and slid the ball across to his colleague, who had an easy finish into an empty net. Takumi Minamino added a coat of gold paint to the evening with a goal less than a minute after coming on.
This had the feeling of one of those evenings where everything goes your way, a superb display all round for Liverpool. They eased their way into the game over the course of a mostly quiet first half. When it came time to go up through the gears, the home side found levels that Arsenal just could not reach. Arteta might have got the better of the technical area histrionics, but Klopp is the one leaving with three points.