Football /
Liverpool Fans Praise Selfless Skipper Jordan Henderson For Latest Act
Take a bow, Jordan Henderson
Liverpool fans are really on cloud nine at the moment. Undefeated so far this season, perched at the top of the table, is their near three-decade long-wait for the English league title almost over?
Well, whilst that remains to be seen, with five months still left to play and Manchester City undoubtedly adamant about retaining the claim to be Premier League champions, there was further Christmas cheer brought to Merseyside before the hectic festive period really hit its stride by Liverpool skipper Jordan Henderson, who produced a remarkable act of kindness alongside teammate and compatriot Adam Lallana that has garnered near-universal respect on social media.
It is understood that on Saturday 22nd December, 'Hendo' organised an event in the lounge area of the Sir Kenny Dalglish Stand at Anfield for underprivileged and disabled children from around the Liverpool area, out of his own pocket.
He filled the suite on three separate occasions last weekend, inviting Lallana along for pictures and autographs with the children, with food and entertainment also provided. At one point he even arranged a conga line.
Henderson – who has at times had to suffer fans' wrath this season – also paid for a Christmas present for each of the children in attendance, providing some of the older children with iPads as well.
A touch of class from the Liverpool skipper that really does speak volumes about the quality of his character.
'Top lad our Captain is' declared @AnythingLFC.
When negative press of footballers fuel sales, this is exactly the type of selfless act that deserves more coverage. As one observer in attendance last weekend at Anfield noted about both Henderson and his partner-in-crime Lallana, 'they're both honestly the most humble, down-to-earth, generous people'
Well done boys.
👏🎄🎅 Class from Jordan Henderson...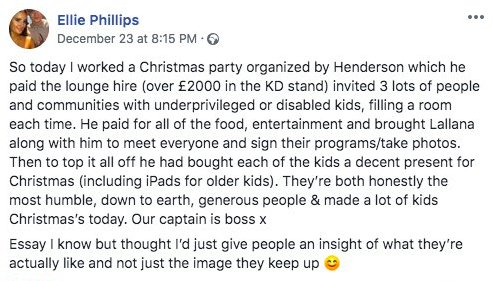 Jordan Henderson organised a party himself for the underprivileged and disabled children.
He gave out gifts, including iPads and paid for all the food and drink.
All out of his own pocket & brought Adam Lallana with him 👏
#LFC