Football /
Liverpool Must Plot Bid To Bring Back Former Star From Barcelona
Barcelona are currently once again at the top of La Liga
Following Liverpool's dire 2-0 result in the Serbian capital to Red Star Belgrade, many fans were both lamenting the lack of quality from their midfield, and reminiscing of the time when Philippe Coutinho was starting ahead of Adam Lallana, who produced another performance unbefitting of the aspirations Red fans so desire.
However, it's not all sunshine and rainbows for their departed Brazilian. Coutinho left Anfield in a staggering January deal for Barcelona, an initial £106 million still making him the third most expensive player of all time before one even takes into account that this could potentially rise to close to £150 million if he makes his bonuses.
Little more than 10 months after sealing his dream move, Spanish publication Marca have produced a scathing criticism of recent performances that suggest that the Brazilian may not be with the Blaugrana for long.
So where could the dynamic, exciting Coutinho end up?
PSG
Barca were subject to some rampant rumours in the summer that the Ligue 1 champions were set to launch a Brobdingnagian bid for Coutinho just six months after he had arrived at Camp Nou.
Whilst Les Parisiens have continued where they left last season off and demolished Ligue 1 - breaking an opening game record that has stood for close to 60 years - they are stumbling once again in Europe.
Unafraid to spend the big bucks, despite constant warnings of FFP restrictions that they 'somehow' seem to navigate around, Coutinho linking up behind compatriot Neymar - not to mention alongside the staggeringly brilliant Kylian Mbappe - would be a frightening prospect to face for any European elite.
💰 🏆 Barcelona confirm the signing of Phillipe Coutinho...
He'll be the first player to start a season at Liverpool and win a league title in TWENTY-EIGHT years!
#FCB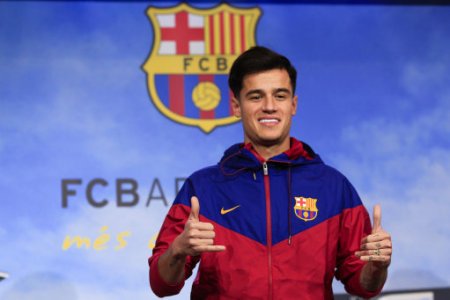 Inter Milan
Back to where his European adventure began, this is a very different Internazionale than the one Coutinho left in 2013.
The Nerazzurri returned to Champions League action this year thanks to heroics on the final day of the 2017/18 season and now sit pretty in second in Serie A.
Thanks to Coutinho's fantastic performance against them at the San Siro this week, it might be a possibility to consider to proclaim interest in Coutinho again, over ten years after he first joined the club, if the 26-year-old midfielder bats his eyelashes in their direction,
Liverpool
A swashbuckling start to the season left many observers thinking that the sky was the limit for Jurgen Klopp's Liverpool. A tired display against Red Star Belgrade - making their first appearance in the competition since the new format was adopted - raised certain questions about the Reds' actual quality when it matters.
Yes, it may have only been their second loss of the season, but the first - against Chelsea under manager Maurizio Sarri - has already wrenched one piece of silverware out of their hands, Manchester City look nigh on unstoppable at the top of the Premier League, and two losses out of four have left them with the very real prospect of Europa League, with two difficult meetings with Paris Saint-Germain and Napoli still to come.
Should their season once again be unfulfilled, recapturing a player of Coutinho's sparkle may just be the extra gear this Liverpool side needs, and he wouldn't be short of adoration from the Anfield crowd who continuously used to shout his name for half a decade.
🇧🇷🔥 Philippe Coutinho...
- Games: 243
- Goals: 62
- Assists: 48
- Liverpool Fans' Player of the Year: 2
- Liverpool Players' Player of the Year: 2
- Won La Liga
- Won Copa Del Rey
- Scored on World Cup debut
- Scores first
#ElClasico
goal
Still only 26!