Football /
Liverpool or Manchester City - The 3 Matches That Could Determine Who Wins The Premier League Title
During the international break Klopp and Guardiola will be working tirelessly on winning their remaining matches
An international break can often halt a team's momentum, but for both Liverpool and Manchester City the current interlude in Premier League action will come at the perfect time, as both Jurgen Klopp and Pep Guardiola start to prepare to concoct a way to end the season with silverware.
Both are in with a major chance of winning the UEFA Champions League, while the Premier League race is between the two north west heavyweights, while Guardiola also has the small matter of trying to claim FA Cup glory, and with the Carabao Cup already in the trophy cabinet then the Citizens boss has a realistic chance of claiming a sensational clean sweep of trophies.
Well, as the current interlude in top-flight matches allows the managers to take a short break, it also gives fans and neutrals alike to take an in-depth look at the remaining fixtures, and while Liverpool are two points clear at the summit, City have a game in hand, so hold the advantage heading into the final couple of months of the season.
Both bosses have some tough matches to contend with between now and the end of the domestic season on May 12th, but we pick out three games in particular that could ultimately have a huge say on who will come out on top and lift the coveted Premier League trophy.
Sunday 31st March - Liverpool v Tottenham Hotspur (Anfield)
Arguably the toughest of Liverpool's remaining seven games is their next match. They have Chelsea to play before the end of the campaign, but their home clash with Tottenham Hotspur at Anfield on March 31 is the most likely banana skin.
Spurs have not won at the home of the Merseysiders since 2011, but the sides shared the points last season in a 2-2 thriller, in a game that saw Mo Salah and Harry Kane score in the 90th minute. While usually a draw against Spurs at home wouldn't be classed as a disaster, in this current race for the title it would be far from ideal as City are more than capable of winning all eight of their remaining matches, so Klopp's Reds need to amass seven wins from seven matches.
Liverpool beat Spurs 2-1 when they clashed at Wembley earlier in the season and Klopp will be desperate to replicate that result at the end of the month, so this is a huge game in Liverpool's quest for glory.
📊Liverpool have dropped points against only 1 of their remaining 7 opponents in PL this season (drew v Chelsea & beaten Tottenham, Southampton, Cardiff, Huddersfield, Newcastle and Wolves)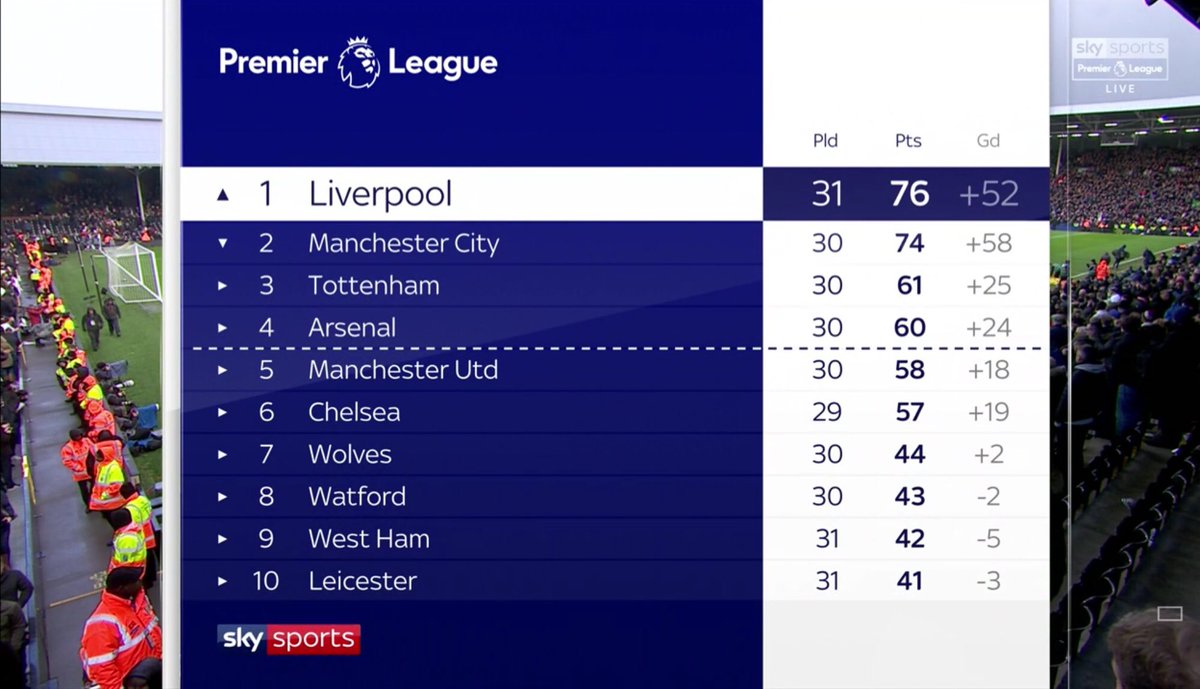 Sunday 14th April - Crystal Palace v Manchester City (Selhurst Park)
Liverpool fans know only too well what a trip to Crystal Palace can do in the closing stages of the season. Back in 2014 when Brendan Rodgers' Reds were bidding for title glory they came unstuck against the Eagles, as having squandered a 3-0 lead they could only draw 3-3 with their hosts, and their title dreams were in tatters.
Well, Guardiola's City will have to make that unenviable trip on April 14, and Guardiola will certainly want to get his own back on Roy Hodgson's Palace, who beat them 3-2 at the Etihad Stadium earlier in the season, and if the Eagles supporters can get Selhurst Park rocking then it's a potential bump in the road for City's journey to glory.
Last season City could only pick up a 0-0 draw with Palace when the sides met in the 2017/18 campaign, so while Manchester City have neighbours Manchester United to play this could be the toughest remaining game they have. Furthermore, this match is sandwiched in between their two Champions League quarter-final matches with Tottenham Hotspur, so Guardiola will need to juggle his squad to maintain high performance.
Sunday 12th May - Liverpool v Wolves (Anfield)
Liverpool will end their Premier League season at home to Wolverhampton Wanderers, who themselves could be fighting to secure seventh spot in the division in what could be a match that determines who wins the title.
Wolves beat Liverpool 2-1 when the sides last met in the FA Cup, so Nuno Espirito Santo's men know what it takes to defeat Klopp's Reds, and the surprise package of this year's campaign could well offer a huge threat, if they can perform to their best at what will be an electric Anfield.
Wolves still remain in the FA Cup and the final will be played on May 18th, so Liverpool fans will ideally want Santo's side to make it into the final, and it could force the Wolves' boss' hand to freshen up his side ahead of a possible FA Cup final at Wembley,
Here's how the
#TitleRace
will unfold after the international break...
Fulham vs Man City (30 Mar)
Liverpool vs Spurs (31 Mar)
Man City vs Cardiff (3 Apr)
Southampton vs Liverpool (5 Apr)
Palace vs Man City (14 Apr)
Liverpool vs Chelsea (14 Apr)
#LFC
76
#MCFC
74
#PremierLeague