Luca Brecel clearly enjoys himself by the North Wales seaside – and the 20-hour round trip drive from his home in Belgium is paying handsome dividends.
The 27-year-old claimed a surprise 10-6 victory over Judd Trump to reach the semi-finals of the Tour Championship where he will face Scotland's John Higgins on Saturday.
And that is a repeat of December's Scottish Open final won 9-5 by Brecel against the four-time world champion after the event was bizarrely switched away from home turf due to a contract issue.
That was the second career ranking title for Brecel, who was tipped for superstardom almost 15 years ago when videos of his considerable break-building skills started circulating on Youtube.
And on Thursday he carried on where he left off before Christmas with a blistering start against a below-par Juddernaut to forge 8-3 up – and then rallying when the world No3 looked like mounting a charge by getting back to 8-6.
The vast majority of the tour would give their right arm - almost – for the 32-year-old Trump's record this season, one that has seen him win the prestigious Champion of Champions, and then recently the inaugural Turkish Masters.
But by his own very high standards that has still left many disappointments, having won a total of 14 ranking titles in the previous three campaigns.
And this was another curate's egg of a display from the Bristol left-hander, who during his comeback bid rattled in magnificent and tournament-high total clearance break of 140, but at other times contrived several uncharacteristic and costly errors.
Trump had been chasing a first success at the ever-more lauded tournament in Llandudno for the season's eight best-performing players, the last leg of the Cazoo Series. But he has still won only twice in his four appearances.
Brecel admitted afterwards that he had not even practiced before one of the biggest tournaments of the season, something that probably didn't make Trump feel any better – with the Betfred World Championship also now less than three weeks away.
He said: "Maybe I got a bit fed up with all the travelling, to be honest. I didn't practice as much, that was my choice. The last month I didn't practice because I was busy with buying a house and all those kind of things.
"I didn't really practice at all for this tournament. I had some in Gibraltar last week, obviously, but I was happy to just have a couple of hours here. To have a best-of-19 match makes you a bit sharper for the next game. I'm just so happy to win because this game was huge for me.
Luca Brecel completes our 2022
@CazooUK
Tour Championship final four 👊
It's the first time the Belgian Bullet has beaten Judd Trump in a ranking event
#CazooSeries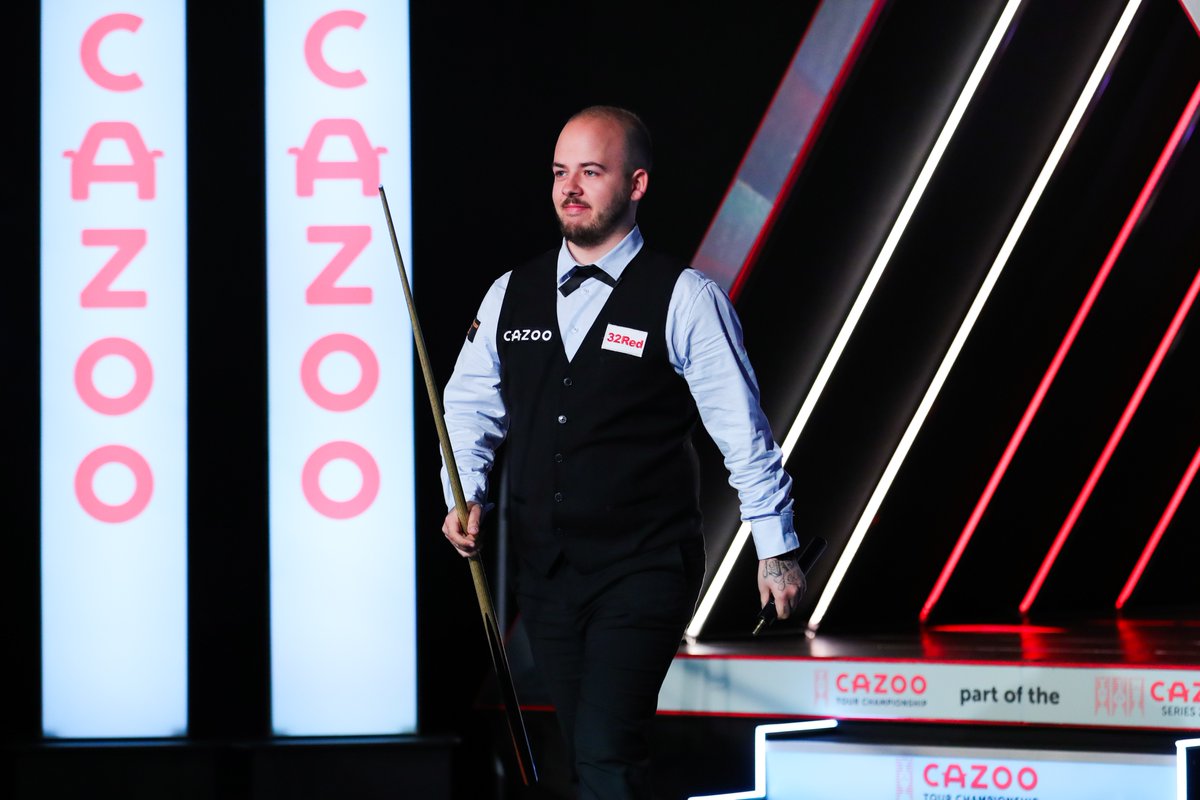 "I played some good stuff, some bad stuff, but it's just nice to get a win against such a top player - it's good ahead of the World Championships.'
"It is amazing to now be playing John again. I was thinking if I could win, I'd play John in the semi-finals. The final of the Scottish Open was amazing. To be here and play him again in a best-of-19 this time is fantastic and good for my game.
"It's a fantastic win for me and I played some good stuff, and made some good breaks. I had a good 6-2 lead coming in to the evening and I knew Judd would come back.
"If he had not missed a yellow at 8-6 and made it 8-7 it might have been different, but I always thought I was going to win."
Trump said: "It was pretty c**p all day, to be honest. After I got back to 8-6 he got extremely lucky to get away with a missed blue as there was a good chance for 8-7. I was obviously disappointed there because I felt that he was sort of missing a few towards the end."
In the first session in the afternoon Brecel roared into a 3-0 lead, nicking the opener on the black and then seeing breaks of 56 and 58 give him a perfect start.
Trump got on the board before the mid-session interval, but on the resumption Brecel knocked in efforts of 100 and 54 to lead 5-1, and after the Juddernaut clawed one back with a run of 81 he ensured it would be a four frame lead going in to the evening with a break of 75.
The first two of the evening were shared, before Brecel's 86 put him 8-3 up. It should have been a surely unassailable 9-3 but for a terrible blunder trying to tuck Trump up behind the blue but the Belgian left it short and snookered himself on the final yellow.
That enabled the former world champion to make it 8-4, and that was quickly 8-6 after breaks of 140 and 103. But Brecel did not crumble and an effort of 73 saw him home.