Henderson has shone for Sheffield United over the past two seasons
10:01, 24 Nov 2019
When Sheffield United walk out to the deafening roar of Bramall Lane against Manchester United on Sunday afternoon they will be missing a key player in-between the sticks.
Dean Henderson is not allowed to play against his parent club but at just 22-years-old, he already has a bucketload of Football League experience under his belt and is now proving himself to be one of England's best in the Premier League.
His call-up into England's senior squad is a testament to how highly he is rated by Gareth Southgate and his staff and it seems Chris Wilder knows exactly what to say to get the best out of him and mature him as a player.
In the home game against Liverpool earlier in the season, Henderson made a mistake that cost his side a point in a 1-0 defeat against the table toppers. Instead of an arm around the shoulder of the young keeper, Wilder came out and offered the Englishman a few public words of advice:
"If he wants to be a professional footballer, these things are going to happen, but if he wants to play for the top teams, he wants to play for England then he needs to do better, he needs to concentrate more.
It's a disappointing day for him. I am not going to put my arms around him, simply he needs to do better.
Tough love seems to be the dish of the day for Henderson, who has come on in leaps and bounds under Wilder at Bramall Lane.
He was integral to their promotion from the Championship last season and it is a brilliant place for him to develop as his English manager gives him harsh lessons and treats him like an experienced goalkeeper rather than the relative rookie that he is.
This is what dreams are made of... it's a dream come true to receive my first
@England
senior call up!! 🔜🔛🔝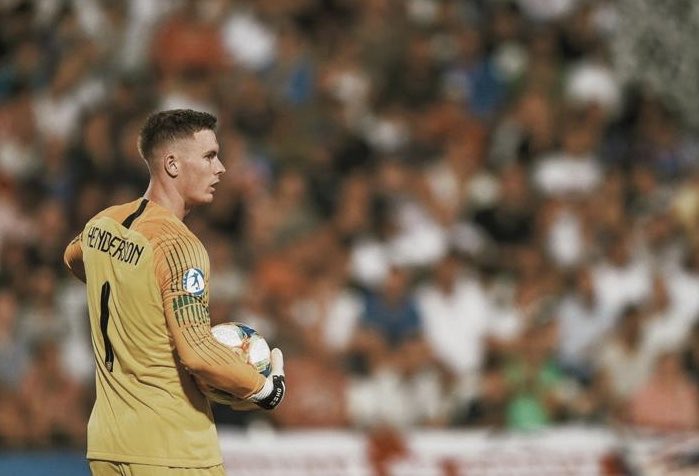 Across the Pennines, David De Gea is 29-years-old and as a goalkeeper, he could still have almost a decade at the top left. With the Spaniard agreeing to a new six-year deal at Old Trafford, he could feasibly see out the rest of his career with the Red Devils.
This may seem like great news for United fans, but where does it leave Henderson, who surely has the number one jersey at his parent club in his sights?
This may go against Manchester United's long-standing tradition of including an academy player in 3,993 consecutive first-team games but in the goalkeeping department, they just have not produced the same quality.
A look back at their keepers in the Premier League tells its own story. We are now in the 27th season since the launch of England's rebranded top-flight and United have played a whopping 1051 matches but academy goalkeepers account for a measly 19 appearances of that total.
That total of 19 even includes Nick Cullen, who holds the record for the shortest Premier League career ever, playing just 30 seconds at Highbury and kicking the ball once. You'd be forgiven for forgetting the other names on that fabled list, Gary Walsh (10 appearances), Kevin Pilkington (6), Ben Amos and Paul Rachubka (both 1).
With De Gea safely in-between the sticks for the next few years and Henderson surely unhappy to be a number two in the Premier League after a season of playing regularly, surely this leaves only a couple of options for the Englishman.
He can either continue his career of endless loan spells (he has already had five at the age of 22) and hope that United recall him if something happens to De Gea, or seek security by leaving the club on a permanent deal.
His development must come first and under Wilder, he is certainly progressing, but all of this hard work could go to waste if he finds himself on the bench at the Theatre of Dreams.
He may be missing from the Bramall Lane pitch on Sunday afternoon, but perhaps what will be more telling is if he is still there in twelve months time.