Football /
Manchester United Boss Jose Mourinho Will Not Appoint Another Assistant Manager After Rui Faria Departs
Going solo - United boss Jose Mourinho
As Jose Mourinho sprinted down the Old Trafford touchline to celebrate Porto's stoppage time winner over Manchester United, knocking the Premier League giants out of the Champions League, Rui Faria held the fort on the bench. That was back in 2004, but that's how far back Mourinho and Faria's relationship can be traced.
Indeed, Faria has been Mourinho's right hand man for the past 14 years, following him from Porto to Chelsea to Inter Milan to Real Madrid back to Chelsea and finally to Manchester United. But as of last week, the two have been separated, with Faria making the decision to seek a new challenge away from his long-term partner.
But from this comes an opportunity for Mourinho. While Manchester United have finished second in the Premier League table, up from sixth last season, and have an FA Cup final against Chelsea to look forward to this weekend, a sense of malaise has set in around the club. There have been complaints over the style of play professed by the Portuguese coach.
And so Mourinho must use Faria's exit, whether it was expected or not, to bring new ideas and fresh methods to Old Trafford. Mourinho finds himself at a crucial juncture in his career as a top-level manager, with his reputation on the line next season. He must complete the job at Manchester United, restoring the club to the top of the English game, or face the reality of his own mortality and decline.
For his own sake, Mourinho needs a new right-hand man, someone who provides a different perspective to his own. Look at how Sir Alex Ferguson prolonged his career at the top by bringing in Carlos Queiroz midway through the 2000s. At that time, the Scot needed someone to provide some tactical and defensive rigour, particularly in the Champions League. Queiroz gave him that and is credited with maintaining Ferguson as a managerial force.
Funny to think Rui Faria owes his career to the fact he happened to bump in to Mourinho at a seminar in Barcelona when he was Louis van Gaal's assistant.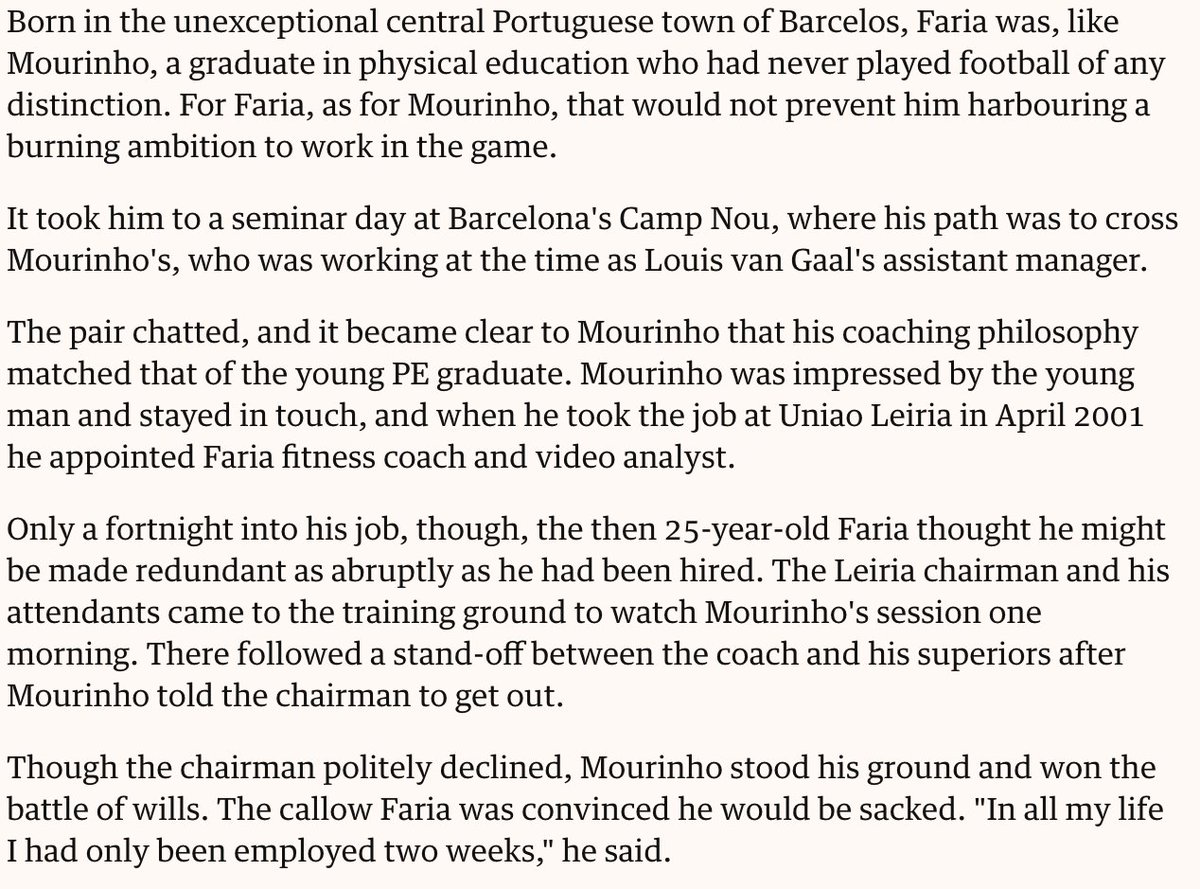 However, Mourinho says he won't even seek a new assistant, passing up the opportunity he has been presented with. "I will organise my coaching staff in a way where the assistant manager figure doesn't exist," he said after the final day of the season win over Watford on Sunday. "I'm going to have assistant coaches, I'm going to have fitness coaches, and a structure where they have specialists in different areas connected to the performance. I'm not going to have an assistant managing in the sense of the word."
Whatever label Mourinho puts on it, he needs someone to feed new ideas to him. That isn't to say that Faria was the problem at Manchester United, that he was to blame for the insipidness that has seeped into the consciousness at the club, but his exit gives Mourinho a chance to change. He mustn't pass that up.