Ralph Rimmer insists there were positives to come from Britain's four consecutive defeats
09:21, 22 Nov 2019
The chief of UK rugby league has stunned Great Britain supporters by claiming "many, many things went very well" on the Lions' disastrous tour of the southern hemisphere.
And Rugby Football League CEO Ralph Rimmer has revealed that coach Wayne Bennett could have his contract as England coach renewed this winter, regardless of overwhelming opposition to the Australian within the British fan base and rugby league media.
The Lions, on their first tour since 2007, lost all four games of their end-of-season trip, suffering defeats to Tonga, Papua New Guinea and consecutive losses to New Zealand.
Bennett has been criticised, not only for the dire results and performances, but for some of his odd selections and constant mistaken references to the GB side as 'England'.
But his boss believes the tour had some positives and said Bennett is still enthusiastic about coaching England and could be retained following a full review of the tour.
"Am I disappointed? We all are," Rimmer said.
"We'd be lying if we said we weren't disappointed by the results. It hurts when we lose. It didn't quite go as we planned on the field, nevertheless many, many things went very well.
"Some aspects of the tour we're disappointed about, some we're positive on. The review will take care of all aspects of the tour. I think it's important it's a considered and objective review, and not reactionary."
After seeing the GB Lions lose all four matches on their return to international rugby league, head coach Wayne Bennett is under serious pressure. Do you think he should be the man to take England into the 2021 World Cup? If not, who would you like to see at the helm?
#rugbyam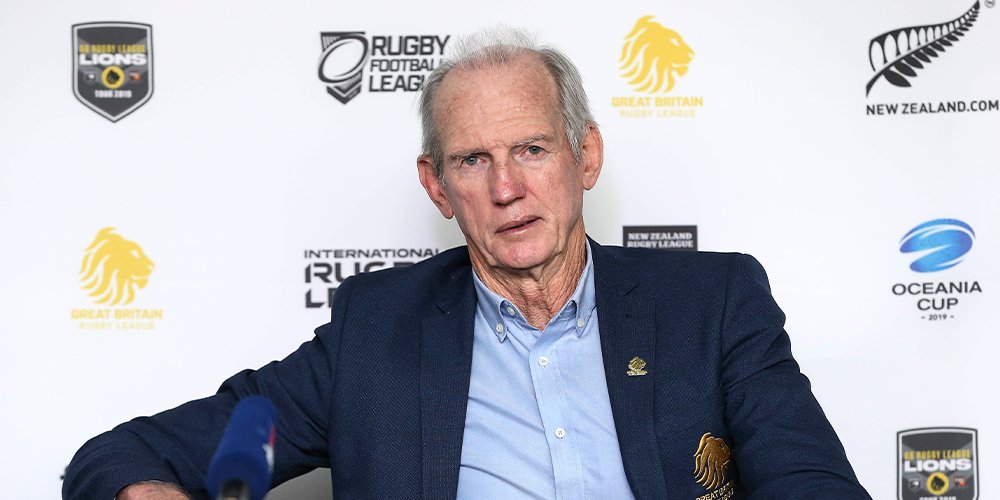 Many fans and ex-Lions have called for the head of Bennett, whose contract is up for renewal this winter, and the RFL is expected to make a decision on whether Great Britain will return in the future early in 2020 once their review has been completed.
"Kevin Sinfield will be doing the review with me and there will be a great deal of consultation with everyone who was involved in the tour, no doubt Wayne will be part of that," Rimmer said.
"We need to win World Cups in 2021 and we need to make sure we are on track to do that. I absolutely believe we have a team that can compete.
"We have four teams [Australia, New Zealand, England and Tonga] that can now compete at that level and that's really good for a World Cup. We're there to grow the nation's strength – we can't complain about it when we do, we've just got to keep pace with it. I can tell you if we will see Great Britain again in eight weeks time."
Rimmer added that it is not a fait accompli that Bennett will be replaced. Under the 69-year-old, who was appointed in 2016, England has won 10 of its 15 tests, made it to the final of the 2017 World Cup and beat New Zealand three out of four matches in 2018.
"Certainly Wayne has a chance," he said.
"We shouldn't forget what Wayne has done up until this point. We had a poor year on the field, nobody can deny that, it hurts. Until this point we have progressed really, really well.
"We came very close to winning a World Cup, we beat the Kiwis last year, the progress has been very good. We put in place a very difficult player program – I don't regret that.
"There's more variables to Great Britain that just results on the field, it's about cut-through and how we presented it, and whether we were at fault or not. Just taking things on face value is exactly what we need to get away from.
"I think there's plenty of [British] coaching talent out there, I do. That doesn't mean Wayne's position is weakened or strengthened. I also think that the assistant coaches we took on this tour were absolutely outstanding."
Asked if Great Britain's poor results and performances on tour were a fair reflection of the British game, Rimmer replied: "no".
England are due to host Australia in a three-test series in October and November 2020 in their final preparation ahead of the 2021 Rugby League World Cup.