Marc Batra Could Be An Ideal Replacement If Manchester United Offload Chris Smalling
12:14, 05 Jul 2017
It was early this week when Spanish newspaper AS reported that Manchester United are looking to bring Borussia Dortmund defender Marc Bartra to Old Trafford.
The 26-year-old has only been in Germany for one year after completing a £7 million switch from Barcelona last summer. In his first season, Bartra ended up making 23 appearances in all competitions under former Dortmund boss Thomas Tuchel.
But the defender was forced to undergo surgery in April after being injured in the bomb explosion that hit the team coach before their Champions League clash with Monaco. Now that he's made a full recovery, Bartra will be raring to go for the new season.
Marc Bartra's recovery from wrist surgery after he was injured in a bomb attack is going well 👍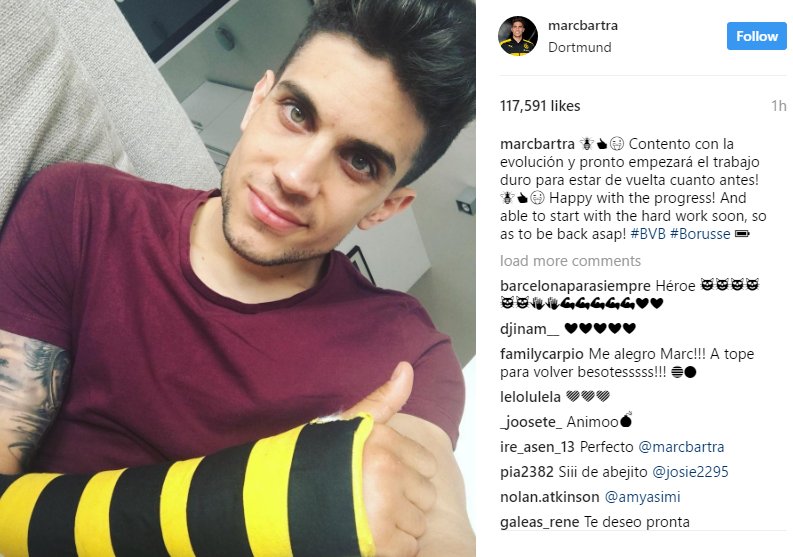 Jose Mourinho has made just one signing this season to bring Víctor Lindelof to Old Trafford. The former Benfica centre-back is a Sweden international and had been on the club's books for at least over six months. Should United sell Chris Smalling, who The Sportsman understands is available for transfer, Mourinho will need another defender to add depth to his side.
It remains to be seen whether Bartra will consider leaving Dortmund after one season, but clubs such as Manchester United don't come knocking very often, and if there's truth in this story you'd think the former Barcelona starlet would jump at the opportunity.
United had considered resigning Michael Keane from Burnley, who has since moved to Everton for a reported £30 million, but the player wanted assurances that we would be a regular starter. Now, looking at Bartra, the club may have found a superior addition to bolster their options in defence.
Renowned for his strong passing game, Bartra also offers something both defensively and offensively in the air. His anticipation skills and willingness to tackle also mark him out, and he's stronger than he appears.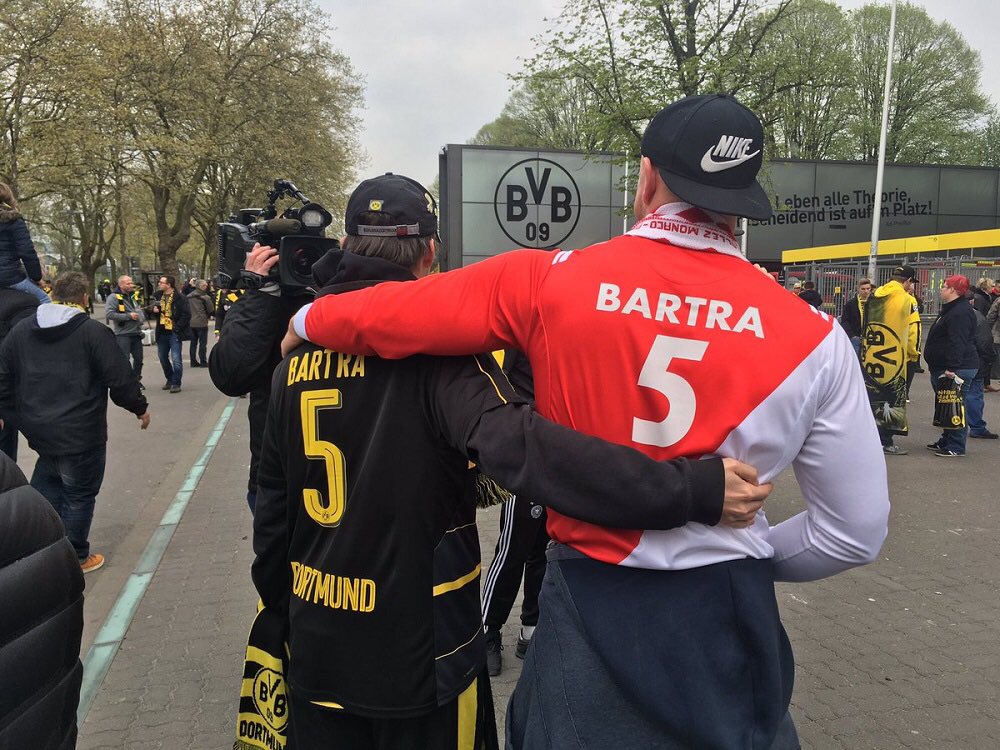 Beginning his football education in 2001 at Espanyol, Bartra moved to Barcelona's famed academy La Masia one year later aged 11. There he would graduate to Barcelona B, making 81 appearances, before being granted a debut for the senior side in a 2-1 defeat to Atletico Madrid in 2010. It wasn't until the 2013-14 season that Bartra would establish himself as a regular in the starting line-up.
Bartra made 20 La Liga appearances that year – starting 17 of them – which included four Champions League outings. Thereon, perhaps after gifting Gareth Bale a winning goal in the Copa Del Rey final, Bartra played a diminished role over the next two years, starting just 11 games in 2014-15 and four in 2015-16. But, during that spell, he would win five La Liga titles, two Champions League winners' medals and three Copas Del Rey.
A Spanish international with 12 senior caps, Bartra has come to the age when he needs to nail down a position somewhere. He will wait and see if Dortmund's new manager Peter Bosz, formerly of Ajax, fancies him or not before considering another switch across Europe.
Last season, Bartra made 18 Bundesliga appearances. He also started seven times in the Champions League. It was the start of a rebuilding process of a faltering career, therefore, a move to another country has its risks.
There was speculation regarding Barcelona having a buy-back clause in Bartra's contract, but Stefan Buczko, who covers Borussia Dortmund for ESPN told The Sportsman otherwise:
Ever since Bayern Munich snapped up Mario Gotze by triggering his buy-out clause in 2013, it has been Borussia Dortmund's hardline policy to not allow any buy-out clauses or buy-back clauses in player's contracts as they sign them, but demand commitment.
At 26, Bartra still has time to mature as a defender, but he comes with experience and a winning background.
"After a slow start Bartra has developed into a cornerstone player for Dortmund," Buczko continued. "He became an integral part of the team due to his qualities in build-up play on which they will want to rely upon the coming season. Although the La Masia product joined from Barcelona, he quickly identified with the black and yellows and was well integrated within the team.
"I don't see much reason for Dortmund to sell him nor for Bartra to want away at this moment, but I can see why clubs [like United] are showing interest in him."
Watch this space. Mourinho wants another defender this summer.