Whenever Mark King finally decides to pack away his cue for good he may well hold an unlikely record - as the only player to literally make record seven-time UK Championship winner Ronnie O'Sullivan throw in the towel.
The pair have enjoyed a fierce Essex rivalry going back 35 years to junior days – and they clash on Monday afternoon in the third round at the York Barbican. And inevitably the meeting brings back memories of their infamous 2005 UK match that saw the Rocket draping a white towel over his head.
That brought a warning from referee Alan Chamberlain having also conceded a frame trailing by only 29 points with 51 on the table. But King, now 47, stood firm for a superb 9-8 win.
And the former Northern Ireland Open winner from Romford insists no quarter will be asked or given today, predicting: "I'll be trying to smash him up…and he'll be trying to smash me up."
World No36 King, who turned pro a year before O'Sullivan in 1991, said: "I'll be playing the record seven-time UK champion on the big stage.
"And when you've played out in the car park as I call the second hall in the first two matches, it is something to look forward to. Everything has to be bang on for me – if I don't play well, I'll lose.
"I've actually got a pretty record against Ronnie and nicked a couple of wins – a winning overall record I think, 5-4 in all events. The last time we played in the UK in 2007 I went home with a sore a**e when he beat me 9-1 in about an hour.
"But of course people remember our UK clash a couple of years before when he had the towel over his head. At the end after winning I shook his hand and asked him 'Are you all right?' I was actually quite concerned.
"But everyone loves lapping it up with what he gets up to. It was one of his days when he knew I was on it and he tried anything and everything to put me off. That's what he does sometimes – it's all about him, we all know that.
"In that UK match in 2005 the ref had warned him already, and then told him to take the towel off his head because it was disrespectful. I don't think Ronnie really listened to him.
Ronnie O'Sullivan and John Higgins are in action at 1pm on Monday - as the third round of the Cazoo UK Championship gets underway!
Full list of fixtures 👉
Tickets are still available 👉
#CazooUKChampionship
@CazooUK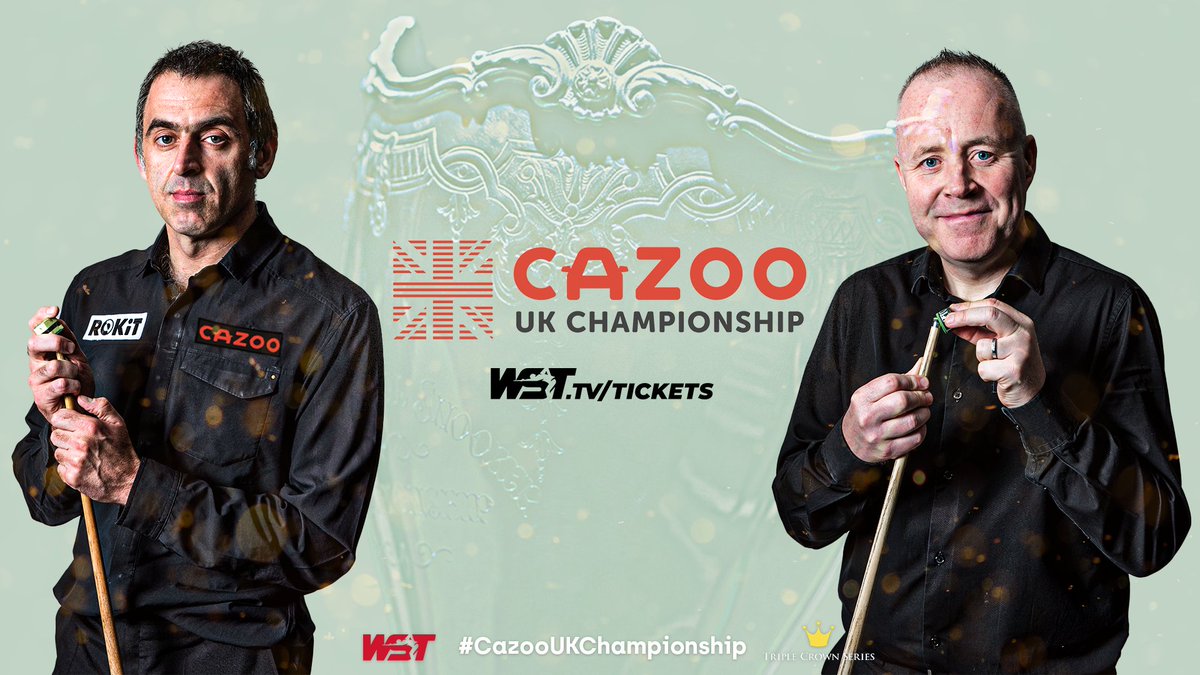 "Then it was also against me in Glasgow that he made 140 and refused to pot the final black as it was only a £4,000 prize - until ref Jan Verhaas persuaded him for the crowd!
"But he is very clever at what he does, he knows what he is doing – and of course you are also playing against the best player that has ever picked a cue up.
"There is definitely some edge. We always had massive rivalry as juniors, obviously he kicked on and I went down the betting shops.
"He was only interested in being a top player, at that time I was only interested in the bookies and the card schools.
"Ronnie was always a cut above and the best out of us but despite the rivalry I know he is an unbelievable talent and it has been great to see him grow and win so much in the style he has."
Having come through such a hard school himself in the junior days, King believes some of today's young snooker talent are not ready to go the extra mile to toughen themselves up in preparation for the grind of the professional tour.
But his own outlook is a lot rosier than a few short weeks ago. Before King reached the semi-finals of the English Open, he was starting to worry about keeping his tour card. But that run and now another couple of wins have eased his concerns.
King added: "Back in Essex had a club of about 15 players in including Ronnie, and we were in there all day, every day. The juniors these days haven't got a clue. We'd have a best of 21 frames before lunch, and then a best of 21 frames after lunch, leaving about 9pm.
"You go and play the juniors now and it's a couple of best-of-nines and they want to go home or go on their phones. That's why the crop isn't coming through. All we wanted to do was play snooker, now they just want to be on the Playstation or doing Fortnite or Grand Theft Auto.
"My wife and the littl'un came up to York so we had a nice day at the market on Sunday and some chilling-out time.
"Three weeks ago going to the English Open I was about No60 provisionally and in real danger of falling off tour, and I said the missus just before it 'What am I going to do – I don't want to go to Q School'.
"And then not long after later I am in the last 32 of the UK, having nicked £20,000 in the tournament before in Milton Keynes. And I have the Grand Prix and Scottish Open to come. So instead of looking over my shoulder I am looking ahead and upwards, and feeling like 'let's make some noise'."