The Welshman beat his fellow 'Class of 1992' member 6-5 to set up a semi-final showdown with Neil Robertson
10:15, 14 Jan 2022
Both Mark Williams and John Higgins testified to one of the most extraordinary atmospheres ever seen at a snooker match on Thursday night as the Welshman just edged out his fellow 'Class of 1992' member and tour rival for 30 seasons 6-5 in an Alexandra Palace classic - which drew no fewer than three standing ovations from the sell-out 2,000 crowd.
If either Scot Higgins or Williams, also 46, had been in any doubt about the degree to which their efforts have been appreciated over three decades, this night will have removed them. Even without the urgings of MC Rob Walker, it was as if the faithful fans sensed such occasions would not be on tap in perpetuity, and should be properly relished and appreciated.
This was a 64th meeting of two players that have won a grand total of 85 professional titles between them. And while the visibly moved players could hardly believe the reception, they managed to produce fare worthy of the fanfare.
After Williams pulled back to 2-1 with a break of 116, there was never more than a frame in it. Higgins knocked in breaks of 126 and 127, but Williams saved a superb, nerveless effort of 91 to close out victory after a match that will live long in the memory of both those involved and present.
Williams, for whom the last of two Masters titles came 19 years in 2003 and will now face Neil Robertson in Saturday's semi-final, said: "I have never experienced anything like that from a crowd, who were unbelievable. They must have been cheering for minutes even before we started. My legs were like jelly. Perhaps if John and I can play like that we may be here for a few more years yet."
"I have a lot of good atmospheres I have played in, but nothing like that, not even the final session of the World Championship when I came out against John Higgins a few years back. The standing ovation seemed like it was about 10 minutes before we started, and the same again before the decider – and then at the end.
"Just amazing stuff, it really is" 😍
The crowd in attendance show their appreciation for John Higgins and Mark Williams before they battle it out in a deciding frame.
What an amazing show of 𝗥𝗘𝗦𝗣𝗘𝗖𝗧 👏
#CazooMasters
|
@WeAreWST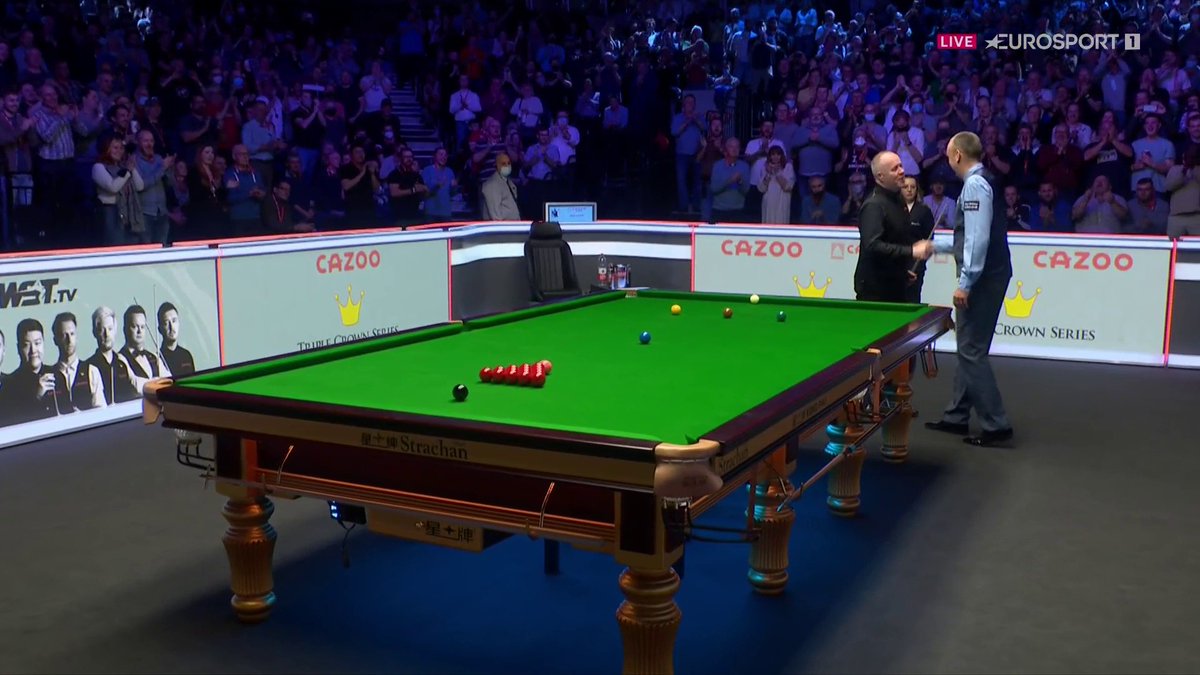 "And to make a break like that under that pressure at 5-5, I think I deserve a pat on the back. Afterwards John just said best of luck, well done, and talked about the atmosphere. I have nothing but respect for John, I have gone past rivalries. He is not my rival any more, just someone I love playing and watching play.
"And you just keep thinking 'That is 32 or 33 years we have been playing each other since junior days'. We are still here, in the quarter-final stages of the Masters – which we shouldn't be really at our age but we keep hanging around.
"I felt good and calm in the decider. But earlier after the fourth frame my legs and arms were shaking and I felt like my heart was coming out of my chest. I said to my coach Lee Walker that I couldn't play if it was like this all the time. But then the last two breaks I was as calm as anything.
"I have never got to the semi-finals at the Masters since it has been staged at Alexandra Palace, but I suppose I am past my best and it has been the top boys winning most of the titles. You are playing the very best only in this event, and that may be the main reason.
"I was second favourite to beat Yan Bingtao, second favourite to beat John and I will be second favourite to beat Neil Robertson. That's the way it is. I am a big fan of Neil, he has the best and straightest cue action in the game, barrel-straight.
"He has given me a few tonkings in the past but I am playing him Saturday. If he hammers me, so what, I'll give it my best and he'll have to scrape me off the table because I am a trier. But I'm not one to have a feeling it is my year. It is difficult to win any event, especially this one."
Higgins said: "It was an incredible break that Mark has done in that final frame, it really was. It reminded me so much when he was on it of that break he did against me in the World Championship final a few years ago. And he's done it again. B*st*rd!
"But seriously, every credit, I said at the end to him, 'well done, I hope you play well now in the semis'. Because despite losing it was one of the best nights in my snooker career with the atmosphere and everything. We keep on saying how much better it is with crowds.
"But that…I never ever thought after MC Rob Walker got the crowd into a frenzy before the world final against Judd Trump in 2011 I'd see something similar. But this was tonight, and it was noisier because there were twice as many fans.
"So Rob did a great job again tonight getting the crowd whipped up, and then they were treated to a great game. I couldn't hear myself think ahead of that last frame, it was incredible. And to be honest I am sitting here not even gutted as I know I gave it everything, it was a great match and I loved playing out there. It is still good we are producing that at our age, me, Mark and Ronnie O'Sullivan.
"You can feel that maybe the reception is not just about tonight, but perhaps for the 30 years you have been playing the game. I am not normally one for losing a match and waving to the crowd – I usually just leave the arena to the winner. But I had to tonight, because they made it one of the best nights of my snooker life."
*18+ | BeGambleAware | Odds subject to change