Mauricio Pochettino vs Jurgen Klopp: Who Needs To Win The Champions League More?
19:05, 31 May 2019
'But what's he won?' Ah, yes - the foolproof way of judging managerial success in 2019 will be up for discussion again this weekend.
Either Mauricio Pochettino or Jurgen Klopp will finally banish that hoodoo in Madrid.
The Argentine is yet to win silverware in his hugely impressive career so far, while the Liverpool boss' last triumph came with Borussia Dortmund in 2014, with the DFL-Supercup.
That shouldn't take anything away from their achievements in reaching the final. In November, Spurs were 100/1 to lift the trophy and on five separate occasions this season, they have been less than 10 minutes away from going out of the competition.
Combine that with Pochettino's transfer budget – or lack of – over the past two years, and the fact the club spent the majority of their European campaign at Wembley, and it's nothing short of remarkable. He could join Zinedine Zidane as the only other permanent manager who has won the Champions League as his first cup.
Liverpool have also battled against the odds, pulling off the impossible against Barcelona. It shouldn't be forgotten where they were when Klopp took over. The German hasn't had to work under the same restrictions as Pochettino, but he is the architect behind the finest Liverpool team in a generation.
Frustratingly, if he picks up another runners-up medal, it will be his fourth since taking charge, following the League Cup and Europa League finals in 2016, and of course last year's Champions League final defeat to Real Madrid.
Pochettino has experienced less acute heartache. There was the League Cup final defeat to Chelsea in 2015 and near misses in the title races of 2015/16 and 2016/17, neither of which went to the last day.
His critics rarely seem to take into account the mitigating factors behind the sparseness of his mantelpiece. It is a dangerous presumption, but one which is becoming increasingly common, that success in football is black and white.
Mauricio Pochettino has done an incredible job at Tottenham 🙌
They were the only team in Europe's top five leagues not to spend a single penny in the summer.
Just LOOK at the challenges he's overcome!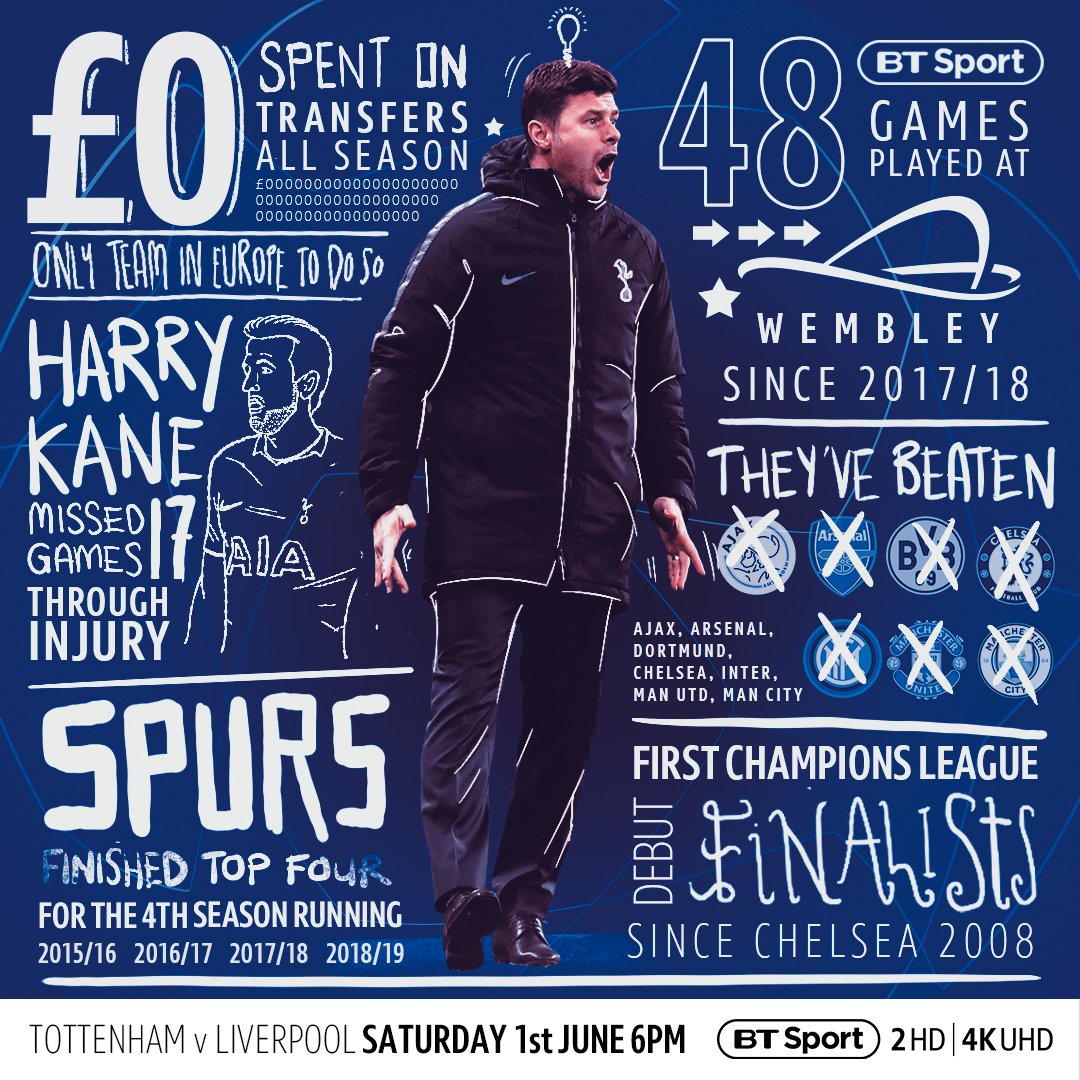 The early part of his first job, with Espanyol, was impressive enough to attract attention from abroad and at Southampton, he rejuvenated an under-performing side using only the universal language of the game, barely speaking a word of English upon his arrival.
Both managers have arguably been the victims of their own journeys. Champions League football has become the norm at Tottenham, when just half a decade ago it seemed a pipe dream that might not be reached again for quite some time. Yet the trophies which have eluded their manager do not come all that naturally in north London, at a club who have won two League Cups in 28 years.
Likewise, Klopp may have spending power, but Liverpool have not won the title in almost three decades. Their most recent FA Cup came 13 years ago.
None of this is an inherent criticism of either side. With the likes of Manchester City shifting the landscape, it may well be time to find more nuanced ways of evaluating coaches.
Pochettino will go down as a legend, whatever the result on Saturday. Klopp will always be remembered with similar fondness on Merseyside, though he is in need of major honours if he is to ever elevate himself into the same category as Paisley and Shankly.
Such is life that there will be a winner and a loser. The latter, especially if it is Liverpool's effervescent boss, may have questions to answer.
Either way, two of Europe's most exciting, innovative managers are going head-to-head and both thoroughly deserve to be there.