Verstappen could win the F1 title next time out after another win
15:39, 11 Sep 2022
Formula One has become a very simple sport. 20 cars race around for two hours and at the end of the day, Max Verstappen stands on the top of the podium. The Dutchman made it five wins in a row and took himself within touching distance of the Drivers' Championship at Monza with another impressive display.
He began in seventh but was always set to compete for this race win as he fought his way through the pack impressively, before overhauling Ferrari's Charles Leclerc in a tactical encounter. The race disappointingly finished behind a safety car after Daniel Ricciardo suffered an issue but his car could not be removed from the track in time as the cars cruised to the chequered flag.
Verstappen won't mind one bit about the unsatisfactory ending to the race as he scooped another 25 points on his way to what will surely now be back-to-back titles. He can now thoerectically win the title in Singapore next time out, but the Italian fans were left furious at how the race ended, as a chorus of boos rained down from the stands.
Fellow Dutchman Nyck De Vries did an exceptional job for Williams on his F1 debut having replaced Alex Albon at late notice, and secured a ninth place finish which saw him named Driver of the Day. After that performance, it would be great to see the Formula E champion back on the grid at some point in the near future.
Meanwhile, Lewis Hamilton put in an impressive performance from the back of the grid to finish fifth, while his teammate George Russell rounded off the podium places in third. The Mercedes duo will be happy with their weekend's work, but they are still chasing that elusive race win this season.
For Ferrari, they were simply outpaced today. The only chance they had of a race win was that late safety car, but as Verstappen has proved across the season, he is untouchable. His first chance to step onto the famous podium at Monza was deserved even if it frustrated the home fans, who were hoping for a celebration on Ferrari's 75th anniversary.
END OF RACE (LAP 53/53)
Verstappen crosses the line moments after the Safety Car pulls into the pit lane
TOP 10
Verstappen
Leclerc
Russell
Sainz
Hamilton
Perez
Norris
Gasly
De Vries
Zhou
#ItalianGP
#F1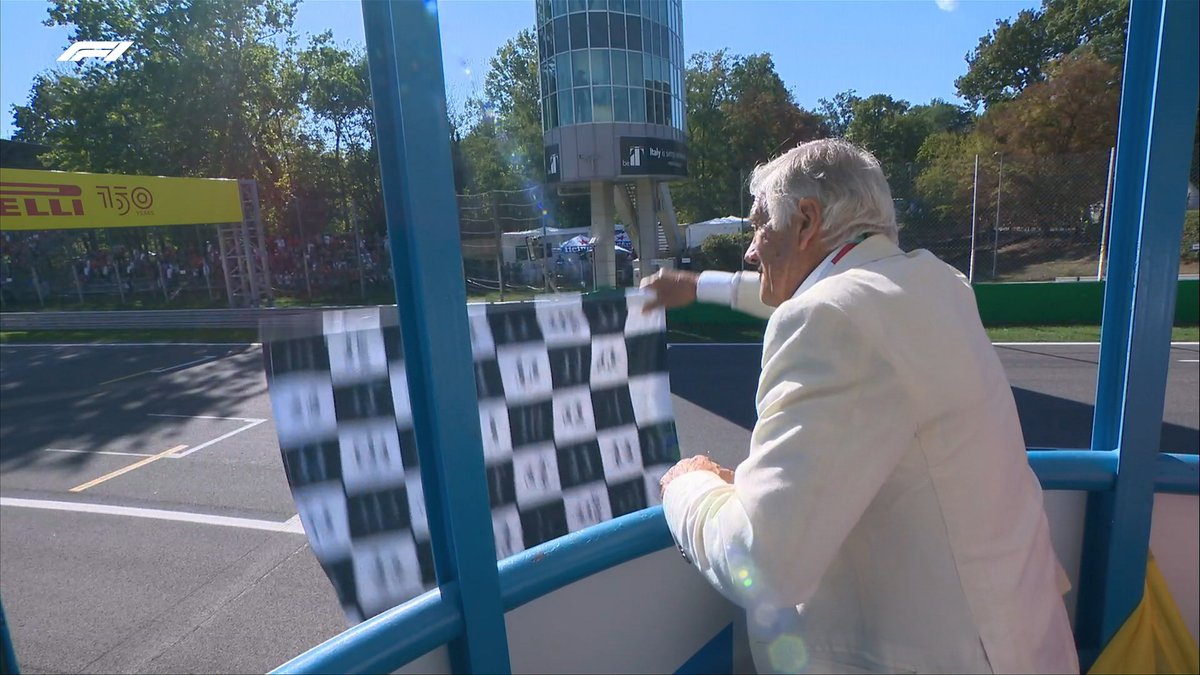 It was an interesting race of stargey as the front runners all tried something different to gain an advantage. After a Virtual Safety Car, Leclerc pitted onto medium tyres with 40 laps to go while Red Bull and Mercedes stayed out. Verstappen came in 13 laps later onto mediums himself and that decision by Ferrari earnt themselves a ten second lead over the rampant Red Bull.
Sainz was left out to go deep into the race while Russell was put onto hard tyres by Mercedes. It was a quartet of different gamplans as the usual one-stop race developed. With Verstappen cutting down Leclerc's lead rapidly, Ferrari had to do something and they responded by putting softs onto their Monagasque driver, which gave up top spot to Red Bull.
The gap extended to around 20 seconds which proved to be too much for big to close, and Verstappen would go on to win his fifth race in a row at a canter. The battle that unfolded behind him was intruiging as Hamilton, who started on the back row, scythed through the field on soft tyres.
He fought his way up to sixth and was closing in on Sergio Perez, before Red Bull decided to put him onto the soft tyres. That dropped the Mexican to seventh, behind Hamilton and Norris and they were all on the softs as the race entered its final stages. The podium places seemed settled as Verstappen ran away with the race, Leclerc settled in second and Russell was in third.
Sainz was hunting down the Englishman but then Daniel Ricciardo suffered an issue that led to a late and dramatic safety car. All the front runners came into the pits but unfortunately we didn't get to go racing again, as Verstappen took another race win.
The champion elect just moved one step closer. Singapore could be his crowning glory.