The unlikely summer signing from Lyon has transformed Burnley's fortunes
09:00, 28 Nov 2021
The Burnley stereotype has been well-cast over their five seasons in the Premier League. They are the archetypal 'Brexit-ball' football club that can only play long-ball and that only sign British players who are extremely functional, if limited in their ability. Led by the man with the roughest voice in world football, Sean Dyche, this side has performed well above the sum of their parts for half a decade to retain their place in the Premier League.
So when the Clarets, who are still successfully employing the classic 4-4-2 formation with Englishmen Nick Pope, Jamaes Tarkowski, Ben Mee, Josh Brownhill and Ashley Westwood forming a solid spine, signed Ivory Coast international Maxwel Cornet from Lyon this summer, eyebrows were raised.
Turf Moor welcomed the talents of a 25-year-old that had come through the French leagues and made five appearances for the unbelievably stacked France U21 side - a CV that meant Burnley were willing to spend £13.5m - their fourth highest transfer fee in their history - to bring him to the Premier League.
But this signing was a complete stand-out in Dyche's summer business. Stoke's Nathan Collins, ageing winger Aaron Lennon, Swansea's Connor Roberts and Wayne Hennessey had very much fitted the Burnley blueprint of signings so when Cornet's deal went through, a flamboyant player with European pedigree, it marked a turning point for Burnley.
Now these are baby steps, but from what we have seen so far, Cornet is transforming the way fans think about Burnley. His five goals to date have all been spectacular, from his right-footed strike at Leicester to his thumping left-footed volley against Crystal Palace, the 25-year-old has added a certain je ne sais quoi to Dyche's functional 4-4-2.
If the Clarets are to extend their stay in the top flight to seven seasons, Cornet will be a major reason for doing so as their relegation rivals strengthen in the form of new managers. His goals, (he is already the club's top scorer in all competitions with five in nine compared to Chris Wood's three in 15), have already won Burnley three invaluable points while invariably when he has scored they remain undefeated, such is his influence on the performance of the team.
🔥 Some strike, some player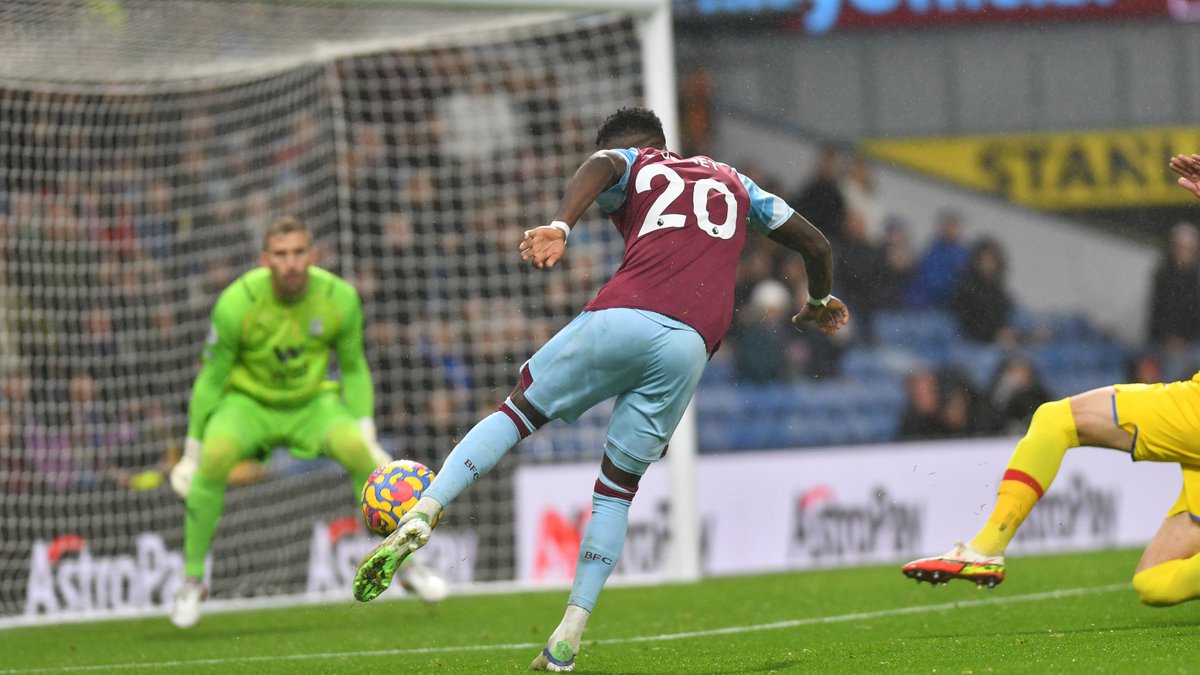 Having played the majority of last season as a left-back for Lyon, it is clear that Burnley have stumbled upon an unlikely goalscorer and having initially deployed him on the left-wing, are now using him as a partner for Wood given the finishing ability he has shown already this term.
But Cornet's signing may be even more impactful than simply keeping the Turf Moor club in the Premier League for another season. The fans may not care for the stereotypical British image they portray but in terms of attracting a higher calibre of player from Europe, Cornet could be the start of a new influx of incomings.
This won't be a sudden change by any means and Dyche would be remiss to abandon the sensible principles that have seen Burnley remain in the top flight on a shoestring budget - but he could well add another one or two 'Cornet-esque' signings to his squad next summer. The legendary boss has a deal in Lancashire that runs until 2025 and it is difficult to see him leaving before then, but the club and Dyche himself have pulled off a masterstroke with the signing of Cornet that could lead to long-term success.
He is so 'Un-Burnley' that he could just change the way we think about the entire football club and as a result, inspire other talented stars from Europe to make this Lancashire town their home.