After an unlucky start to life in Manchester, the Frenchman can finally take off at the Etihad
12:00, 26 Jan 2020
The summer of 2017 was a defining period in Pep Guardiola's Manchester City reign. No competitive games were played, but some major changes were implemented. After a disappointing first season spent getting to grips with a new way of playing, several significant additions were made to the City squad. In came Bernardo Silva and Ederson, while more than £100million was spent on full-backs.
It was a huge outlay but a necessary one, precisely because those areas are so important to seeing Guardiola's philosophy realised. Kyle Walker was soon followed by Danilo and Benjamin Mendy, perhaps the most promising of the three. But since his much-heralded arrival from Monaco, Mendy has made just 42 appearances for Man City in all competitions.
For all the hype and social media hijinks, the French international's time in England has been defined by injury and disappointment. He has maintained his positive attitude and self-belief throughout all the knockbacks, but some were beginning to doubt whether Guardiola still fully trusted him. Angelino returned from PSV Eindhoven last year, while Oleksandr Zinchenko, originally signed as a midfielder, has provided more competition since deputising at left-back in Mendy's absence.
The current season has featured even more interruptions but Mendy finally looks set for a sustained run in the team, Guardiola's rotation policy permitting. He has started six of Man City's last seven league games and will be aiming to prove that he can become the player he seemed destined to after that incredible year at Monaco. So far, he's shown just fleeting glimpses of his ability.
It was his role in Monaco's title win, and run to the semi-finals of the Champions League in 2017, that convinced Guardiola and his recruitment team that Mendy should be their number one target for the left-back position.
Across the previous trophyless season, Man City had finished third, 15 points off champions Chelsea. A six-game winning run to start the campaign had masked some underlying issues that came to the fore as several players struggled to adapt to the new, and very different demands placed on them. They had to completely reconfigure the way they thought about football and some found it harder than others.
Gael Clichy and Aleksandar Kolarov, who shared left-back duties that season, were both already the wrong side of 30, lacking the pace and dynamism needed to make Guardiola's system work. Mendy, relentlessly marauding up and down the flank for Monaco, seemed like the ideal solution. He was young, malleable and eager to learn.
Everything started so well, with Man City winning Mendy's first three games, scoring a combined 13 goals and conceding just one. Liverpool and Watford were swatted aside in successive weeks. Then midway through the first half of a home match against Crystal Palace, disaster struck.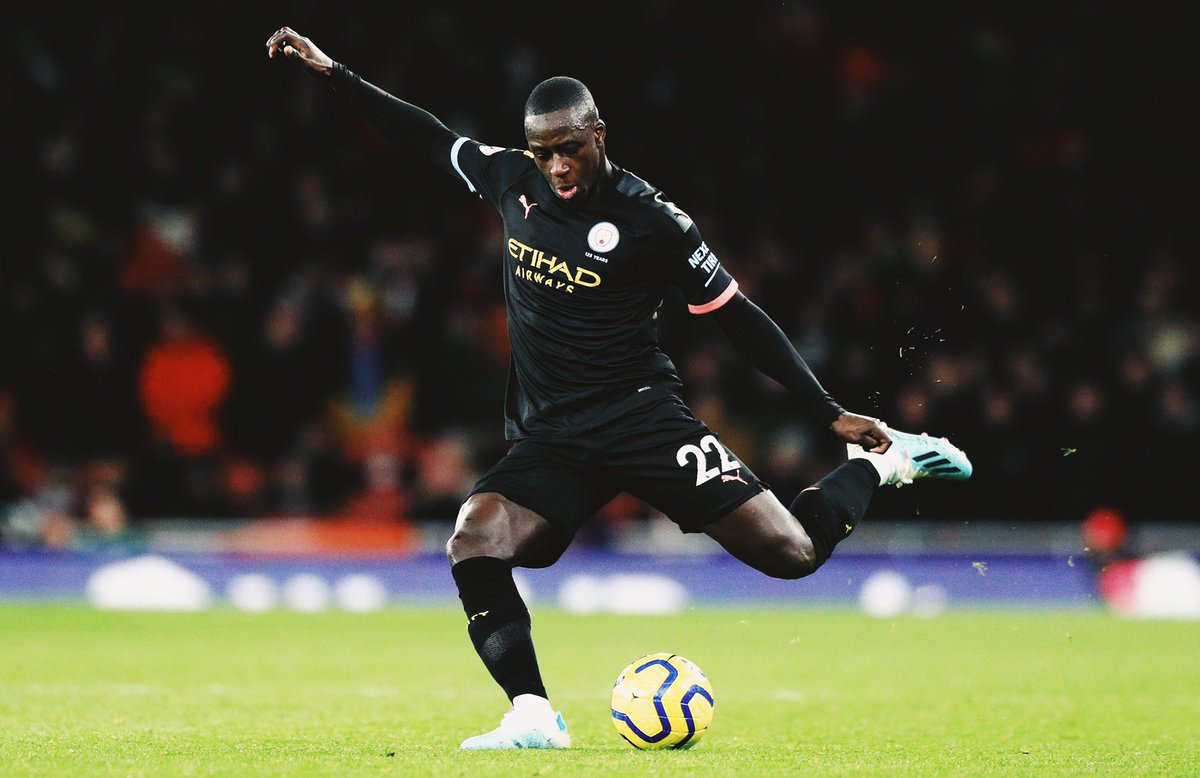 Man City were already leading 1-0, and on course for another comfortable victory, when Mendy went to challenge Andros Townsend and ended up jarring his right knee. After a lengthy on-pitch investigation, he had to be substituted and subsequent tests revealed that he had ruptured his anterior cruciate ligament.
Although compromises were found, Guardiola admitted in his post-match press conference that the injury severely undermined his plans. He had lost a key cog in the City machine. "Without Mendy, we cannot attack fluently with our full-back down the left," he explained.
A long and arduous period of recovery and rehabilitation ensued. Mendy remained his usual effervescent self, spurring on his teammates and even charging down the touchline to celebrate Raheem Sterling's 96th-minute winner against Southampton. It was reckless but also endearing, exactly what you'd expect him to do.
With Mendy unavailable for several months, Fabian Delph regularly filled in on the way to the title and 100 points. He demonstrated his positional awareness and adaptability but still inhibited City in some ways. Mendy was reduced to the role of mascot rather than providing thrust and purpose down the left as he'd hoped.
Regrettably, a cartilage problem in his left knee meant that after such a promising start, including five assists in nine league games, last season turned out to be much the same, with Zinchenko the surprise beneficiary. City completed a domestic quadruple but Mendy played little part. His 15 appearances were scant consolation for once more missing out on so much success.
There has been a certain rustiness to Mendy's performances so far, which is understandable in the circumstances. He came in for particular criticism following the 3-2 defeat to Wolverhampton Wanderers at the end of December as he dwelled on the ball in the area, allowing Traore to steal possession and cross for Raul Jimenez to score. It was a painful and very public mistake but he acknowledged it and moved on.
The title is already out of reach this season but there are still three more trophies for City to pursue, including the one that has continued to eluded them despite their domestic dominance – the Champions League. It's a massive incentive for the whole squad, not least Mendy, who has the potential to be the best left-back in the world and the chance to prove it after so much unhelpful disruption.