We may have seen a passing of the torch at Camp Nou this weekend
15:25, 03 Feb 2020
As the great Lionel Messi threaded a quite ridiculous pass from his own half into the path of Barcelona youngster Ansu Fati, the winger must have pinched himself. Here he was, as a seventeen-year-old being fed passes from one of, if not, the greatest players of all time.
He may have been slightly put off if he'd have realised the magnitude of this reality but instead he calmly took the ball in his stride and fired it through the goalkeeper's legs for his third Barcelona goal. 90 seconds later, it happened again. Fati nutmegged the keeper thanks to a Messi assist.
Just as we have seen Yoda nurture Luke Skywalker, Mr Miyagi teach Daniel LaRusso and Walter White share his knowledge with Jesse Pinkman, we are again seeing the professor guiding the student. Although these were not Fati's first goals for the Blaugrana, this felt like a monumental moment for the club.
When Messi was just a floppy-haired teenager, with the number 30 on his back and a cheesy grin on his face, he lit up the Nou Camp for his very first goal. Barcelona's main man at that time and the star of world football, Ronaldinho, lofted a ball through to him to lob the helpless Albacete goalkeeper Raul Valbuena and the rest is history.
At last count, he had hit 622 goals and recorded 256 assists for his club, a simply remarkable record, yet many fans still point to that first goal as the vital moment the baton was handed from their Brazilian superstar to their Argentine genius.
🗣️ @ANSUFATI is living his dream alongside Messi at
@FCBarcelona
! 💫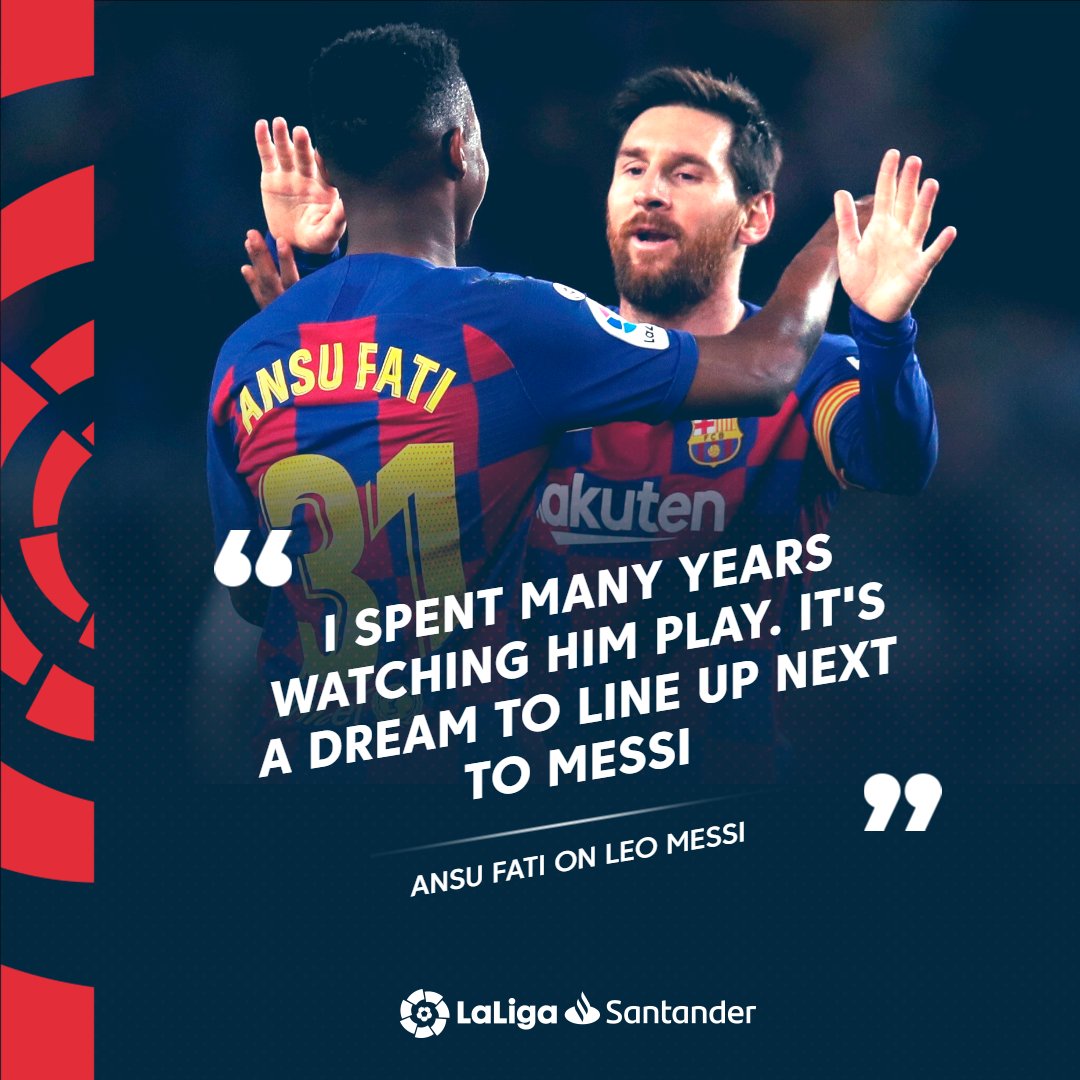 Fast forward fifteen years and although Messi is far from finished, it does feel like this moment could be another defining point in the history of one of the biggest football clubs on the planet. In Fati, they boast a top talent, who at such a tender age is making big strides in the footballing world.
Fati had already become the youngest La Liga goalscorer in Barcelona's history and the youngest Champions League goalscorer of all time this season but he added another record to his name this weekend, as he became the youngest player to hit a brace in the Spanish top flight.
To give his tender age some context, Messi scored his first league goal at the age of 17 days and 331 days old while Fati beat him by over a year, coming in at 16 years and 304 days old. Remarkable. His date of birth, October 31, 2002, may make you feel the oldest you have ever felt but there is something quite charming about his innocence on and off the football pitch.
He told La Liga in his post-match interview: "I still have doubts whether or not everything that's happening is real. Playing with Messi is a dream."
Nobody is suggesting that Fati will overtake what Messi has achieved in the game, but there certainly seemed to be something symbolic about that mesmerising through ball. Just like Ronaldinho did before him, Lionel Messi may just be crowning the next heir to the throne.
👉 Youngest player to score a brace in
#LaLigaHistory
.
👉 Youngest ever
@FCBarcelona
goalscorer.
👉 Youngest player to score at the Camp Nou.
👉 Youngest player to score and assist in the same game in
#LaLigaHistory
.
His name is
@ANSUFATI
, and he's only 17. 😍
#Bar
çaLevante