Miguel Angel: The Original Sporting Star Of The Nadal Family
14:00, 27 May 2019
As soon as the surname Nadal is mentioned, tennis is the first thing that comes to the mind of many people.
Over the past 15 years, Rafael Nadal has established himself as the king of clay. Claiming more ATP titles on the surface than any other player in the Open Era and winning the French Open a record 11 times. While his achievements justify his superior status in the sport, he is not the first member of his family to excel.
Three years before Rafael was born, his uncle Miguel Angel Nadal began what turned out to be a stellar football career in 1983. His journey into the professional league originated in his birthplace of Manacor. Playing for CE Manacor, who participated in the third and fourth tiers of the Spanish league during the 1980s, for three seasons. During the 1985/86, he scored 11 goals in 24 appearances.
At the age of 20, Miguel made his debut in the La Liga for Real Club Deportivo Mallorca. He would end up spending four years with the team between 1987-1991, scoring 22 goals in 122 appearances. His position on the pitch was either defender of a midfielder. One of his biggest achievements whilst with the club was reaching the final of the Copa Del Ray in 1991. The oldest football competition in Spain that was founded back in 1903.
"Miguel Angel was not rough," Rafael told reporters back in 2005. "He was a technical player. I used to go to the stadium all the time to see him when he played for Real Mallorca. And I kicked a ball in the garden with him lots of times."
The big time
The biggest achievements of Miguel's career took place during his time with football giants Barcelona F.C. Playing at Camp Nou for eight consecutive years throughout the 1990s, he was part of the team that won five Liga titles, two Spanish Cups, four Spanish Super Cups, a UEFA Cup Winners' Cup, two UEFA Super Cups and a European Cup. It was during an era of the club's history which that proudly described as the 'dream team.' Largely overseen by manager Johan Cruyff, who died in 2016.
"Ronaldo and Romario were the two best players I ever played with. They were able to do things I only imagined were possible in my dreams. If I said that Ronaldo was the best player I ever played with, he is also the best player I have ever played against." He once told goal.com.
Miguel made 208 appearances for Barcelona, playing in mainly defensive roles. His aggressive approach was one that got him in trouble. In total, the Spaniard received six red cards. According to bdfutbol.com, only three players have received more red cards in Barcelona's history. The leader being Hristo Stoichkov with eight. Miguel was also issued with 78 yellow cards.
The physicality of the Spaniard earned him the nickname 'Beast of Barcelona.' He was not afraid of taking on his opponents regardless of their shape or size. Although he was never a fan of that analogy.
"Before I played in the European Championship with the national team in 1996, the English put in the newspaper that I was the 'Beast of Barcelona. That sort of nickname was not right. I was known in Spain as somebody who played elegantly from defence, not dirty at all."
Regardless of his nickname, which some joked were partly due to his dodgy haircut at the time, he was known as one of the unsung heroes of the team. Along with his popularity came a surge in interest from elsewhere with one of the most notable fans being Alex Ferguson. The former Manchester United boss embarked on a four-week mission to sign Miguel during 1996 but it ended in disappointment.
"I was on the verge of signing," he told The Guardian back in 2001. "I had one foot and a half in Manchester. Everything with United was fine and I was ready to move, but there were problems with Barça and at the last minute they refused to let me leave. I would have liked to play in England. The grounds there have a special character which is different in Spain, and I've got very good memories of Wembley."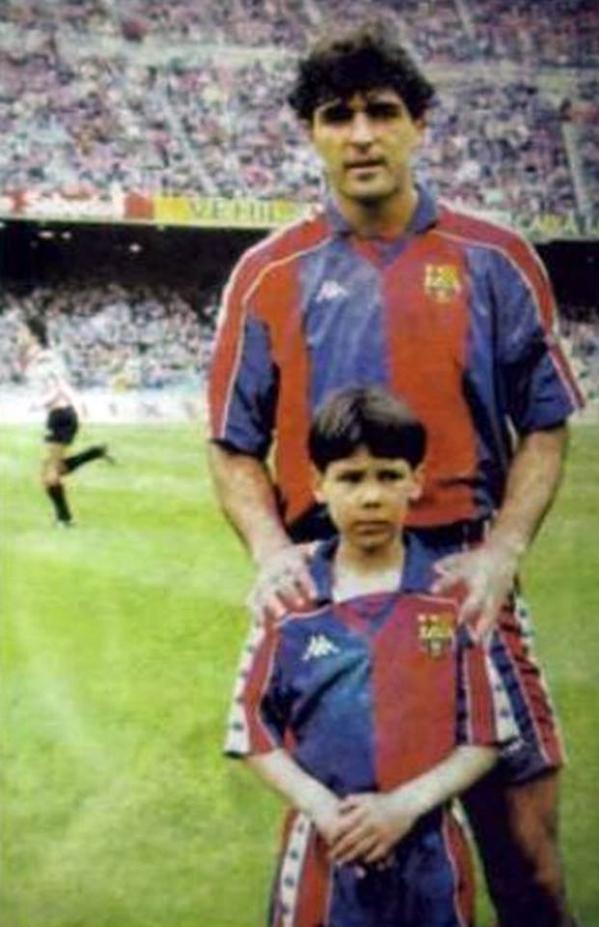 National pride
Beyond the national league, the Mallorcan was also a regular fixture in his country's national team. Miguel's record includes appearing at three consecutive world cup tournaments between 1994-2002. However, he only managed to score one goal in FIFA-level tournaments out of 26 appearances.
"I spent my first World Cup in the United States. For me, it was a new experience and almost the whole team debuted in that competition. We had an illusion, but we lacked the winning team mentality," he remembers.
"In the second World Cup, we were practically the same group of people and we had everything. We already had the experience of the previous World Cup, but we lacked the preparation to face the first matches because as the matches went by we were finding ourselves better. In the last one I played we did not lack anything, we had an arbitrator."
Out of those three competitions, Spain's best performance was reaching the quarter-finals in 2002 before losing to South Korea on penalties.
At the 1996 European Championships, a missed penalty by Miguel during his country's quarter-final clash with England proved fatal to their title chances. Spain lost 4-2 on Penalties with Fernando Hierro being the other player to miss.
Living in the shadows of Rafa
Miguel would end his career back with RCD Mallorca. Spending a further six years with the club before retiring in 2005. The same year nephew Rafael won his first grand slam title at the age of 19 in Paris.
It is sad in a way that Miguel's achievements have been overshadowed by his nephew in the sports world. On the other hand, it is logical. The world No.2 tennis player has spent 196 weeks at the top of the world rankings and has been continuously ranked inside the top 10 since April 2005. He is regarded as one of the greatest player of the sport in the Open Era alongside rivals Roger Federer and Novak Djokovic.
"It does not bother me. I'm delighted. If I have a family member who is doing very well, I am very happy. Rafael is my nephew, he grew up with us."The former La Liga player said during an interview last year.
"We watched him grow up, playing tennis and football together. We have seen a small boy become professional. Rafael, when he was little, was a different player. He could have predicted that he would be a good tennis player, but he would never know that he would achieve what he achieved in his career. He, along with Federer and other legends, is making history in tennis."
It is rare that a family can produce one sporting hero, never mind two. Miguel may never be remembered as much as Rafael in the future, but his achievements are ones millions around the world would only wish to achieve.
This is why tennis shouldn't be the only thing associated with the name Nadal.