''Mourinho Silences The Stadium'' - How Italian Press Reported Manchester United Win Over Juventus
13:32, 08 Nov 2018
"Special flop!" proclaimed the Thursday morning edition of La Gazzetta dello Sport. "Stunning CR7 goal, then Mourinho silences the Stadium." In just eight words, Italy's best selling newspaper had succinctly and perfectly recapped the previous evening's Champions League clash between Juventus and Manchester United.
It was– thanks to Cristiano Ronaldo's sensational volley – a match which appeared to be following the same script as the clash at Old Trafford two weeks earlier; Juventus controlling proceedings from start to finish, bending the game to their plan and outplaying the English side in every single department.
They repeatedly carved open the Reds' defence, Sami Khedira and Juan Cuadrado guilty of wasting glorious chances until their Ronaldo tracked the flight of Leonardo Bonucci's long ball perfectly, letting it drop over his right shoulder before displaying flawless technique to despatch it beyond an utterly helpless David de Gea.
There may have been less than half an hour left to play, but to all intents and purposes the game was over, a feeling that only intensified when Max Allegri sent on Andrea Barzagli in the 83rd minute. That saw him join Bonucci and Giorgio Chiellini as vaunted "BBC" trio looked to kill the tie, but it took less than 120 seconds for that to be revealed as complete and utter folly on the part of everyone in Bianconero.
Suddenly, United were energised. Anthony Martial burst down the left flank, his cross/shot only kept at bay by a combination of Chiellini and Wojciech Szczesny. It was a warning that would go unheeded, Blaise Matuidi inexplicably fouling Paul Pogba right on the edge of the box despite his compatriot heading away from goal and posing no danger whatsoever.
Juan Mata stepped up to curl the set-piece home and, just as Juventus fans were ruing the prospect of an unfortunate draw, another free-kick was flicked on by Marouane Fellaini and then took several deflections before eventually going in off Alex Sandro's face. Szczesny should've saved it, but the sequence of events which led to a winning goal for United in a game where they were thoroughly outplayed began long before that.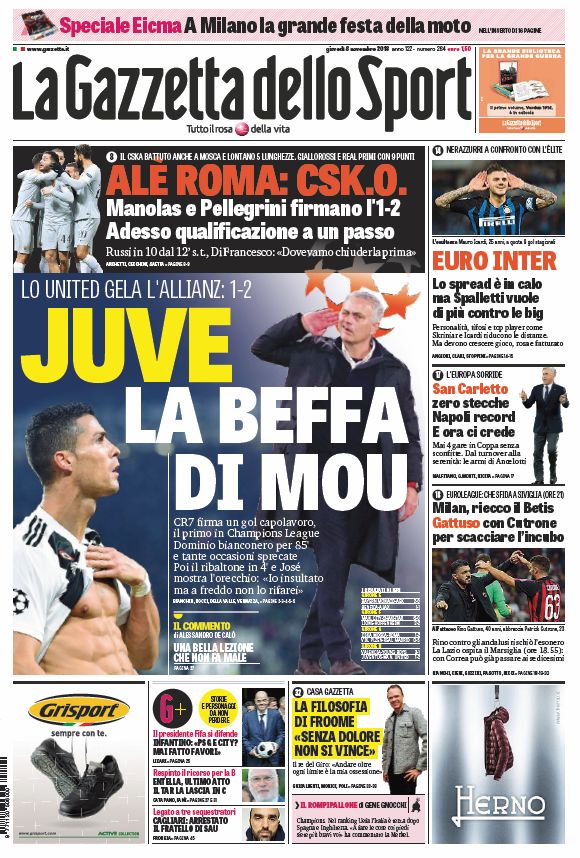 The entire Italian press corps clearly saw it. Gazzetta's Fabiana Della Valle called the result "a game thrown away" inside the pink paper, while Gianluca Oddenino of La Stampa said that Juventus had won and "seemed ready to celebrate José Mourinho's funeral, but in the end the Special One was most certainly alive."
Writing in national daily newspaper La Repubblica, Federico Sala added that "the final scoreline was almost insulting to Juventus," but in truth that ignores signs that have been evident for some time.
Somehow they handed Genoa an equaliser three days before that first meeting with United despite enjoying 65% possession, they then nearly blew a 1-0 lead at Old Trafford when Pogba hit the post. Empoli and Cagliari both scored completely against the run of play as the previously strong Bianconeri defence began leaking goals at a rate which caused alarm but – as Chiellini admitted – clearly didn't spark a good enough response.
"We've been threatening this sort of mess for a few games, to be honest. We get too complacent and run risks that are totally unnecessary," the Juve skipper told Sky Italia shortly after leaving the field on Wednesday evening. "Maybe now we'll get our heads down and focus the way we need to in every single match, taking nothing for granted. We had been in total control, but were very wasteful and forgot the details, because we knew where Manchester United could be dangerous."
Having been showered with jeers for most of the second half, a defiant Mourinho strode to the centre circle immediately after the final whistle, cupping his ear to the home fans and loving every second of his victory. The hope now has to be that the sight of him celebrating a win that was entirely down to Juve's errors in their own stadium is enough to jolt the Old Lady back into form, because she cannot continue to play with such an apathetic attitude.
Allegri must shoulder a huge portion of the blame, his negative mindset undermining the approach of his talent-laden squad. By opting to rest players like Joao Cancelo, Douglas Costa and Federico Bernardeschi, the Coach left himself without attacking options on the bench and showed those who did play that, bizarrely, this game was not a priority.
Instead of eliminating United and securing passage to the knockout phase, Allegri instead appears to be looking for victory against AC Milan on Sunday to strengthen Juve's grasp on yet another domestic title. Already enjoying a six-point lead in Serie A after just 11 games makes that a frankly ridiculous decision, and his post-match claim that "the good news is we lost the least important game" will carry little weight with supporters desperate for Champions League glory.
It was time to win, and they came up short. Worse still, they had virtually assured a victory before negativity, mistakes and a lack of attentiveness came back to bite the Old Lady hard. For Juventus, that is simply not good enough.