Criminally underrated, Cazorla was and remains one of the most talented and best midfielders of his generation
08:56, 02 Mar 2020
Santi Cazorla is not your average footballer, in terms of ability or mentality. Born into the most talented technical generation of Spanish midfielders ever, forcing him to compete with the likes of Xavi Hernandez, Xabi Alonso, David Silva and Andres Iniesta for international recognition, he hasn't always been appreciated to the level he perhaps should be.
One place where that simply isn't the case, though, is at the Emirates Stadium. Arsenal, the club where he spent his prime years despite being ravaged by injury, are planning to honour one of their greatest modern signings when he heads back to North London for the first time with Villarreal in pre-season next summer.
For most players an injury like the one Cazorla suffered on his ankle, which required eight operations and a skin graft, would have been enough to call it quits. Just walking again, let alone playing, wasn't a given. At the age of 35 though he isn't solely surviving or going through the motions like an old man trying to chase a former glory; he is thriving and has so much more to offer.
His eight goals in La Liga this season are proving as much as the Yellow Submarine, his first professional club before subsequent spells at Malaga and the Gunners, continue to chase European football. His dreams of representing Spain are far from dead; he made a comeback last year and is playing his way into contention for Euro 2020 this summer, as one of the last bastions of the era which yielded the historic treble of two European Championships and a World Cup between 2008 and 2012.
Because of those he played alongside and competed with, Cazorla has often been shunned in conversations about true greatness. Even at Arsenal he was considered a downgrade on the outgoing Cesc Fabregas when he arrived in 2012 and though he showed what he was about and struck up an understanding with those in and around the club, he never quite stood out for those watching externally.
In fact only now, because he isn't declining in quality and still impacting games with goals and key passes despite all he's been through, is he really gaining full respect; the kind he always deserved. At £10million he simply must be regarded among the best bargains in recent Premier League history.
Arsenal are planning to welcome back legendary boss Arsène Wenger & former fans favourite Santi Cazorla back to the Emirates Stadium for a farewell match ahead of next season. [Mail]
#afc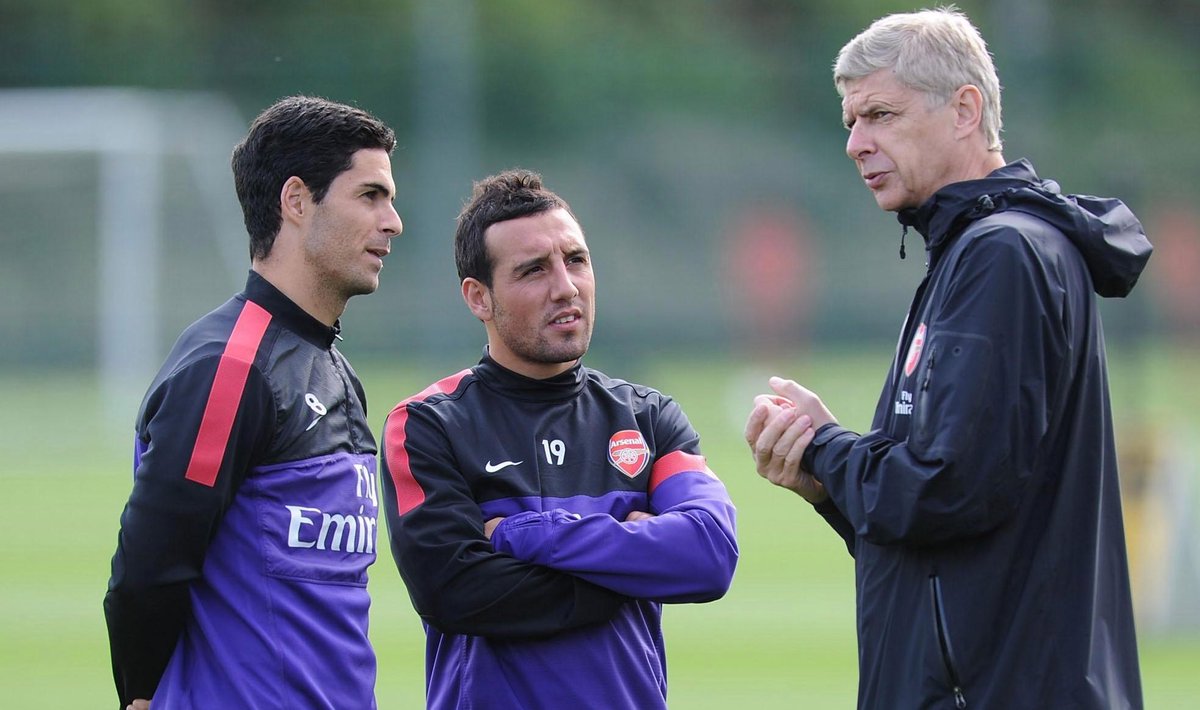 How Mikel Arteta would love a peak Cazorla in his team right now; the Gunners have gradually reduced their creative output in midfield and have never really replaced him after letting him depart on a free transfer in 2018. Logic dictated that decision at the time; financially keeping him was a risk not worth taking because the expectation of any player in his position is either retirement or a slow wind down of their career.
Watching Cazorla must give Arsenal supporters mixed feelings, with joy and frustration in equal measure; alongside his eight league strikes, he has five assists, added to ten last year. With 57 appearances over the last season-and-a-half, he continues to prove his worth, too.
There really can't be enough praise given to Cazorla for the way he has moved on from such a tough experience. In some ways, it feels like it never happened, which is the ultimate compliment he can be paid; he is back with his immaculate balance and unwavering technique, controlling games just as he always did.
But to solely remember him because of the way he has battled adversity does him a complete disservice; he was and remains one of the most talented and best midfielders of his generation, it just so happen that in his generation "world-class" feels like the average.
Should Luis Enrique select him this summer, he'll play a huge part for La Roja even if he isn't a regular starter. Not only will his experience prove invaluable for the next generation, most notably Napoli's Fabian Ruiz, but he'll be someone who can turn a game in an instant if needed. He always has been, and it is both a shame and rather fitting that he is finally being appreciated for his mental and physical qualities.
The end may be on the horizon, but nobody can say when Cazorla will hang his boots up; after all, if an injury which almost cost him the ability to walk can't keep him down, what can?