The World no.11 put in a record-breaking display to beat Ali Carter 10-4 in Wolverhampton
21:44, 26 Feb 2023
Shaun Murphy produced a record-breaking display of scoring to end a three-year title drought with victory at the Players Championship.
The Magician cast a spell over the green baize at the Aldersley Arena in Wolverhampton as he pounded a hapless Ali Carter with a barrage of big breaks in a 10-4 success.
That saw world No11 Murphy, 40, pocket the £125,000 first prize as he bounced back in spectacular style from a shock defeat in last week's Welsh Open final to Rob Milkins.
READ MORE:
And the records tumbled as Murphy clinched the 10th ranking title of his career, and a first since the pre-Covid pandemic Welsh Open of 2020.
Murphy, who might have had two 147s in the final, smashed the previous record of eight centuries made in the event for the best 16 players of the season with a new mark of 11.
And he also finished with another record that might take some beating – making the five highest breaks of a single tournament with efforts of 145, 141, 137, 135 and 133.
The run of 145 earned former world champion Murphy another £10,000 for the highest break of the week. And the title edged Murphy clear of good friend Mark Allen, Peter Ebdon and John Parrott in the all-time list and level with Jimmy White in joint-10th spot.
Recent German Masters winner Carter, 43, also suffered disappointment last week with Milkins' title in Wales denying him a £150,000 bonus.
But despite the agony there are consolations. Like Murphy, Carter looks good for a place in the top-eight Tour Championship, as well as a top-16 Crucible seeding.
Murphy said: "I played really well all week. Last week in the final of the Welsh I couldn't get the job done.
"But to play that well as I did tonight when I needed it most will go right up there with my best achievements. It is a big feather in my cap.
"You have to persevere through the bad times in your career. Through Covid and lockdown I think we all struggled, but there hasn't been a lot to get excited about in snooker for me.
"There has been a lot of soul-searching and looking in mirrors. But some great family and friends have got me through."
Shaun Murphy has beaten Ali Carter 10-4 to win the
@Duelbits
Players Championship final, sealing victory with his eleventh century of the tournament.
He will receive a cheque for £125,000.
#DuelbitsSeries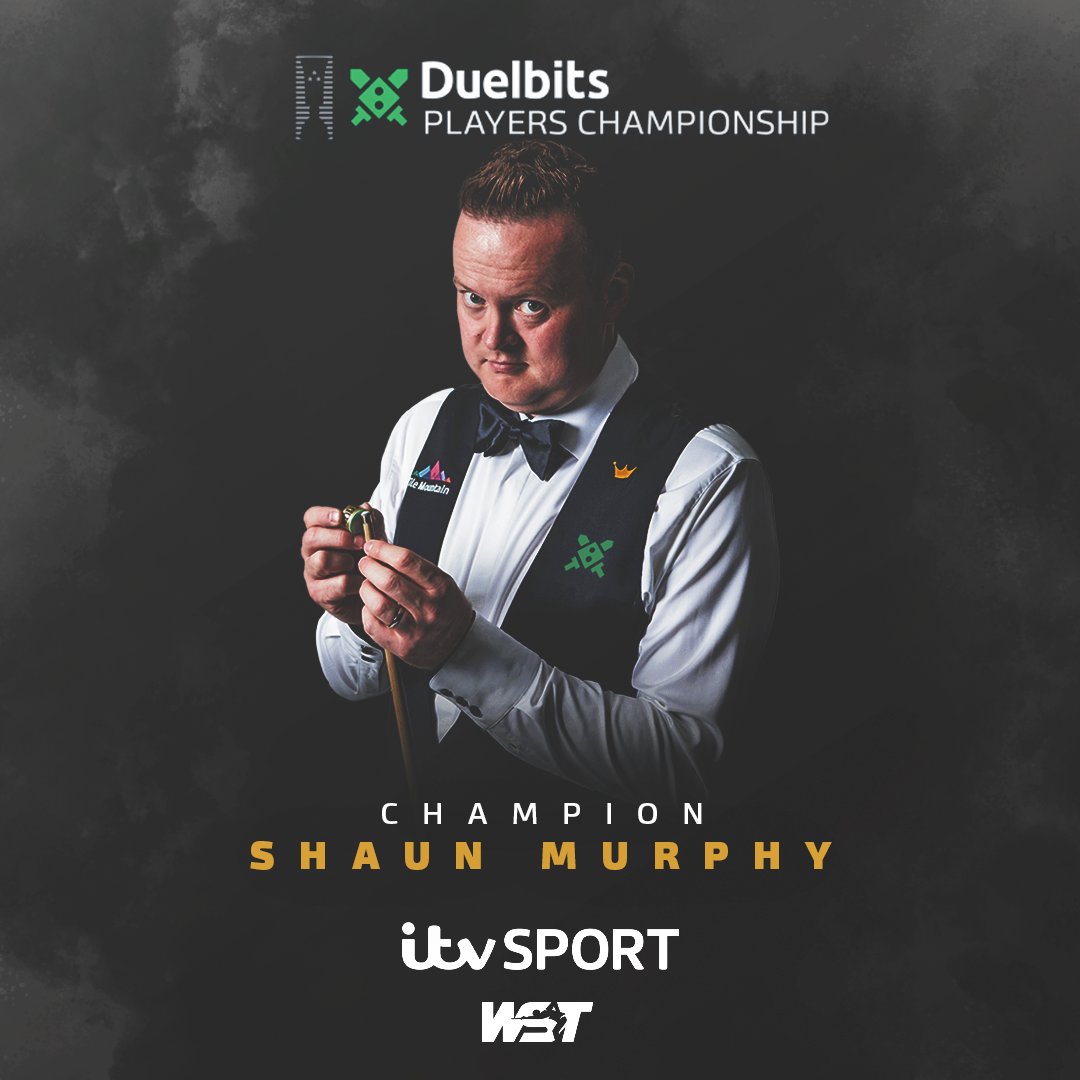 Carter said: "Shaun played great, and he has played the best all week. He was potting every long ball he saw if I didn't find the baulk cushion with my safety.
"It is unbelievable he hasn't won for three years. But it has been a great month for me winning the German Masters and getting to the final of this, and I'd have ripped your arm off for it a month ago."
By the end of the first afternoon session of the final, Murphy had already beaten John Higgins' 2021 Players Championship record of eight centuries.
Yesterday afternoon he made a 145, followed by a 141 and then might even have topped that but missed the final red on a run of 112 with an eight career 147 in his sights.
Such scoring power saw Murphy take a 6-2 lead into the decisive evening session, with Carter having done very little wrong and contributing breaks of 54, 122 and 59 himself to the spectacle.
Murphy saw another maximum attempt fail on 89 as he surged 7-2 clear, and a 10th century of the event took him to within two.
And though Carter battled on, a run of 88 and a superb closing 130 saw Murphy home.
Meanwhile this year's World Championship is set to be overshadowed by the hearing for the 10 Chinese players suspended and charged with match-fixing offences.
The snooker authorities had hoped to stage the independent tribunal by March, to at least have a chance of the process being tied up before the blue-riband tournament.
But delays have seen the provisional scheduled date pushed back until the end of April, with the Crucible extravaganza starting on April 15.
Ronnie O'Sullivan will be going for a record eighth crown in Sheffield, in an event that is the biggest and best showcase of what the game has to offer.
After the hearing there will be time needed for the panel to arrive at their decision, publish the verdicts and agree on sanctions – with then possible appeals to follow.
Former Masters champion Yan Bingtao, Lu Ning, Zhang Jiankang, Chen Zifan, Chang Bingyu and Zhao Jianbo were charged with fixing a match.
And former UK champion Zhao Xintong, Liang Wenbo, Li Hang and Bai Langning were charged with being concerned in fixing someone else's match.
Photo: Zhai Zheng
*18+ | BeGambleAware