The Australian claimed his second Masters title with a 10-4 win over Barry Hawkins
22:36, 16 Jan 2022
Neil Robertson piled Masters success on Ashes misery as the latest Australian to demolish England's best on Sunday night. The 39-year-old claimed his second title in the prestigious invitation tournament for the world's top 16 players a decade after his first with a 10-4 win over Kent's Barry Hawkins.
World No4 Robertson did not even have to fulfil a rash title pledge of jumping into the icy Alexandra Palace boating lake after venue bosses intervened on health and safety grounds. And that meant the huge cricket fan, who has been wallowing in events Down Under, could enjoy the £250,000 first prize and lifting the Paul Hunter trophy without having to get wet.
World No10 Hawkins, 42, certainly put up more of a defence than England's cricketers but in truth Robertson was always in charge as he claimed a sixth snooker 'major'.
These are the big three titles incorporating also the World and UK Championships, and the Australian is now up to seventh on his own in the all-time list. That edges the former world champion one clear of Alex Higgins, and takes him to within one of Mark Williams. Robertson, who made breaks of 50, 105, 54, 54, 73, 50, 68 and 114, celebrated with his wife Mille, and children Alexander and Penelope in the arena.
He said: "With the players I have had to beat to win this, it has to be right up there with my other achievements. And it has been great to hear a London cheer again in a snooker arena.
"Maybe Barry was a bit unlucky being in the second late semi-final on Saturday. This was the first big one I won after Alexander was born, and I wanted to repeat it for Penelope. It's nice to have another Australian win over England that's for sure, and here in London.
"I have enjoyed checking the cricket scores over the last few weeks. And there have been a few Aussie punters in the crowd over the week which has been great. Listen, on the morning of this final it was great to wake up and hear Australia had won the last Test to make it 4-0, I had a big grin on my face. There was some mercy with the draw.
"On the radio earlier they were wondering who has had the worst time in Australia, the England cricket team or Novak Djokovic. It's probably England. I try and draw inspiration from anywhere I can.
"It feels really good to sprint to the finishing line as I did in the final, very different to the semi-final where I was just struggling to stick my neck out ahead of Mark Williams. I only really made one mistake in the evening where I got a bit ahead of myself, but I hope the crowd enjoyed some good snooker.
"Having this sort of crowd atmosphere helps me enormously. I think it's the kind of crowd where many players can't really handle it. You have seen how tense the matches have been."
Hawkins said: "I am not too disappointed even though I lost in the final. I have had a great week, one of the best in my life and the atmosphere has been incredible. Today wasn't meant to be. I made too many mistakes and you can't do that against Neil as he is too great a champion. But I can take positives from the week overall.
"I expected to go out and play well but I didn't, and because of that I was happy to be only 5-3 down at the end of the afternoon session. I felt better in the evening but Neil came out and was stronger, so that made it very difficult to get back into the match.
"There are not many snooker players that have experienced the atmosphere we have had this week, and all that screaming and shouting will stay with me for many years to come. Coming down those stairs for the final into the arena made for a special occasion, past my friends and family – my legs were like jelly. And now I want to carry on for the rest of the season with the same mindset I have had this week."
The first four frames were shared, with Robertson making the highest early break of the final with a run of 105 to edge 2-1 in front before Hawkins levelled.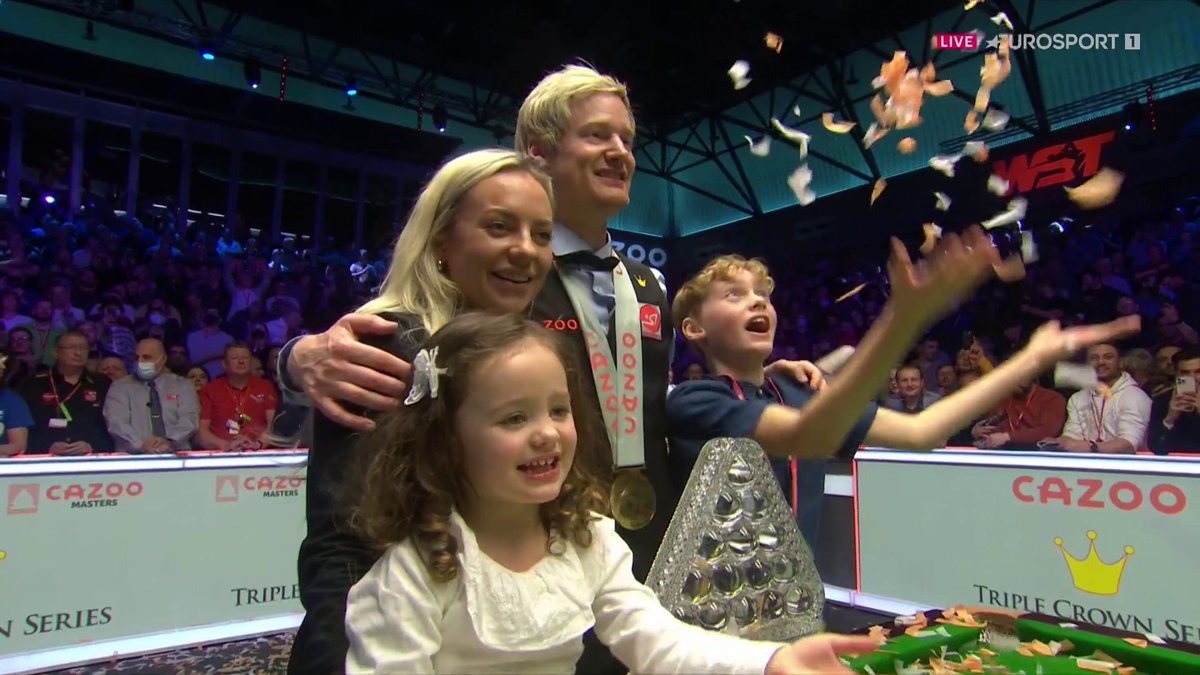 But the Australian then started to take control, stealing the fifth frame despite a break of 60 from the Hawk, and then doubling that lead at 4-2 with two breaks of 54. And though the Kent player clawed one back, it was the Melbourne-born world No4 who took a narrow advantage into the concluding evening session with a break of 73.
That last frame of the afternoon started to look like a key moment as the 39-year-old piled on the pressure in the evening – extending his advantage to 8-4 helped by runs of 50 and 68. The momentum was all in Robertson's favour and he put himself on the brink of victory with a break of 114, and closed out victory in the next frame.