How his father's death and the press made Jordan swap his jersey for a bat
10:18, 12 May 2020
Episode seven of Netflix's latest docu-series, 'The Last Dance,' which gives viewers unprecedented access behind-the-scenes of Michael Jordan's final season with the Chicago Bulls, opens with the Illinois outfit's play-offs against the New Jersey Nets.
Despite claims from Jordan that the Bulls would "have to fall asleep to lose [to the Nets]," 'His Airness' was very close to having egg on his face, scraping past the east coast club by just three points in the opening match.
Jordan, having dealt with media pressures all season having announced it would be his last, was described as mentally and emotionally exhausted, harkening back to his 1993 season when tragedy struck and Jordan's career took a complete U-turn.
Jordan's father, James, was the driving force behind a lot of Jordan's success on the court. He was "the voice of reason that always drove and challenged me," Jordan recalls.
It was his father that led the future six-time NBA Championship winner on the straight and narrow as a child, and kept him focused on a career as a pro athlete.
"I remember in ninth grade, I got suspended three times in one year and my father pulled me aside and said 'Look, you don't look like you're heading in the right direction. You wanna go about doing mischievous things, you can forget sports.'
"That's all I needed to hear. From that point on it was like tunnel vision and I never got in trouble from that point on."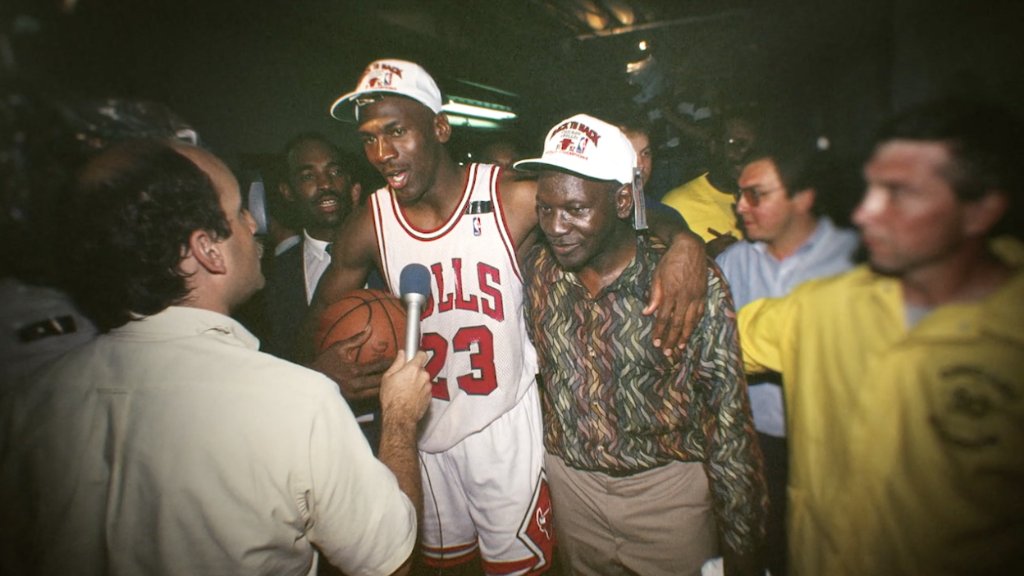 There are several sources quoted in the episode that backs up how close the bond between Jordan senior and junior was. Tim Hallam, Chicago Bull's Senior Director of Public and Media Relations, says: "If you knew Michael, you pretty much knew James because they were always together. They were very close - best friends."
One anecdote, from NBC Sport's Ahmad Rashad, perfectly sums up the relationship the two held with one another.
"He'd [James] be hanging out before the games and he'd find some kid in the stands, some kid that would never have had the chance to meet Michael Jordan - when the game was over he'd walk that kid to the locker room. The kid would be through the roof."
Tragedy struck in 1993. James Jordan was meant to be in Chicago on July 23 for one of Michael's charity events but never showed up. The elder Jordan would often go on golf trips or visit old friends for days at a time so at first his absence, though odd, didn't immediately ring alarm bells. After three weeks, it was clear that something was horribly wrong.
First his red Lexus was found, stripped and hidden in North Carolina. Then, on August 13, his body was found in a river between North and South Carolina - he had pulled over to the side of the road to get some sleep and had been awoken by two men with a gun, shot in the chest and robbed.
The fallout over his father's death from the media was horrific, described at one point as "not journalism's finest hour." Certain pockets of press were relentless in the aftermath of Jordan's father's murder, sparking ludicrous theories that Jordan's gambling problems had gotten his father killed.
There was zero basis to these claims, and looked even more preposterous when contrasted with the police report that said it was the result of "greed and brutality" and that the victim "could have been anyone of us."
How could anyone go on when their father is murdered in cold blood and they, for no reason, become the one people blame? Jordan wanted to retire, and who could blame him?
"I fulfilled my responsibility to the city, the Bulls, to my teammates.
"I have no challenges, no more motivation. I wanted out," Jordan says.
It was here that Jordan hung up his jersey and picked up a bat, joining the Chicago White Sox, something that his father would have loved. When asked what the last conversation he had with his father was, Jordan, clearly emotional, replies:
"We were debating about me playing baseball. 'Dad, I wanna go play baseball.' And all the things he was saying, 'Do it. Do it,' because he was the one who got me into baseball."
Despite selling out every match he played in, starting off with a 13-game hitting streak, and being well-received by teammates and fans, Jordan's tenure in baseball was ultimately short-lived. But he had done what he had set out to do, and honour his father he certainly did.
"My father always told me I was doing the right thing… and I did it."