New Bundesliga Fixtures: Tough Run-Ins For Bayern Munich and Borussia Dortmund
09:12, 29 Jun 2019
The German Football League (DFL) has revealed the fixture list for the 2019/20 Bundesliga season, handing difficult title run-ins to both defending champions Bayern Munich and main challengers Borussia Dortmund.
Bayern will begin their quest for an eighth straight Bundesliga title at home to Hertha Berlin on Friday 16th August, tradition dictating that the reigning champions kick-off the new season at home under the lights on an opening weekend which also sees Dortmund welcome Augsburg.
The two heavyweights will cross swords for the first time at the Allianz Arena on Matchday 11 on the second weekend of November, with the return fixture at Dortmund's Westfalenstadion scheduled for Matchday 28 in April, setting up what look like difficult run-ins for both sides – on paper at least.
Bayern's trip to Dortmund will be followed by tough fixtures against Bayer Leverkusen, Borussia Mönchengladbach and Werder Bremen, teams which finished fourth, fifth and eighth last season respectively.
However, while Bayern's final two fixtures appear eminently winnable (Freiburg at home and Wolfsburg away), Dortmund face Red Bull in Leipzig before hosting Hoffenheim on the final day. If the Black and Yellows are to win the Bundesliga for the first time since 2012 – and it's not an unrealistic aim after coach Lucien Favre strengthened his squad with Julian Brandt, Thorgan Hazard Nico Schulz and Mats Hummels – they may need a sizeable cushion going into the last two games.
Those points will be have to accumulated in the middle of the season because Dortmund's opening run of games don't look particularly friendly, either. After Augsburg, they travel to promoted sides Cologne and Union Berlin – and then it gets tough, with a run of fixtures against Bayern Leverkusen, Eintracht Frankfurt, Werder Bremen and Borussia Mönchengladbach, culminating in the first Revierderby of the season away at Schalke on Matchday 9.
Das Revierderby: Schalke 04 vs. Borussia Dortmund
And that's the fixture that German football fans tend to look for first at the start of the season, not the so-called Klassiker, which is little more a brand name thought up by the Bundesliga's marketing department.
Because, while Bayern and Dortmund have undoubtedly been the two strongest teams in Germany over the past decade and are likely to battle for the title again, the rivalry is purely sporting. No particular animosity exists between the active supporters, who come from different ends of the country and otherwise have little to do with one another. If anything, there's a quiet respect.
That can't be said for the Revierderby, a rivalry where Schalke and Dortmund fans refuse to even mention the opposing city, Schalke referring instead to "Lüdenscheid-Nord," while BVB supporters refer to "Herne-West" rather than Gelsenkirchen, names based on local nearby towns.
Indeed, when the two meet at the Veltins Arena in October, the derby will see Dortmund's hardcore ultra groups return to Gelsenkirchen after a five-year ban following serious trouble on exactly the same weekend six years earlier. On October 26th 2013, Dortmund ultras refused to travel on official police-designated trains, instead arriving in Gelsenkirchen "conspiratorially," in police speak, before storming the away end, smashing down plexiglass divides and launching pyrotechnics into surrounding blocks and onto the pitch.
Schalke issued over 400 five-year bans to identified BVB fans, prompting unaffected ultras to boycott anyway in solidarity. Consequently, recent derbies in Gelsenkirchen have disappointed hugely in terms of atmosphere, but that should be about to change.
Das Berliner Derby: Hertha BSC vs. 1. FC Union Berlin
When 1. FC Union Berlin overcame Stuttgart in the promotion/relegation play-off in May, it didn't just mean the club's first ever promotion to the Bundesliga, it also set up a first ever Bundesliga derby against local rivals Hertha BSC – and a first ever top-flight Berlin derby since 1977.
And as Germany prepares to celebrate the 30th anniversary of the fall of the Berlin Wall in November this year, the timing couldn't be better for the capital city which, despite its endless attractions, has often struggled to establish itself as a true footballing hotbed.
For almost thirty years between August 1961 and November 1989, Berlin was divided. In Charlottenburg in West Berlin, Hertha played in the West German Bundesliga while, 25 kilometres to the east across the Wall, Union yo-yoed between the first and second division in East Germany. At the time, there were even friendly relations between the two sets of fans who would communicate clandestinely whenever West Berliners received permission to visit relatives in the East, but it's not a friendly rivalry anymore.
Following Union's promotion, Hertha even suggested applying for special dispensation to play the first Bundesliga derby between the two on the 9th November, exactly 30 years since the fall of the Wall. But Union weren't keen. "To be honest, I don't understand the request," said club president Dirk Zingler. "It's a derby and that means rivalry and boundaries. It's a footballing class war in our city."
Ultimately, the DFL have scheduled the first Berlin derby at Union's Stadion an der Alten Försterei (stadium at the old forester's house) in Köpenick for Matchday 10 on the first weekend of November, while the return fixture at the Olympic Stadium will take place on Matchday 27 at the end of March.
Twelve Rhineland derbies!
For the first time since the 1996/97 season, Borussia Mönchengladbach, Bayer Leverkusen, Fortuna Düsseldorf and 1. FC Köln are all in the Bundesliga, meaning a grand total of 12 Rhineland derbies throughout the course of the season – but some mean more than others.
When asked by Spiegel magazine who they considered their main rivals, fans of Gladbach, Leverkusen and Düsseldorf all said: Cologne. But for Cologne themselves, only one derby really matters: Borussia Mönchengladbach, a rivalry which has seen a veritable feud develop between the active hardcores in recent years.
Back in January 2018 when Cologne were last in the Bundesliga, Cologne ultras disguised as stewards positioned themselves in front of the away and, at half-time, stole a flag belonging to a Gladbach ultra group before running off across the pitch to the safety of the home terrace.
Three months later, during a Cologne match away at Hoffenheim, Gladbach ultras responded. They acquired tickets in the home section and quietly positioned themselves next to the away end. Using the smoke from the Cologne fans' own pyrotechnics, they quickly tore down a flag belonging to Cologne ultra group Boyz Köln and made a getaway.
Now, not only will newly-promoted Cologne face a tough battle on the pitch against Champions League chasing Gladbach on Matchday 4, they're also expecting the Boyz flag to be presented and possibly burned in the away end. The return fixture at Borussia Park is in February.
Next season in the
#Bundesliga
:
Borussia Mönchengladbach
Bayer Leverkusen
Fortuna Düsseldorf
1. FC Köln
Potential scenes.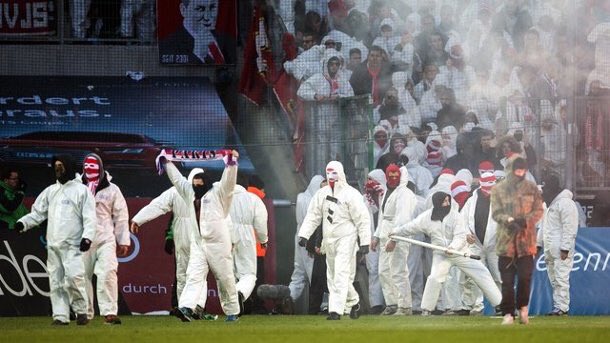 Key dates:
Matchday 1 (16th-18th August):
Bayern Munich vs. Hertha Berlin (Friday 16th)
Borussia Dortmund vs. Augsburg
Bayern Leverkusen vs. Paderborn
Gladbach vs. Schalke
Wolfsburg vs. Cologne
Eintracht Frankfurt vs. Hoffenheim
Werder Bremen vs. Fortuna Düsseldorf
Freiburg vs. Mainz
Union Berlin vs. Red Bull Leipzig
Der Klassiker
Matchday 11: Bayern Munich vs. Borussia Dortmund
Matchday 28: Borussia Dortmund vs. Bayern Munich
Das Revierderby
Matchday 9: Schalke 04 vs. Borussia Dortmund
Matchday 26: Borussia Dortmund vs. Schalke 04
Das Berliner Derby
Matchday 10: Union Berlin vs. Hertha Berlin
Matchday 27: Hertha Berlin vs. Union Berlin
Das Rheinische Derby
Matchday 4: Cologne vs. Borussia Mönchengladbach
Matchday 21: Borussia Mönchengladbach vs. Cologne