The Magpies have netted only three goals in seven league games
15:09, 27 Feb 2023
Newcastle United got one monkey off their backs at Wembley on Sunday, making their first appearance at the national stadium since it was re-opened in 2007. Before their Carabao Cup final defeat to Manchester United they were one of only three teams among the 92 English league clubs not to have played there before.
But there's still a number of hurdles for the Magpies to clear before those thousands of fans seen partying in Trafalgar Square on Saturday can truly believe their club to be up among the very elite in the controversial new era under the ownership of the Saudi Arabia Public Investment Fund.
For a start, they need to nip their current run of form in the bud. From looking a dead cert to finish inside the top four, Newcastle are now on the outside looking in having failed to record a single victory since beating Southampton to reach the Carabao final. The distraction of a first showpiece occasion since 1999 and the possibility of a first trophy in 54 years might well have been a contributory factor, but whatever way you look at it they have now not won since January and their next game is in March.
READ MORE:
Four points behind Tottenham Hotspur but with two games in hand, Newcastle have got it in them to close the gap on those currently in line to qualify for Champions League football, and their form for much of this season has suggested that they could mix it with the best in Europe sooner or later. Even in defeat on Sunday, they were Manchester United's equal for much of the contest and could count themselves unfortunate that a Sven Botman deflection took the game beyond them at 2-0.
Yet there was a familiar story in the final third, as a team with just three goals to their name in their last seven league games again ran dry. Allan Saint-Maximin can be all the nuisance he likes in the opposition half, but if your team is turning 15 shots into two efforts on target and no goals you're going to get nowhere.
Whereas the Newcastle United of earlier this season were sticking away fours and fives against the likes of Fulham, Brentford, Aston Villa and Southampton, Eddie Howe's lot can barely buy a goal right at this minute. And it is that issue which is holding many people back from tipping them to immediately respond to the Wembley loss with a show of resilience in their league campaign.
Proud. 🖤🤍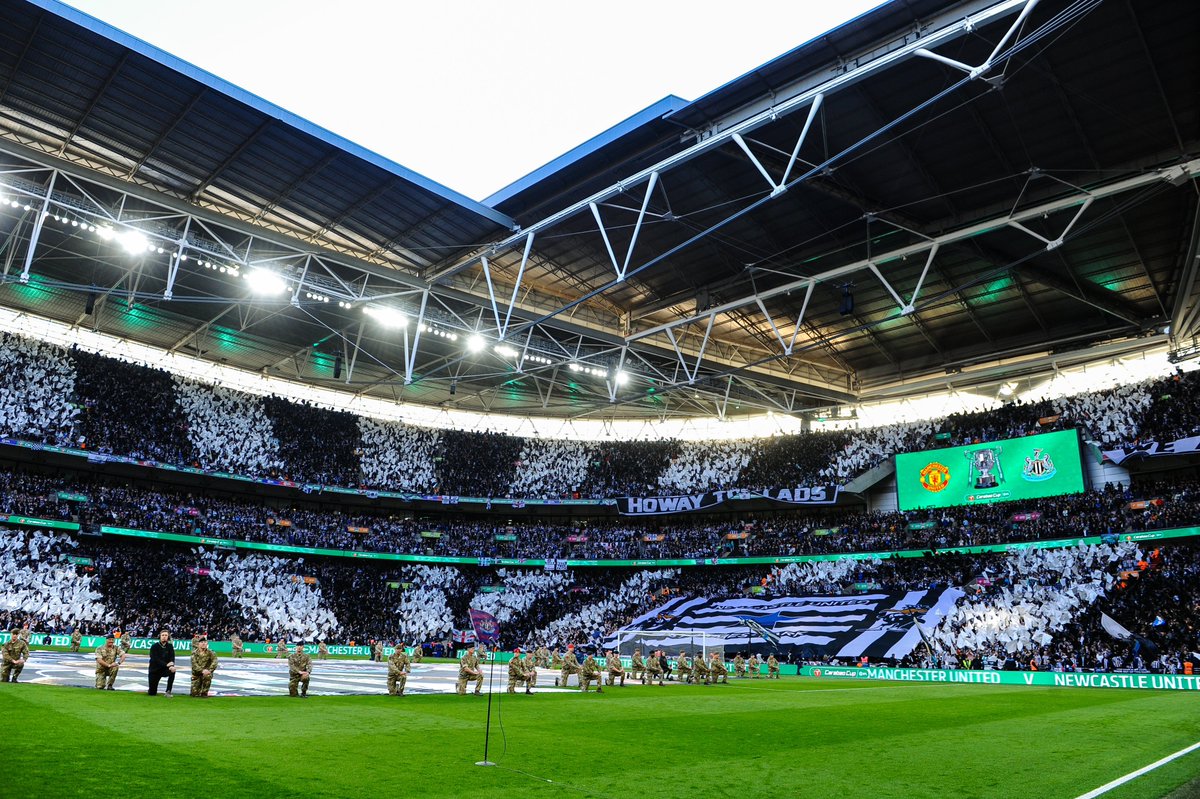 We're not just going to find out a lot about Newcastle's Champions League hopes this season. There's also going to be a telling period relating to the Magpies' future beyond the current campaign. Because while Howe has done a praiseworthy job with the squad he has to this point, they are also far better as individuals than the current unit is suggesting.
In the autumn, they looked to be on a fast-track to the top of the sport. Champions League money looked an inevitability, giving them even further leeway within the boundaries of Financial Fair Play. But even the richest club in the world can only spend, spend, spend so much within Premier League and Europa League constraints before FFP becomes a factor. If Newcastle are to be that global force, they need to not be passing up glorious opportunities to sit at Europe's top table.
And that's what they still have. The top three look locked in, but Spurs are convincing nobody. Newcastle are adrift but have the games in hand plus the players, will and support to make Antonio Conte's troublesome season a nightmare one. Howe, meanwhile, needs to keep his foot on the pedal if he is to convince the owners that he has it in him to box at a weight he's never reached before.
Wembley trips might become the norm in future. Trophies could be bursting from the St James' Park cabinet for a while to come. But if that is to happen with Eddie Howe in charge and many of these players still a part of the furniture in the north-east, then the response to their Carabao disappointment might have to be a swift one.
*18+ | BeGambleAware | Odds Subject to Change