The Sportsman runs through the QB standings heading into gameweek 8
16:00, 27 Oct 2022
Tua Tagovailoa returns, everyone hails Taylor Heinicke's ability to complete a game-winning pass with his eyes closed and Tom Brady continues to fall down the rankings.
With some teams in a bye-week, the quarterbacks who don't play shall be frozen in place. That may work for their benefit and restrict others, but those displaced will just have to up their game.
READ MORE:
As always, we'll state the components that influence whether a player will rise or fall in the rankings. Influential factors accounted for are QB passer rating (QBPR), touchdowns (TD), interceptions (INT) and yardage (yd). The reputation anyone may hold is no longer important.
32. Davis Mills (Houston Texans) - NON-MOVER
31. Jacoby Brissett (Cleveland Browns) - DOWN 4
30. Russell Wilson (Denver Broncos) - DOWN 2
29. Jared Goff (Detroit Lions) - DOWN 7
28. Justin Fields (Chicago Bears) - UP 2
27. Taylor Heinicke (Washington Commanders) - NEW ENTRY
In case you didn't believe me, here's my photo of Taylor Heinicke completing a key fourth-quarter pass to Terry McLaurin … with his eyes closed.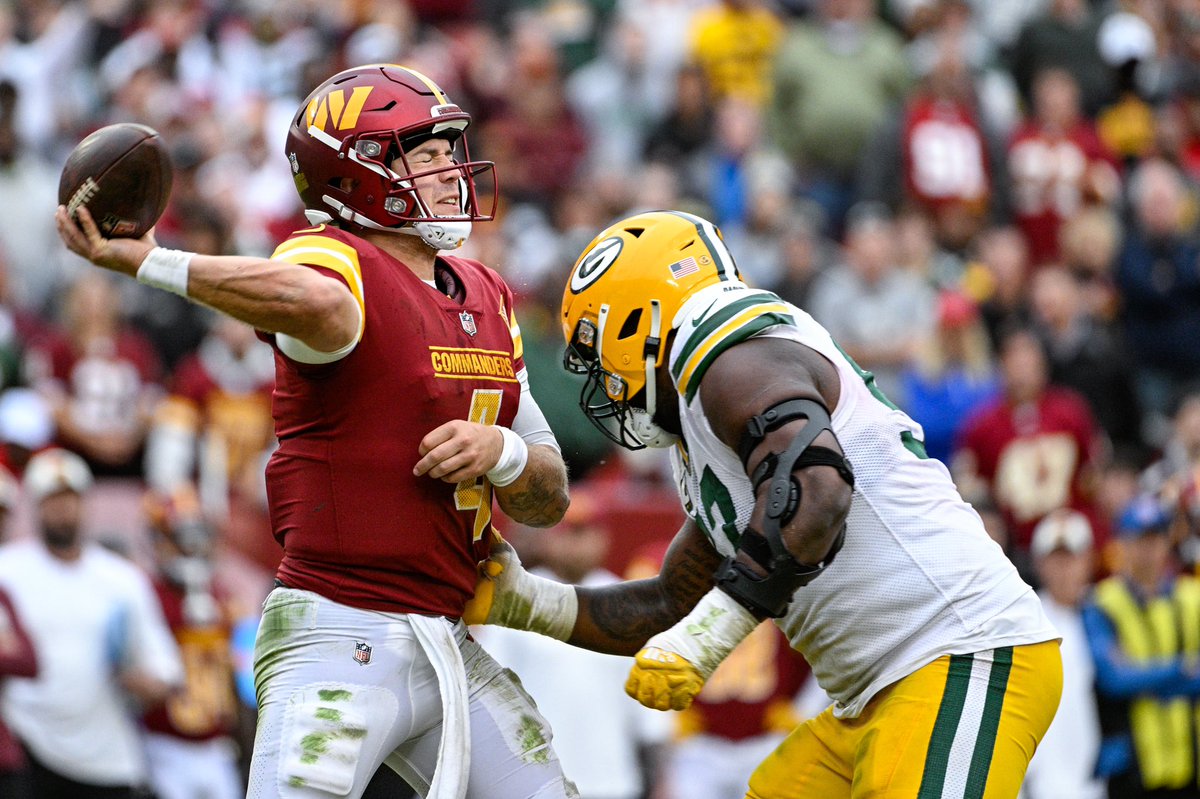 26. PJ Walker (Carolina Panthers) - NEW ENTRY
25. Kenny Pickett (Pittsburgh Steelers) - NON-MOVER
24. Bailey Zappe (New England Patriots) - NON-MOVER
23. Marcus Mariota (Atlanta Falcons) - NON-MOVER
22. Matt Ryan (Indianapolis Colts) - DOWN 6
21. Andy Dalton (New Orleans Saints) - DOWN 4
20. Trevor Lawrence (Jacksonville Jaguars) - NON-MOVER
19. Tua Tagovailoa (Miami Dolphins) - RE-ENTRY
18. Ryan Tannehil (Tennessee Titans) - NON-MOVER
17. Derek Carr (Las Vegas Raiders) - UP 2
16. Tom Brady (Tampa Bay Buccaneers) - DOWN 4
15. Dak Prescott (Dallas Cowboys) - NEW ENTRY
14. Zach Wilson (New York Jets) - NON-MOVER
13. Kyler Murray (Arizona Cardinals) - UP 7
12. Aaron Rodgers (Green Bay Packers) - DOWN 3
11. Jimmy Garoppolo (San Francisco 49ers) - NON-MOVER
10. Justin Herbert (Los Angeles Chargers) - NON-MOVER
The Chargers fell to yet another defeat. Injuries are hitting the team hard and Herbert is missing Keenan Allen, although he did return this week he only registered two receptions. The Charger QB completed 33 of 51 passes for 293 yards and two touchdowns but did suffer one interception. Not bad numbers, but also not good enough and the Chargers' season looks to be floundering.
9. Geno Smith (Seattle Seahawks) - UP 4
Geno Smith is BALLING. The Seattle Seahawks' QB debate was raging when Russell Wilson departed for Denver but Geno has taken the starting job and never looked back. Against the Chargers at the weekend he racked up 210 yards, two touchdowns and one interception. He's making some sensational throws (see below) and he ranks third in the NFL amongst starting QBs for QBPR with 107.7. The Seahawks are flying and it's down to Geno Smith spreading his wings.
8. Matthew Stafford (Los Angeles Rams) - BYE-WEEK
7. Kirk Cousins (Minnesota Vikings) - BYE-WEEK
6. Lamar Jackson (Baltimore Ravens) - NON-MOVER
Not convincing but gets the job done. Lamar's Ravens came away from the weekend with a win and that's all you can ask for. He was missing his star tight end in Mark Andrews and has one of the weakest wide receiver groups in the NFL but is still managing to get the job done. Only throwing 16 times is Justin Fields-esque numbers, so fingers crossed we get to see Jackson air it out more against Tampa on Thursday night.
5. Daniel Jones (New York Giants) - NON-MOVER
Daniel Jones rushed for over 107 yards last weekend. That takes his total to 343 rushing yards for the year, meaning Jones has now rushed for more yards across seven games than Clyde Edwards-Helaire, Hajee Harris and Jalen Hurts while also only being eight yards behind Alvin Kamara. Another W on the board for the Giants. The Brian Daboll New York train is reaching full speed and doesn't look like it will be slowing down any time soon.
4. Joe Burrow (Cincinnati Bengals) - NON-MOVER
Joe Burrow and the Bengals are cooking on gas. They've really started to click and the numbers show it. Against the Falcons last weekend Burrow threw for 481 yards, three touchdowns and completed 34 of 42 passes (81%). If Jalen Hurts wasn't frozen on a bye-week you best believe Burrow would be climbing the rankings. The Bengals are starting to look like their former selves and, should their form continue, they'll be back in the Super Bowl race in no time.
3. Jalen Hurts (Philadelphia Eagles) - BYE-WEEK
2. Patrick Mahomes (Kansas City Chiefs) - NON-MOVER
Just the 44 points for Patrick Mahomes' offence this week as the man himself notched up 423 yards, three touchdowns and one interception, throwing a 73% completion rate. He boasts the highest QBPR in the league at 109.5 as well as having thrown the most yards (2159), touchdowns (20) and throws for a first down (115). He'll be frozen in at second next week as the Chiefs are on a bye-week.
1. Josh Allen (Buffalo Bills) - BYE-WEEK
*18+ | BeGambleAware | Odds Subject to Change