It was Thanksgiving weekend in the States and while the Bills, Bengals and Patriots fans got to eat off full plates, fans of the Titans, Saints and Lions weren't overly grateful to watch their sides take tough losses. Here are our top five takeaways from Week 12.
New England Patriots Are Hitting Their Stride
Heading into the season, Pats fans were quietly hopeful but not much more than that. However, as we had into the last six games of the regular season, this has certainly changed.
The New England Patriots have won six games on the bounce, outscoring their opponents 211-63 in that time. Offensively the passing game is working out for them with rookie QB Mac Jones notching up a season-best 310 yards. Jones is firmly establishing himself at the top of his QB draft class thus far, with a 70% pass completion rate compared to the other first round QBs (Justin Fields, Trevor Lawrence and Zach Wilson) who sit around the 56-58% mark.
On the defensive side of the ball, the Patriots rank first in interceptions and have only conceded 20 TDs which averages at 1.66 a game. Not a bad record heading into week 13 but it'll face a stern test against the Buffalo Bills next week on MNF. Another WOW fact for you is that they have not lost a game in November since 2000.
No-Loss November.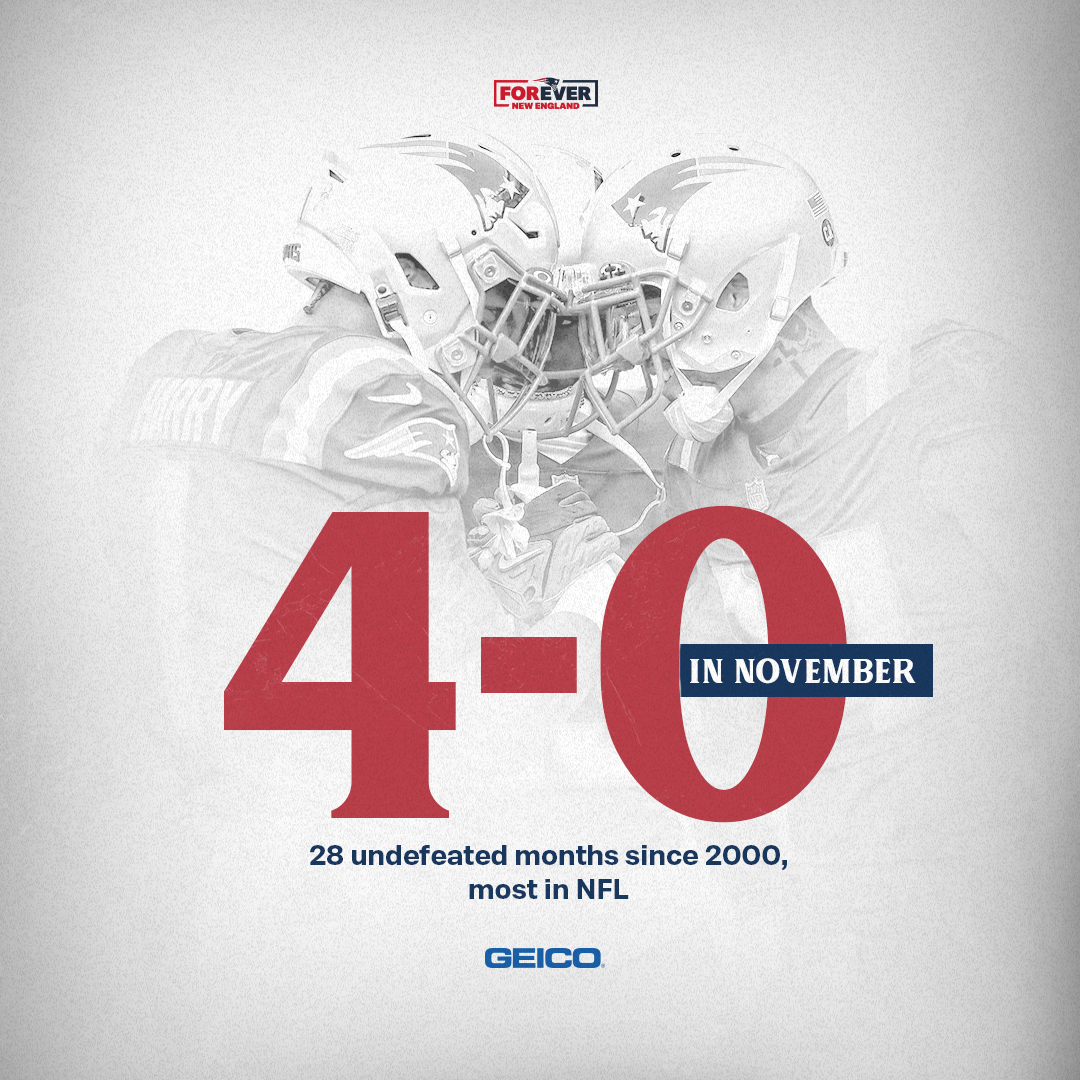 Deebo Samuel Is One Of The League's Most Versatile Players
San Francisco should count their lucky stars that they have a player as talented as Deebo Samuel on their roster. The so-called wide-receiver set a new NFL record at the weekend, as he scored a rushing TD for the third week running, becoming the first receiver since 1966 to achieve such a feat.
As a WR he is also excelling as he's one of only four players to have broken the 1000-yard mark alongside Cooper Kupp (LAR), Davante Adams (GB) and Justin Jefferson (MIN). Unfortunately he'll miss the next two weeks through injury but his form is more than worthy of a mention.
Denver Broncos Secondary Impress Against LA Chargers
Patrick Surtain II became the first Bronco rookie to register 2INTs in a match since Steve Atwater in week three of the 1989 season! The whole defence deserves a mention though as they held the Chargers to a respectable 13 points, notching up three sacks in the process. The Denver Broncos haven't been brilliant this year but are still in with an outside chance of going to the play-offs and will need to build off this W in the coming weeks.
Patrick Surtain II 🏠📞

Stormy Times In Seattle
The Seattle Seahawks are in a bad way. The season began negatively after Russell Wilson got injured early on but even upon his return the Seahawks have looked shaky. Defensively they concede an average of 21.6 points per game which is competitive with some of the better defences in the league, however on the attacking side of the ball they are lacklustre, predictable and simply not clinical enough.
Pete Carroll's side have only scored 209 this year, averaging 19 PPG but in the three games since Russell Wilson has returned they've only averaged 9.3 PPG. Something isn't right and this season is now a bust for Seattle who have some big decisions to make in the off-season.
Keenan Allen Ties Reception Record
Despite his side losing this week, Keenan Allen can celebrate a personal achievement after he became the joint-fastest player in NFL history to make 700 career catches. He accomplished the feat in just 111 games, moving level with Antonio Brown in the record books.
we see you, slay.