One more week of football. For some teams this is all they have, for others they're already looking ahead into the postseason. This weekend saw the Cincinnati Bengals clinch the AFC North, Titans win the AFC South, the likes of the Patriots and the Eagles earn a playoff spot plus some long standing records get broken. Here's five things you might've missed from NFL week 17.

Cincinnati Bengals clinch the AFC North

The last time the Bengals won the AFC North was 2015 and having started the season off slow it wasn't looking like they'd be able to get there this year either. But with Joe Burrow finding his form, his wide-receiver core becoming one of the best in the league, and the Bengals defence coming up with some huge plays, the dream has become reality.
Burrow followed his monster game from last weekend with another ridiculous performance as Cinci battled for a 31-34 win vs Kansas this weekend, with Burrow throwing for 446yards and four touchdowns. In the last two games he has a combined total of 971 passing yards which is the second highest in NFL history after Dak Presscot (974). Rookie wide-receiver Ja'Marr Chase also balled out for Cincinnati with 266 receiving yards and three touchdowns. The Bengals are certainly one to watch in the play-offs.
Joe Burrow over the last two weeks:
Week 16: 525 passing yards, 4 TD, 0 INT
Week 17: 446 yards, 4 TD, 0 INT
He's the only player ever with back-to-back games of 400 yards, 4 TD and 0 INT.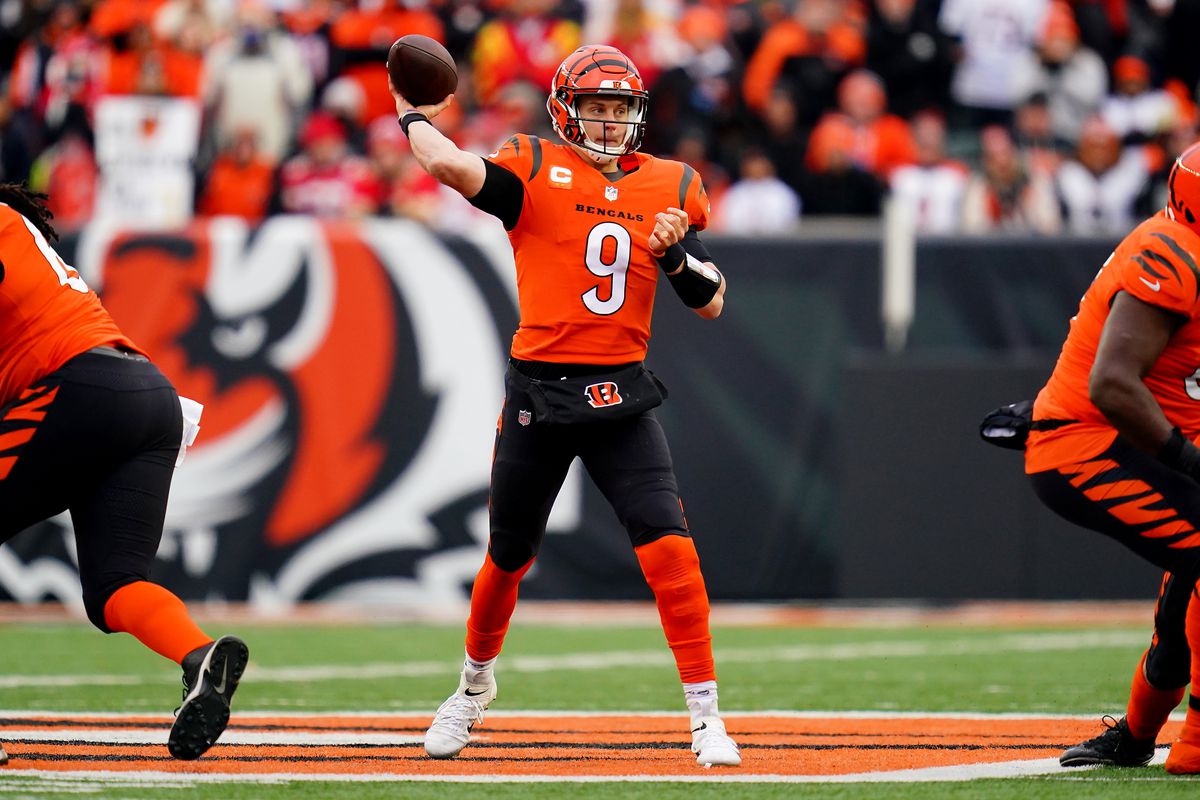 Cooper Kupp breaks LA Rams franchise record

It's slightly embarrassing that Cooper Kupp hasn't received more attention this year but he'll get his plaudits now. He has been phenomenal for the Rams this season and the stats you're about to read support that case.
This season Kupp has 138 receptions (third most in NFL history), 1,829yards (most in franchise history) and 15 touchdowns (2nd most in franchise history). Furthermore, he's recorded 90+yards in 15 games including an ongoing run of 12 straight which is the longest streak of any player in the NFL since 1950. With one more week to go we'll see if he gets rested or whether he goes on to break even more records. He helped the Rams earn a narrow 20-19 win vs Baltimore on Sunday night.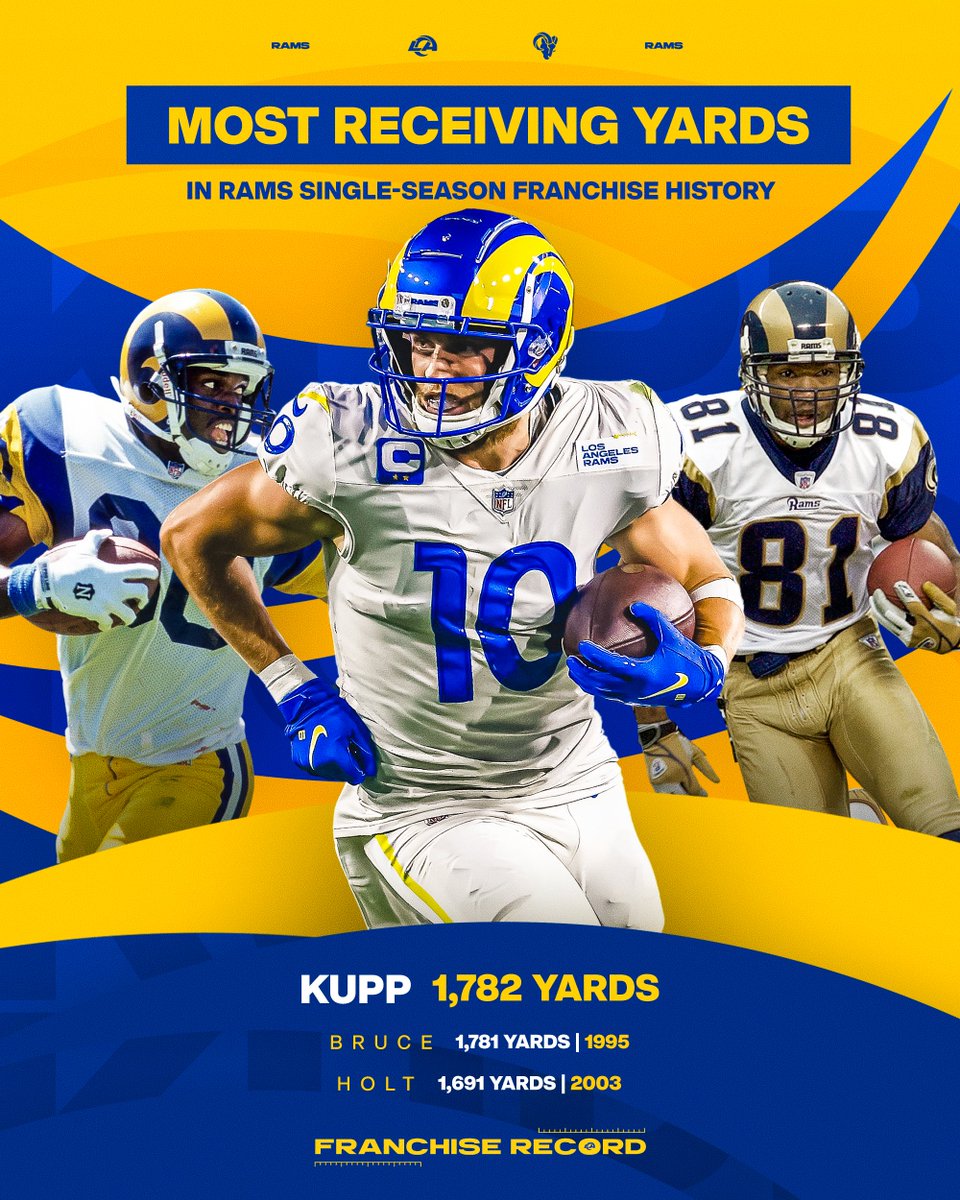 Tennessee Titans win back-to-back AFC South titles

Tennessee managed to clinch the AFC South title this weekend during their 3-34 win over Miami. It was their first back-to-back title since they were called the Houston Oilers in 1960-1962, who won three straight AFL Wests. This is a massive milestone for Tennessee as they've done it missing key members of their offence including Derrick Henry, AJ Brown and Julio Jones for multiple games this season. If they can win AFC titles without them, just imagine what they could do with them.
Russell Wilson levels Peyton Manning's QB win record

Russell Wilson and the Seahawks have struggled this season. After a few tight losses, Wilson injured his finger and missed multiple weeks, taking a few weeks to return to form once he got back by which time the season was gone. But it's not all negatives for Wilson on a personal level at least as he tied Peyton Manning's record of 112 for most wins in their first 10 seasons.
He also leveled Manning and Dan Marino's record for most games with four or more TDs in their first 10 seasons with an incredible 17. In what could be the last home game of the Wilson-Carroll era in Seattle they closed out with a big performance, beating a lacklustre Detroit Lions 51-29.
LA Chargers Kick-off return by Andre Roberts

Just an easy play to close the NFL wrap up with. Andre Roberts was on the track team in highschool and college and with speed like this, you can see why.
Yes, we've not spoken about Antonio Brown's mid-game meltdown but you can read more on that here.
*Odds courtesy of Betfred | 18+ | BeGambleAware