In the qualifying round of the British Open, the Hong Kong star stunned the world
10:00, 12 Aug 2022
Ng On-yee has claimed the greatest ever win by a female player in beating former world champion Ken Doherty.
The 31-year-old from Hong Kong fluked the final pink to secure a 4-3 victory over the 1997 Crucible king at the Robin Park Leisure Centre in Wigan in the qualifying round of the British Open. The main tournament will be played at Milton Keynes starting at the end of September.
The world No94 had led 2-0 before Doherty, 52, looked to have escaped from trouble with three frames on the spin. But On-yee, in her second year on the main tour having seen the first badly disrupted by Covid travel issues from her home country, rallied for a historic triumph.
READ MORE:
It was just a second win on the main tour for the three-time women's world champion. And there will be delight among the sport's bosses who had predicted that a high profile win such as this has been coming.
On-yee said: "Today's win is definitely one of the best of my career against a great player like Ken. I have to be honest and say the pink in the last frame was a fluke! I was nervous because I had an earlier chance in the final frame.
"I can't lie I am absolutely delighted. It is only my second win on tour. I had high expectations in earlier matches and maybe didn't deal with the pressure that came with it. I think Ken was under a lot of pressure. The balls went difficult in many frames.
𝗢𝗡 𝗬𝗘𝗘 𝗗𝗘𝗡𝗜𝗘𝗦 𝗗𝗢𝗛𝗘𝗥𝗧𝗬 🇭🇰
Ng On Yee, with the aid of an incredible fluke on the final pink, defeats Ken Doherty 4-3 to qualify for the British Open!
#BritishOpen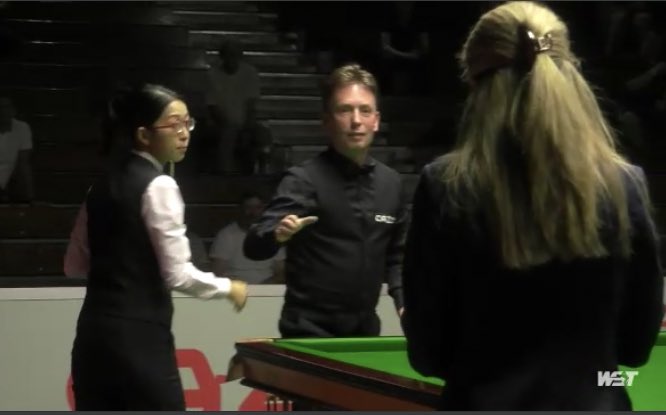 "I have been practising hard recently with a lot of top players including Marco Fu and I can see an improvement in my game. I'm very happy to get my first win of the season. I knew my safety would have to be good today and I just wanted to enjoy the match and try my best on every shot. It's great to qualify for another venue as it gives me another chance to get used to that environment.
"When I played Shaun Murphy last season, that was when I felt I was starting to deal with the pressure of bring a professional better. I feel I am giving the men a game and getting closer.
"It is important for us, the four girls on the main tour, to get results and it will encourage more women to play."
On-yee's only previous win on the main WST tour came against China's Wu Yize in the Welsh Open last season earlier in the year. Reanne Evans, the 12-times women's world champion and also on the main tour, had beaten Robin Hull in world championship qualifying in the past.
Television viewers will have an earlier opportunity to see On-yee in the world mixed doubles championship just before the British Open. That sees the top four women players in the world paired with their male equivalents and fighting for the title.
On-yee will play with former world champion Judd Trump, while Evans is in tandem with joint record seven time world champion Ronnie O'Sullivan.
And the other two women players on the main tour are also in action, with Rebecca Kenna playing with Mark Selby and reigning women's world champion Mink Nutcharut of Thailand teaming up with Neil Robertson.
*18+ | Be Gamble Aware