Kyrgios will take to Centre Court on Sunday for the main event
15:35, 08 Jul 2022
Nick Kyrgios admitted on Friday that his initial gut reaction on hearing tennis legend Rafa Nadal had been forced to withdraw from their Centre Court semi-final was one of "disappointment" - as that was certainly not the way he would have wished to reach a first career grand slam final.
The 27-year-old Australian Kyrgios has been along with the run on the grass of home hope Cameron Norrie the story of the men's singles tournament this year at SW19 – and not just for some brilliant tennis and a new-found determination when the going gets rough.
Kyrgios has already been fined twice for his on-court behaviour in matches against British wildcard Paul Jubb – a first-round five-setter he only just edged 7-5, and then one of the most ill-tempered and controversial contests ever seen at the event against Stefanos Tsitsipas in the third round. Against Jubb Kyrgios spat in the direction of a fan. Against the Greek he was heard swearing, but in truth some of his rants at the umpire in that last match could easily have seen him defaulted.
READ MORE:
And then there was the revelation earlier in the event that Kyrgios must appear in court in Australia in August, charged with an assault against his ex-girlfriend.
But lo and behold, with the announcement late on Thursday night that Nadal was pulling out with a scan showing a 7mm tear in his abdominal muscle that prevented him from serving properly, to the astonishment of everyone including Kyrgios himself he was into a Wimbledon final.
That had been widely predicted when he beat Spain's 22-time singles slam winner Nadal, now 36, on his way to the quarter-finals eight years ago. But years of falling in and out of love with the sport, continual clashes with authority and some mental health issues that saw Kyrgios experience some very dark thoughts all conspired against that. Until now.
And having digested the fact that he had been given a bye into the biggest match of his life by a country mile and a huge opportunity to finally win a slam title that few thought would ever happen, Kyrgios was ready to make the most of his chance.
The unseeded world No40 Kyrgios said: "It's obviously not the way I wanted to get to the final. As a competitor, I really did want that match. It was obviously something that as soon as I beat Garin, Rafa was a high possibility, someone I've had so many good battles with before.
"We've both taken a win against each other at this tournament. I really did want to see how the third chapter was going to go. Obviously you never want to see someone like that, so important to the sport, go down with an injury like that. He's just played so much tennis. He's had a gruelling season. I just hope he recovers. I'm sure I'll play him again on a big stage.
Nick Kyrgios sends his well wishes to Rafael Nadal 🤝
#Wimbledon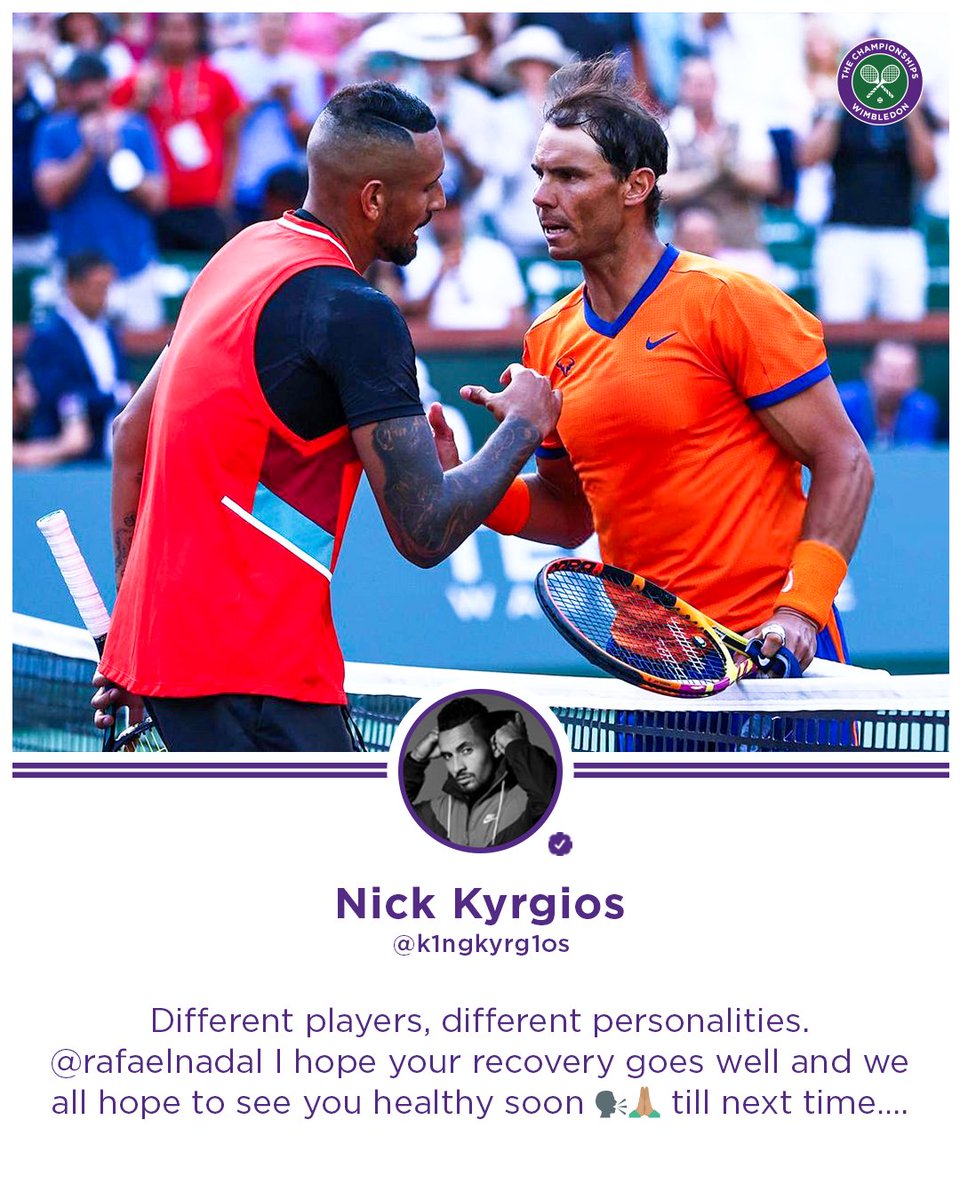 "But that said, it's exciting to say that I have a chance to play for a Grand Slam singles title after everything. It's pretty cool. I haven't spoken to Rafa. I found out last night [Thur] at dinner, I got indicated that it was going to happen just before the press conference.
2Honestly my first feeling was a bit of disappointment. My energy was so focused on playing him and tactically how I'm going to go out there and play, the emotions of walking out there, all that type of stuff. But, you know, it wouldn't have been easy for him to do that, withdraw. I'm sure that a lot of his team members and himself, there would be a part of him that wanted to play, for sure. He barely lost a match this year. He wanted to probably go for all four slams. So it wouldn't be easy.
"I thought I'd just put just a nice post up [on Instagram] to say, like, look, we've had a lot of run-ins, a lot of battles. I'm sure at the end of the day everyone did want to see us go to war out there. I hope he just gets better.
"I never thought I would get onto this stage. I never thought I'd be here at all, to be brutally honest with you. Obviously when I was No. 1 junior in the world and I was playing here as a junior, I can't give enough credit to juniors, what it did for my confidence.
"Being around the Grand Slams at that young age, being around some of the top players, the facility, without that I don't think I would have had the breakthrough in the men's so quickly. But I never thought that I'd be playing in a singles final.
"I saw some of the professionals walking around and I'd be a junior here, and I never thought I'd be playing for the actual men's title. I feel like it's the pinnacle of tennis. Once you are able to raise a grand slam trophy, that's like, I mean, kind of what else is there to achieve?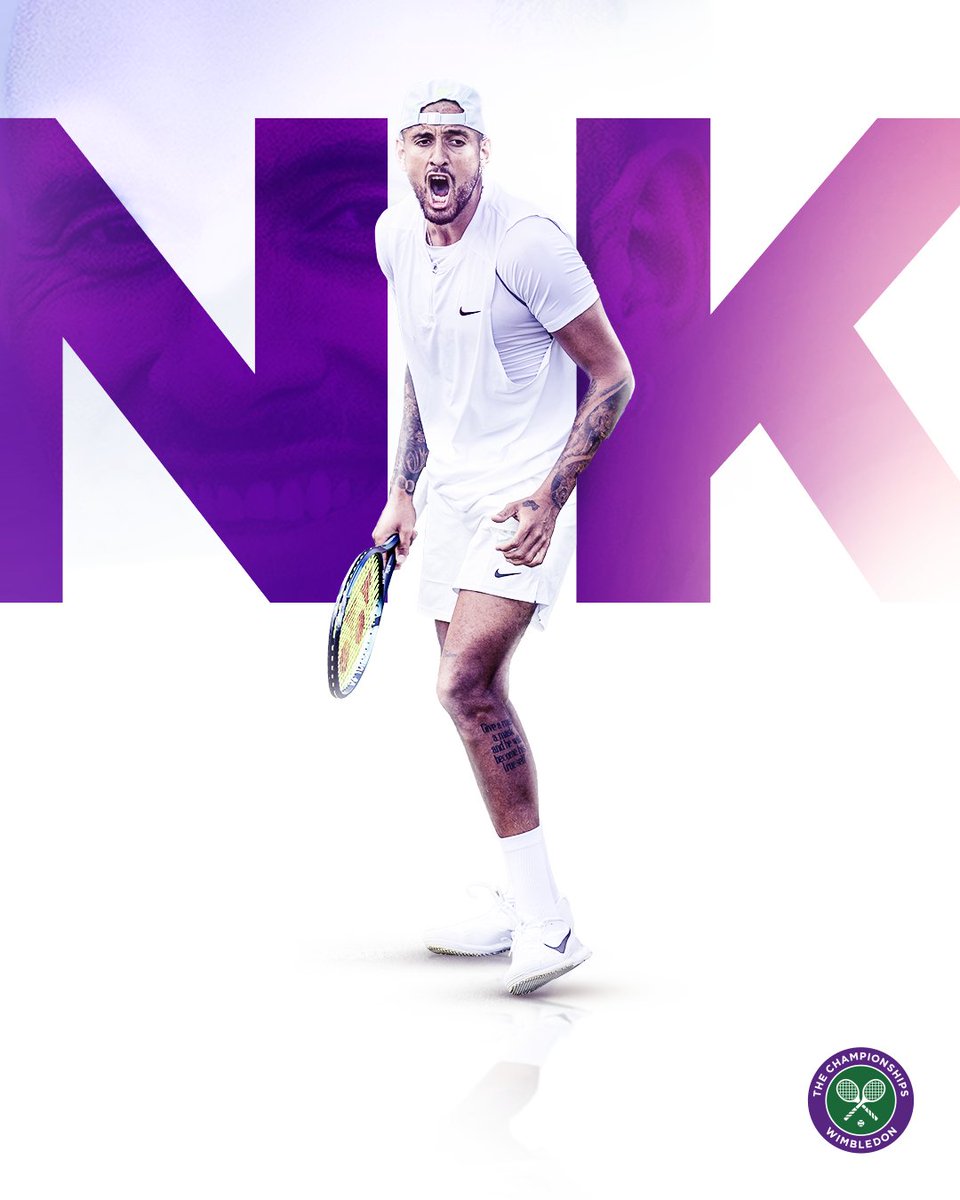 "So I never thought I'd be here. I'm just super proud and I'm just ready to go. I'm going to give it my all and we'll see what happens.
"I had a think about the gap of four days between matches that last night. I definitely feel like I've been playing in a pretty good routine. Obviously people would instantly say, He gets another day off. But it's definitely a shock to the system because I've been playing so many matches.
"You kind of play a match at a Grand Slam, then you know deep down that you have one day to wind down and let yourself relax and then go again. So today [Fri] I'm going to try to emulate a bit a match scenario, I'm going to try and have a bit more of an extended practice to kind of feel like I'm in that same routine because that can throw everyone off.
"You want to have those matches, the competitive juices, you want to have those going, the adrenaline. That's just something that I'm going to have to go into the final without. But that's okay. I'm going to take every positive. I get to rest my body a little bit. It's not bad going in there feeling fresh.
"I had a shocking sleep last night, though, to be honest. I probably got an hour's sleep just with everything, like the excitement. I had so much anxiety, I was already feeling so nervous, and I don't feel nervous usually. I was just restless, so many thoughts in my head about a Wimbledon final. That's all I was thinking about. I was thinking just playing, obviously imagining myself winning, imagining myself losing, everything.
"I just feel like I'm just a reckless ball of energy right now, and I know that I have to kind of just calm down. There's still a couple days until that moment."
*18+, terms and conditions apply, odds subject to change