The Australian overcame Cristian Garin is straight sets
19:53, 06 Jul 2022
Nick Kyrgios ended another tumultuous 48 hours at Wimbledon by reaching a first ever grand slam semi-final – and then commenting briefly about reports emerging from Australia that he must appear in court in Canberra in August after being charged with assault against former girlfriend Chiara Passari.
To say that the 27-year-old Australian's preparations for arguably the most important match of his life against Chile's Cristian Garin were less than ideal would be an understatement. The charge details were made public on Tuesday, a day before his first Wimbledon quarter-final for eight years.
But on the court Kyrgios, who has calmed down a little since his explosive, ill-tempered and controversial victory over Stefanos Tsitsipas in the third round, was efficient and business-like in seeing off the challenge of the equally unseeded Garin 6-4, 6-3, 7-6 on Court One on Wednesday.
READ MORE:
And amid the clear and raw emotion from his achievement of getting to the last four of a major – with Kyrgios admitting "I thought that ship had sailed" – he also had to confront the stark reality of a looming court-case both before the match, and then again in the post-match press conference.
He said: "I never thought I'd be into the semi-finals of a grand slam, honestly I thought that ship had sailed. I didn't go about things great earlier in my career and thought I may have wasted that little window. But I'm just really proud of the way I have come back out here and together with my team just managed to put on a performance.
"It matters to me a lot. I don't have a coach – I would never put that burden on someone. But each and every one of my team play a very important part and I feel that I know my tennis better than anyone. And to be in the semis of a grand slam, I am pretty happy.
"Obviously I have a lot of thoughts [about the assault case], a lot of things I want to say, kind of my side about it. And obviously I've been advised by my lawyers that I'm unable to say anything at this time. Look, I understand everyone wants to kind of ask about it and all that, but I can't give you too much on that right now.
"It didn't really affect me at all, to be honest with you. Obviously seeing it - I'm only human. Obviously I read about it and obviously everyone else was asking questions. It was hard. It was hard to kind of just focus on kind of the mission at hand. It was the quarter-finals of Wimbledon today. I know deep down that's what I was prepared for. So it didn't really affect my preparation at all. I knew I stayed true to myself, and give my best performance today."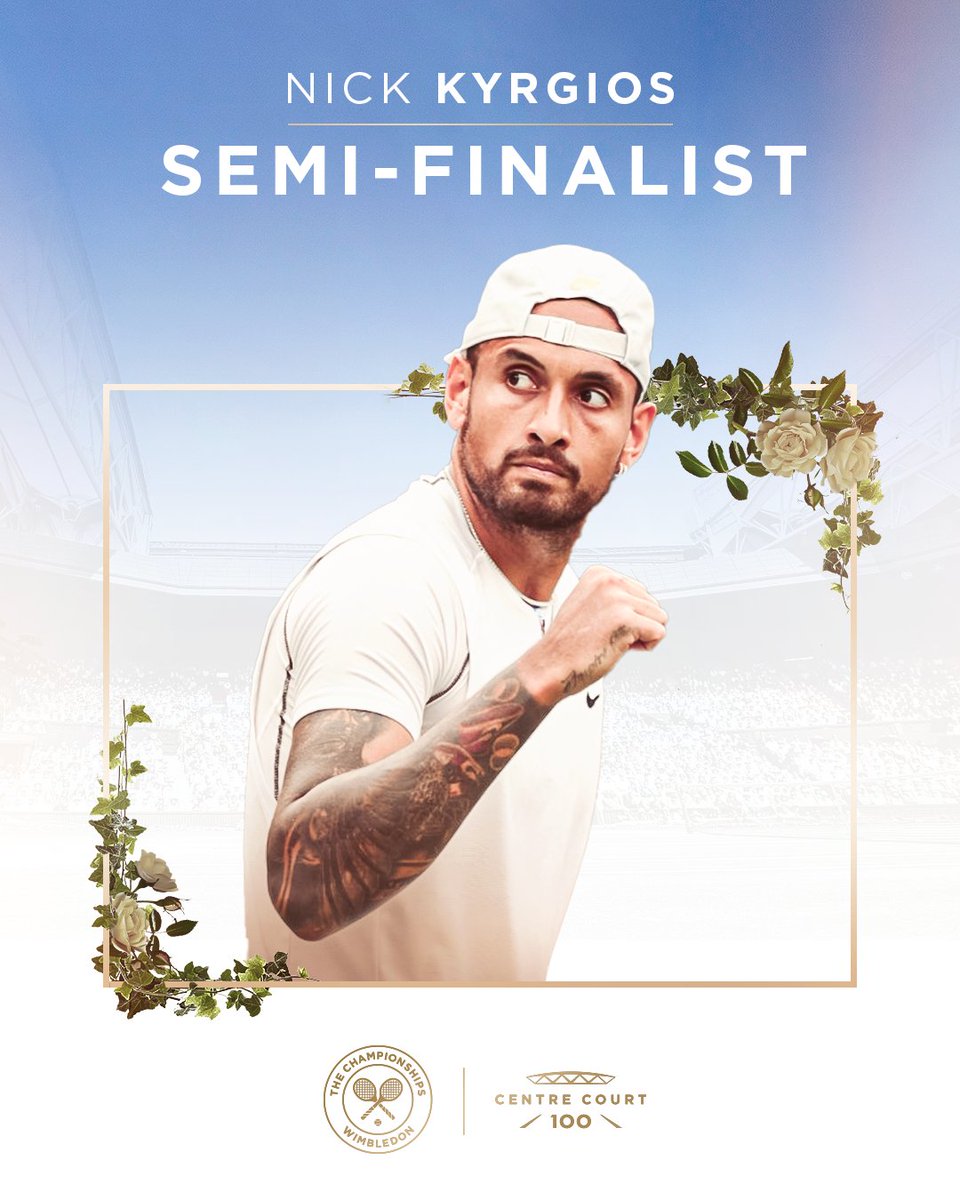 At the end of the match a dazed-looking Kyrgios sat in his chair barely moving for some time, as the thoughts poured into and through his mind of a career that has seen some real lows, problems with his mental health, and even thoughts of suicide.
He added: "I was just thinking how things can change. There was a point where I was almost done with the sport. Obviously I posted this year about the kind of mental state I was in in 2019 when I was at the Australian Open with self-harm and suicidal thoughts and stuff. I'm sitting there today after the match...to be a semi-finalist at Wimbledon, it's a special accomplishment for everyone, but I think especially for me.
"If you had asked anyone if I was able to do that the last couple years, I think everyone would have probably said, 'No, he doesn't have the mental capacity, he doesn't have the fitness capacity, he doesn't have the discipline', all that. I almost started doubting myself with all that traffic coming in and out of my mind. I just sat there today and soaked it all in. But at the same time I feel like I don't want to stop here either.
"To be able to do this, I just feel like I'm more mature. I think earlier in my career if I made a third, fourth or quarter-finals, I'd be on my phone a lot, I would be engaging online a lot, would be keen to go out to dinner and explore or just do things to kind of, not necessarily soak in the achievement…but just not conservatively just go back to my house at Wimbledon with my team, put my feet up, get treatment and eat, get good rest.
"I made it pretty known to my team that I wanted to go deep here and possibly even raise the trophy. And we have all had the same goal. So I feel like it's literally just been as simple as get some rest. Like, Nick, stay in the house. That's not always been the easiest thing for me."
Beaten opponent Garin, 26, was in no doubt that Kyrgios has the tools to go all the way. He said: "Nick has an amazing serve. He's a very aggressive player but has a good touch. He played very solid all the match against me - and I didn't see anything weird. He deserved to win because he's also a great, great player. Obviously on grass he's one of the best, and he's playing a great level.
"Of course he has the ability to win this - he's in the semi-finals. The way that he served today - I played against all of the great serves in the tour, and for me he has the best. He has great chances to win the tournament, but it' still only the semis so we'll see."
*18+, terms and conditions apply, odds subject to change.