No Regrets: When Alex Ferguson Was Sacked By St Mirren On This Day In 1978
06:35, 31 May 2019
On May 31, 1978, St Mirren sacked their manager, Alex Ferguson, with an industrial tribunal ruling he had: "neither by experience nor talent, any managerial ability at all." Four decades on and the former Manchester United boss would be widely regarded as the greatest gaffer of all time with over 40 trophies to his name both north and south of the border.
When Ferguson joined St Mirren in 1974 the club were struggling. They had just finished 11th in the second-tier of Scottish football and their Love Street ground, which could hold 25,000, rarely saw gates of over 3,000 people turning up to watch players, many of whom were on part-time contracts of no more than £10 a week.
The fiery Scot knew that he had to halt the slide fast as, just a year later, the top two divisions would split into three as the top six teams joined the new Second Division and the rest would drop into the third due to the formation of the Scottish Premier League.
A fearsome character on and off the pitch Ferguson realised quickly that he must instil discipline into the club if he was to avoid dropping into the third flight of Scottish football, something which would come as no surprise to those who remembered him as a player.
His on-field reputation had gone before him as opposition players, referees and even his own teammates were often in the firing line if things weren't going his way; he once stormed the length of the pitch to confront a player on his team over a misplaced pass in a testimonial match.
Following his retirement at the age of just 32, Ferguson became manager of East Stirlingshire but lasted only four months with the club before taking charge of St Mirren on the recommendation of outgoing manager Willie Cunningham, who had coached him at Dunfermline and Falkirk; to say the job was a baptism of fire would be something of an understatement.
Quickly forming a reliable network of scouts and placing an emphasis firmly on young players who liked to play, fast, attacking football, the new St Mirren boss soon turned the fortunes of the Paisley club around, all while holding down a second job as the owner of a Glasgow pub, often frequented by Govan dock workers.
"You weren't likely to find Sylvester Stallone, Bruce Willis or Arnold Schwarzenegger in my place." Ferguson later explained. "Though you might have encountered the odd customer who, single-handed, could have put the three of them to flight."
Alex Ferguson signs on as St Mirren manager in 1974. It was all uphill from there
@CairtersSMFC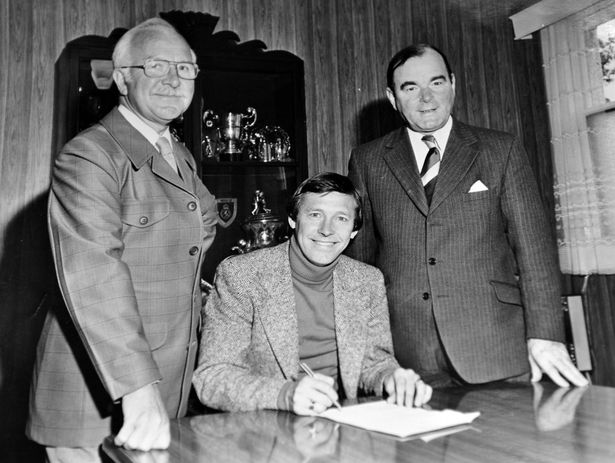 St Mirren's transformation under Fergie was nothing short of miraculous and in the four years he was in charge he'd take the Buddies from Second Division relegation candidates to Scotland's elite league following promotion in 1977 with his young side losing just twice in 39 games on their way to the title.
His success didn't go unnoticed either and following his league win Ferguson was approached by Aberdeen at the end of that season. He rejected their advances at first but after a disappointing showing the following year, which saw his side finish just six points above the drop zone in the Premier League, the Dons contacted him again, by which time he was ready to walk.
This was mostly due to the turbulent relationship he enjoyed with Chairman Willie Todd, who had purchased the club not long after his arrival in 1974. Never one to mince his words Fergie had claimed Todd: "didn't know much about football," and from that moment on the pair would rarely see eye-to-eye.
During his time at Love Street Ferguson had all but made the club his own; reprimanding players for drinking, taking to the streets with a loudspeaker to try and drum up local support, lowering the roof of the main stand so fans couldn't climb over the turnstiles and even borrowing £14,000 from the St Mirren Supporters' Club to fund the signing of Dundee United centre-back Jackie Copland. Essentially, he thought he could take on his own chairman, a move he later described as naive.
So by communicating with Aberdeen Ferguson had clearly overstepped the mark – he apparently even told a number of his staff he was leaving while offering one a job when he began his new role – something which hadn't escaped Todd who called his manager into his office and presented a list of several instances in which Ferguson had broken the rules before telling him he was fired.
A furious Ferguson packed his things and left the club, eventually joining Aberdeen but not before suing Todd for wrongful dismissal. Though he would eventually lose the case with the tribunal board describing him as: "possessing neither by experience nor talent any managerial ability at all."
Ferguson did turn up at Pittodrie just days later in June of 1978, replacing Billy McNeill, and his Aberdeen side would go on to break the long-standing Old Firm duopoly which had dominated Scottish football as well as winning the 1983 Cup Winners' Cup final against Real Madrid.
His success in Scotland meant he would join Manchester United in November of 1986 following the departure of Ron Atkinson and went on to lead a club, which had been in the doldrums for many years, to 13 league titles, the European Cup Winners' Cup, five FA Cups and two Champions Leagues during his time at Old Trafford.
But for the man who remains the only chairman in history to sack the greatest British manager that ever lived, he has no regrets. "It was a simple case of myself, as chairman, doing what was best for the football club," Todd would later explain. "I had no option but to sack him in the end."