The Tottenham star and strike partner Harry Kane should both have been POTY considerations
14:21, 20 May 2022
Conor Gallagher, Phil Foden, Trent Alexander-Arnold, Kevin De Bruyne, Mo Salah and Declan Rice. That's the six-man shortlist for this year's PFA Fan's Player Of The Year award. These selections always kick up a stir with players being left out of the final ballot. This year is no different, but the exclusion of Tottenham Hotspur's Son Heung-min might be the most glaring omission in the award's recent history.
In a list of just half-a-dozen players, someone will always miss out. Whether it's through club bias, unfavourable opinions or maybe the simple fact of some people just seeing things in a different light to the rest of us. One thing is for certain, regardless of how you feel about Son, you cannot make a solid claim that he is undeserving of a spot on the list. He has 18 goals and assists combined in 2022 alone. His forward partner Harry Kane, another omission, has 19 in 2022.
Gallagher set the pace at Crystal Palace early on this season, dominating the middle of the park and making good on his loan opportunity but has seemingly fizzled out in recent months. In fact, since the turn of the year, he's recorded just two goal contributions in 16 games. As it happens he may find himself in possession of the Young PFA award come the end of the season, although Foden, Rice and Alexander-Arnold will also be in contention for the prize.
⚪️ Tottenham Hotspur attacker Heung-min Son in the Premier League this season for Spurs:
🏟 Appearances 32
⚽️ Goals: 21
🅰️ Assists: 7
🎯 Penalties: 0
😮 1 Goal Behind Mo Salah!
❌ NOT even selected for the Premier League 'Player Of The Year'.
🤬 Scandalous!
#THFC
|
#COYS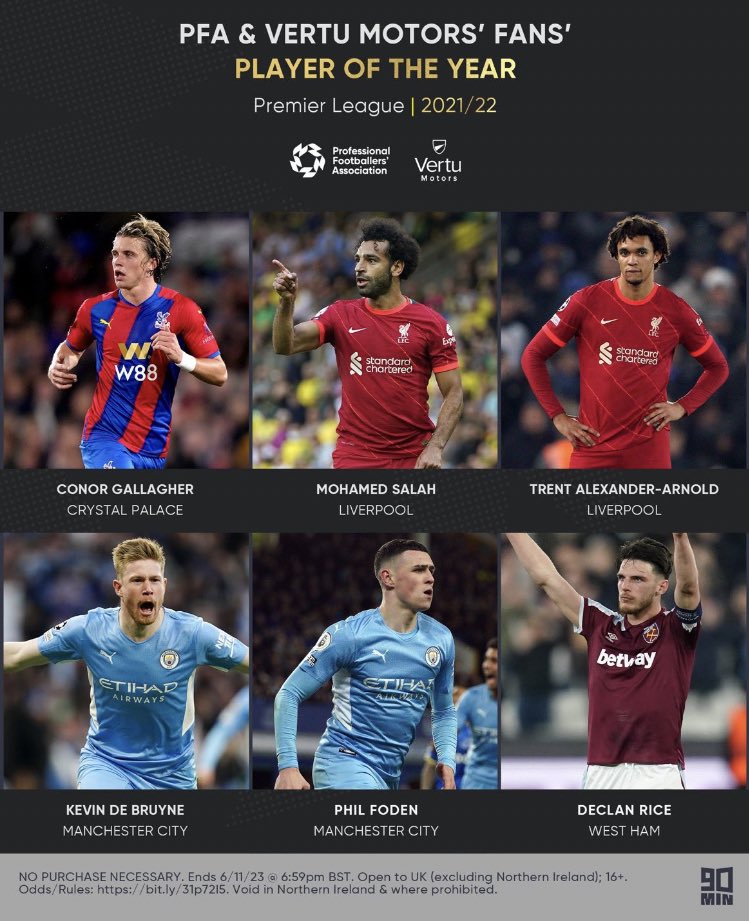 Foden is a phenomenal talent but hasn't exactly set the league alight this season. It could be argued that his teammate Riyad Mahrez warrants a spot on the list in place of the 'Stockport Iniesta'. Rice has been incredible for West Ham and comes across as a well-rounded professional who is clearly well-liked amongst his fellow pros. Understanding his importance to West Ham United, you can see how he's made the cut, but again, it could be argued that his fellow Hammer Jarrod Bowen is more deserving of a place on the list.
The likes of Alexander-Arnold, Salah and De Bruyne are all thoroughly respectable selections but all have also suffered hot and cold spells, with the Egyptian struggling by his usually high standards since his return from the Afcon, registering just 10 goal involvements in 14 games. Take that with a pinch of salt as he ripped the league to shreds in the opening half of the season, but you get the point.
Players, unless you're Lionel Messi or Cristiano Ronaldo, aren't going to remain consistent over the course of the season, so why should those who find form later in the campaign be punished?
Yes, Son, and Kane for that matter, might have had a slow start, but they've both turned it around and produced chart-topping numbers, while others have slowed or had statistically weaker second halves of the season. The Spurs forwards should count themselves very unlucky to be overlooked.
Son, in particular, should have been one of the first names on the list.