Novak Djokovic reached a record 32nd grand slam singles final on Centre Court as he beat home hope Cameron Norrie in four sets to keep his bid for a seventh Wimbledon crown on track – and setting up a mouth-watering final on Sunday against explosive Australian Nick Kyrgios.
The 26-year-old Norrie was given huge support by the home crowd as he tried to pull off what would have been a seismic shock in the semi-finals, the first time the ninth seed had reached this stage in one of the sport's major four events.
And a buzz went round Centre when he took advantage of a bizarrely off-colour and unsettled performance from the 35-year-old Djokovic in the first set, allowing the Brit to break him three times. But the Serb donned what proved to be a 'magic cap' to deal with then sun for the second set, and from the moment he broke Norrie to go 5-3 the momentum changed and the result seemed inevitable. Djokovic in the end ran out a comfortable 2-6, 6-3, 6-2, 6-4 winner.
Djokovic started the tournament this year as the No1 seed and red-hot favourite to defend a title he has won for the last three times the tournament has been staged – with 2020 cancelled due to Covid. This now means he has won 27 matches in a row in the singles, and not lost at the Championships since 2017. He has not lost on Centre Court since 2013.
READ MORE:
But losing to one of the all-time greats is no disgrace and Norrie can reflect very positively on his best ever run at a slam and a first Wimbledon semi-final. No Brit had reached that stage in the men's singles since Andy Murray six years ago.
It was reward for an incredible surge up the rankings in the last few years, and all the hard work that has gone in behind the scenes for the left-hander with the eclectic background – born in South Africa, raised in New Zealand, university educated in Texas, USA and now living in Putney.
For Djokovic there is also now the chance against Kyrgios – in his first slam final – to edge closer to Nadal's total of 22 grand slam singles titles. He currently stands on 20, denied the chance to close that gap after being deported from Australia this year over his non-vaccination stance, and then losing early in Paris.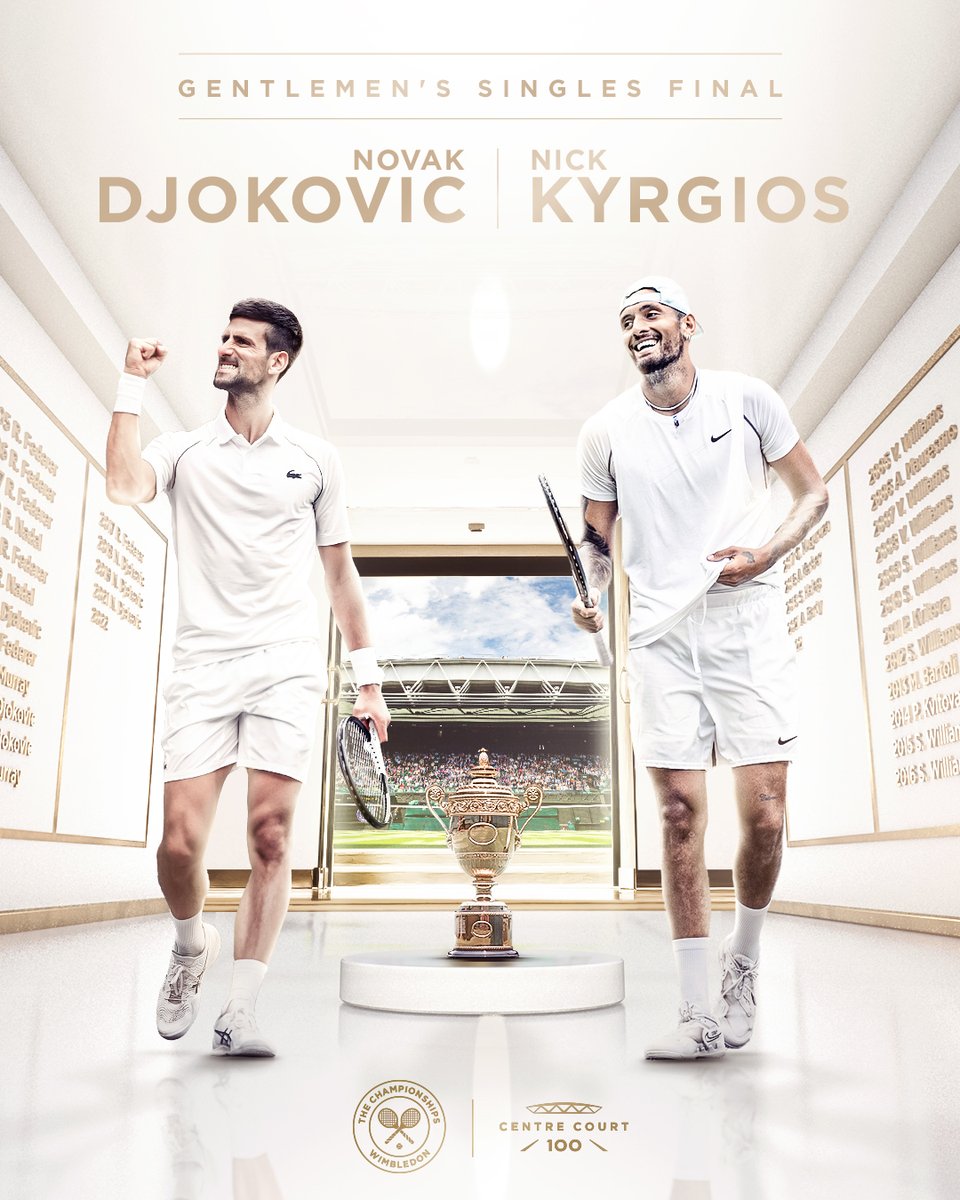 Winning this one looks important if that target matters, because as it stands Djokovic will not be allowed in the USA for the US Open without being vaccinated – something he shows no signs of doing – and also faces another two-year ban from Australia after the chaos of January.
As regards the record number of men's slam singles finals, he has moved one ahead of Roger Federer. In the women's, Chris Evert holds the record with 34.
Djokovic said: "I didn't start off well and Cameron was the better player in the first set. I have played in many grand slam semi-finals but it is never easy walking out on the court for them. There is a lot of pressure and expectation from yourself and others as well.
"And Cameron didn't have much to lose, he is having probably the tournament of his life and obviously playing at home which is never easy. I wish him all the best, he is a great player and I have a lot of respect for him.
"Sometimes it is as simple as putting a cap on – or maybe not! It was very hot today, the hottest day of the Championships so far. I was a bit tighter at the start and not swinging through the ball as smoothly as I would like. I got lucky in the second set to break him at 4-3, he missed a couple of put-aways that helped me and after that I felt the momentum change.
"It may be a 32nd final in slams…but the job is not finished. One thing is for sure – there are going to be a lot of fireworks emotionally in the final against Nick. It is going to be his first grand slam final and he is going to be very excited. He doesn't have much to lose and he is always playing like that, very freely. He has a big game overall, and one of the biggest serves in the game.
"We haven't played for some time [five years] and I have never won a set off him in those two matches – so hopefully that can be different this time. It's another final for me here in Wimbledon, the tournament that I love so much, so hopefully the experience can work in my favour."
*18+ | Be Gamble Aware