Novak Djokovic On Course To Ransack Grand Slam Record
15:28, 12 Jul 2019
Tennis fans around the world are privileged in the current era to witness the most beautiful race for the record men's Grand Slam haul, between a peerless triptych of players we will be fortunate to experience ever again.
Ahead of the 2019 Wimbledon Final due to take place on Sunday 14 July, the tally has been oft-repeated.
Rafael Nadal currently stands at 18, built up mostly - but importantly, not entirely - from an eye-wateringly monumental domination at the French Open.
Novak Djokovic meanwhile is three behind, and five Gram Slam singles titles away from Roger Federer's record haul of 20. All three players have achieved the Career Grand Slam.
While it was needed 75 years (having excluded the interruption caused by the Second World War) for five players to manage the feat, Nadal, Federer, and Djokovic managed to do so in 12.
This is an unprecedented period of tennis we should be still in awe of to be treated to, even with all three on the wrong side of 30.
Federer, even approaching his 38th birthday is a machine, though one that needs oiling more regularly.
A potent once-in-a generation blend of grace, composure, power, and ruthlessness the Swiss is undoubtedly the greatest and most elegant player in the sport's history.
But age is on Djokovic's side. Five-and-half years younger than Federer, that record should be firmly in his sights.
Since his first major at the 2008 Australian Open, an event which ended Federer's record of 10 straight finals, with victory over Jo-Wilfried Tsonga, Djokovic has collected 14 more. This includes a tally of seven at Melbourne Park. The Happy Slam is a favourite; Djokovic holds the record for most titles won at the tournament, having overtaken Federer at the most recent championship at 2019.
🇷🇸 🎾 🇦🇺 Novak Djokovic cruises past Nadal to win his SEVENTH
#AusOpen
title
B E A S T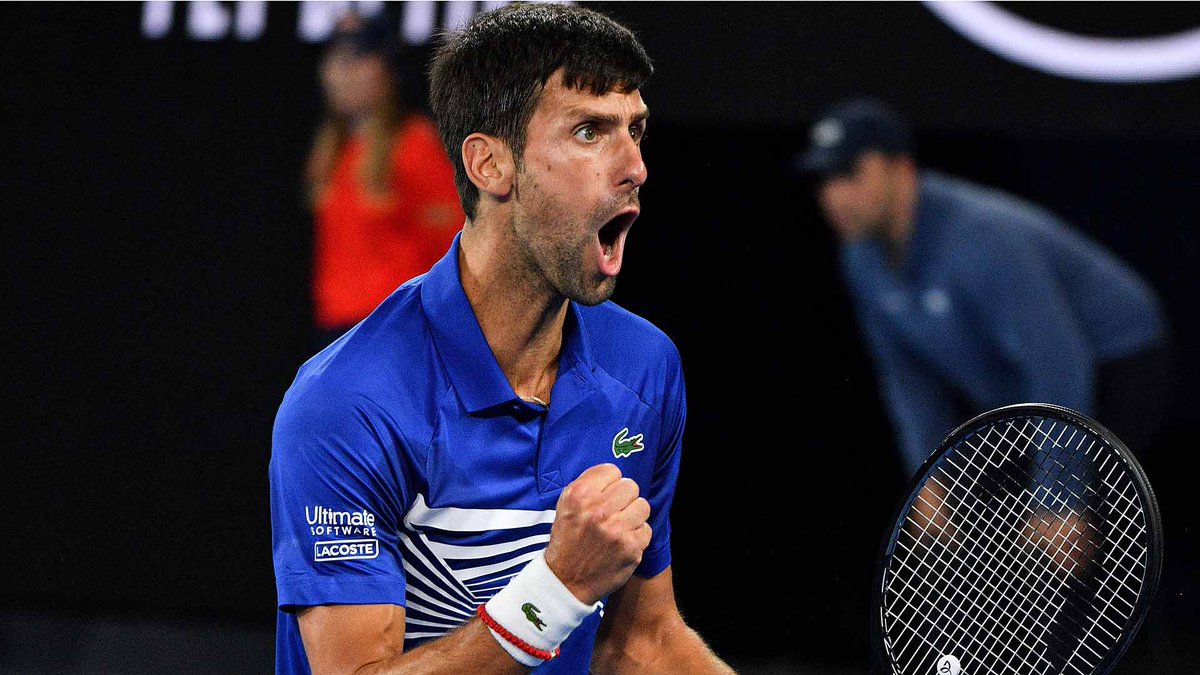 The superb Serbian has a real opportunity to become the most successful player of all time, and therefore have a legitimate claim to be the best the men's sport has ever seen, and he can take a step further to do so with victory at the world's oldest and most prestigious tennis tournament.
If Djokovic succeeds in the final, and retains his title following his 2018 championship, it will be his fifth victory at the All England Club. This will put him on par with Bjorn Borg. Go to Flushing Meadows and win there, then it will be the most successful decade for any individual men's tennis player in the history of the sport.
There are a few prerequisites to Djokovic's ultimate success.
The French Open, with the Clay King Nadal's dominance, is understandably a sticking point for Djokovic, as it has been for Federer. The Spaniard's monopoly at Roland Garros has only been broken three times since 2005.
It must have been pretty irksome that in a year when Nadal has beset by problems upon his return to the court following appendix surgery, that Djokovic had to suffer defeat to Stan Wawrinka that ultimately cost him the chance to join just two other players - Don Budge and Rod Laver - in completing the Grand Slam in the same calendar year. Fortunately he made up for it on the clay court the year after upon his fourth time of asking in the final.
Nadal, Djokovic and Federer have made a mockery of the average retirement age for a men's tennis player. That stands at 27.
However, if for argument's sake imagine Federer was to retire at the end of the season, following the conclusion of the US Open in September. Say, Djokovic goes on to have the longevity of Federer; this would provide Djokovic with the opportunity to bypass the record from a further 20 tournaments. Even if we were to expect Nadal to extend his proficiency at the French Open, Djokovic would need six from 16 Grand Slam championships.
The World Number One has played 20 sets at Wimbledon and won 18 of them. That once thought unsurpassable record that Federer holds is beginning to look just that little bit closer.
🙌 🎾 Men's Grand Slam Title Wins...
- Federer: 20
- Nadal: 17
- Djokovic: 15
- Sampras: 14
The Top 3 are still active players...
The Golden Generation!
#AusOpen