Oscar Tabarez: The Legendary Manager Who Has Reinvented The Uruguay National Team
12:00, 23 Jun 2019
The Copa America may be the oldest international continental football competition in the world, yet only four managers have won the tournament on multiple occasions since its inauguration over 100 years ago in 1916.
Ernesto Figoli was the first to accomplish this feat when he led Uruguay to Copa America glory in 1920 and 1926; when the competition was known as the South American Championship. Guillermo Stabile stands alone at the managerial summit after he coached Argentina to a record six trophies, while Juan Carlos Corazzo - the grandfather of Diego Forlan - won twice with Uruguay, whereas the most recent double-victor was Alfio Basile who led Argentina to back-to-back success in 1991 and 1993.
Uruguay's current incumbent, Oscar Tabarez, is currently attempting to join this elite group with La Celeste on course to progress into the knockout stages of the 2019 Copa America after recording four points from their opening two matches. Tabarez's troops are the second favourites behind hosts Brazil.
You may be surprised to hear that Uruguay have won the Copa America a whopping 15 times. That's more than any other South American nation; one better off than Argentina, and nearly double Brazil's tally (eight).
Oscar Tabarez has taken Uruguay to four World Cups
Uruguay, who lest we forget has a population of just over three million, is a country used to surpassing expectations and Tabarez is the manager responsible for the country's return to international prominence and acclaim. The legendary coach's influence since the start of his second spell (2006-) has been staggering, he completely restructured the set-up and training at all levels after he devised a plan titled: "Project for Institutionalizing the Processes of the National Teams and the Training of Their Soccer Players."
A rejuvenated and well-oiled Uruguay have since reaped the rewards of his leadership. El Maestro (The Teacher) led his troops to 4th at the 2010 World Cup, where they lost 3-2 thrillers to Holland (semi-finals) and Germany (3rd-place play-off). They reached the last-16 four years later, undone by a stunning performance by Colombia's Jay Rodriguez, then last time out they came 5th; losing to champions France in the last eight.
But Tabarez's crowning glory came in 2011 when he lifted the coveted Copa America trophy; Martín Cáceres, Edinson Cavani, Luis Suárez, Sebastián Coates, Diego Godín, and Fernando Muslera all played in the 3-0 Final win over Paraguay, and each feature in the current squad.
The 72-year-old now has history in his sights: If Uruguay do go all the way for the second time in eight years then Tabarez will become the first manager to win multiple Copa America titles this century.
Can't keep him from Balling!
Uruguay's Head Coach, Oscar Tabarez during the game vs Ecuador in the
#CopaAmerica
The 72 year-old has been on crutches since 2018, after he was diagnosed with Guillain–Barré syndrome.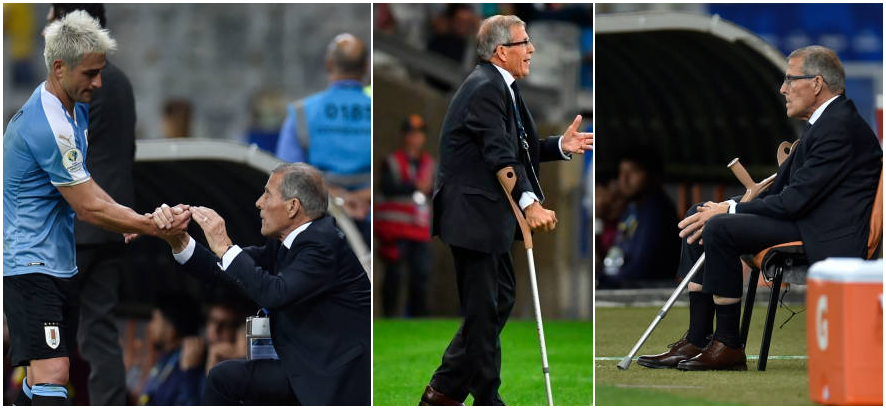 In 2016 Tabarez was diagnosed with Guillain–Barré syndrome, a rare disorder which affects the nervous system, meaning he has to walk with the aid of a crutch. The indomitableTabarez was expected to resign but he's resolutely refused to let the neurological disease affect a managerial career that will hit the 40-year mark in 2020. During this colossal timeframe the FIFA Order of Merit winner has held 16 posts; from his current position at the helm of the Uruguayan national team, to spells in Colombia, Argentina, Italy and Spain.
Tabarez's most recent clash, the 2-2 draw against Japan on Thursday, propelled his gargantuan tally to 194 matches in charge of Uruguay, a managerial record for the number of games at the helm of one national team. No Uruguay manager has overseen more Copa America matches than Tabarez, 28, who is currently fourth in the all-time list, and between 2011 and 2012 he broke another national record; this time for unbeaten games (18).
Tabarez may not be able to topple Velibor "Bora" Milutinovic staggering all-time record of 286 games - from eight spells in charge of national teams - but come 7 July he'll hope to have added the second Copa America trophy to his collection, and in the process join an elite group of gaffers.