'Paco! Give Us A Goal!': Watching Barcelona Loanee Paco Alcacer's Borussia Dortmund Debut From The Yellow Wall
10:34, 15 Sep 2018
Dortmund, Germany. "I must be totally honest with you, I haven't really noticed him before so I don't know what to expect," admitted Borussia Dortmund fan Daniel when asked his thoughts on Paco Alcacer.
In the space of 25 second-half minutes at the Westfalenstadion however, he was to find out a lot more about his club's new Spanish number nine.
The 25-year-old had only been on the pitch for a matter of minutes against Eintracht when he flicked the ball beyond his marker to play in Jadon Sancho down the right. The English teenager left two Frankfurt defenders in his wake and crossed to ex-Fankfurter Marius Wolf who smashed the ball home to put Dortmund 2-1 up.
Sancho's skill was sublime, but it was Alcacer's first-time pass which gave Dortmund the penetration they had lacked in a frustrating goalless draw away at Hannover before the international break.
But Daniel was to find out even more about Alacer before the night was out. With two minutes remain, Sancho played a short corner to the Spaniard who took a touch before curling into the top corner. It was a strike reminiscent of another goal by a Dortmund new boy exactly 366 days ago in London, when Andrey Yarmolenko drew Dortmund level against Tottenham at Wembley.
That move didn't work out and Dortmund will be hoping that Alcacer, who had struggled to get a game at Barcelona and arrived in the Ruhrgebiet on a one-year loan deal with an option to buy, settles in better.
Borussia Dortmund 3-1 Eintracht Frankfurt
Exactly 366 days after watching Andrij Yarmolenko announce his arrival at
#BVB
with a screamer at Wembley, Paco Alcacer repeats the trick. Decent debut.
#BVBSGE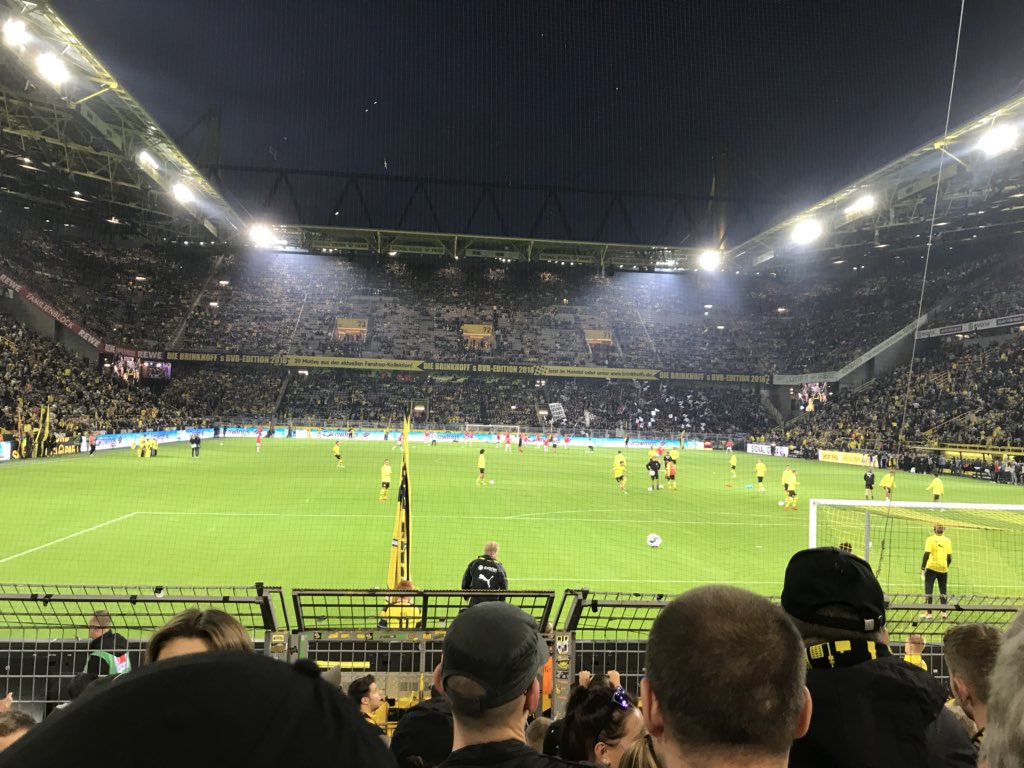 A change of plan
The Sportsman took a slightly different route to the Westfalenstadion on Friday evening, marching to the ground with Dortmund's ultras. Such fan marches are usually reserved for special occasions – derbies against Schalke or protests against Red Bull, for instance – and not for regular home games.
"We don't know where Frankfurt are or what they have planned," explained one supporter, "so it's better for all three ultra groups to stick together, just in case."
Evidently, tonight's visitors have something of a reputation but, although regular Frankfurt fans mingled peacefully enough with their Dortmund counterparts outside the ground, there was no sign of the Ultras Frankfurt as the procession reached the turnstiles.
Inside on the Yellow Wall, The Sportsman attempted to follow proceedings through a forest of yellow and black flags and banners and surrounded by bouncing ultras, spurred on by relentless capos on the podium at the front.
"It was love at first sight! I don't miss a single match for you, Borussia!" they chanted, "I can still remember the first time: I was young and wore your scarf full of pride!"
Frankfurt on fire
Meanwhile, at the other end, the Ultras Frankfurt finally made their presence known, setting the away end alight with red flares immersed in a sea of black and white flags, with six banners at the front spelling out the letters of the word: "ULTRAS." The display met with begrudging approval from their Dortmund counterparts, who had decided against pyrotechnics on this occasion.
On the pitch, there were fewer fireworks. Much of the pre-match speculation had focussed on the competition in Dortmund's midfield, with local sports paper RevierSport wondering whether there was room for both Julian Weigl and Axel Witsel in the starting XI. On Friday night, neither started, Lucien Favre opting instead for Mahmoud Dahoud and Thomas Delaney, who did a solid job in front of the back four.
But, just as in Hannover, Dortmund were limp up front where surprise starter Jacob Bruun-Larson (19), who had scored four in a friendly against third-tier VfL Osnabrück during the international break, looked lost at Bundesliga level. They eventually took the lead when centre-back Abdul Diallo scrambled the ball over the line from a corner, but there was otherwise little to excite the ultras on the Südtribüne.
At half-time, thoughts turned to more important issues as envelopes containing precious away tickets were passed to their recipients. Club Bruges in the Champions League on Tuesday (€45), and Bayer Leverkusen in the Bundesliga next week (€14).
"Instead of red, yellow and black blood runs through my veins until I die," they sang as the second half began. Regardless of how the Frankfurt game had turned out, they would still travel everywhere.
The international break is finally over.
Borussia Dortmund vs. Eintracht Frankfurt
#bvbsge
#bundesliga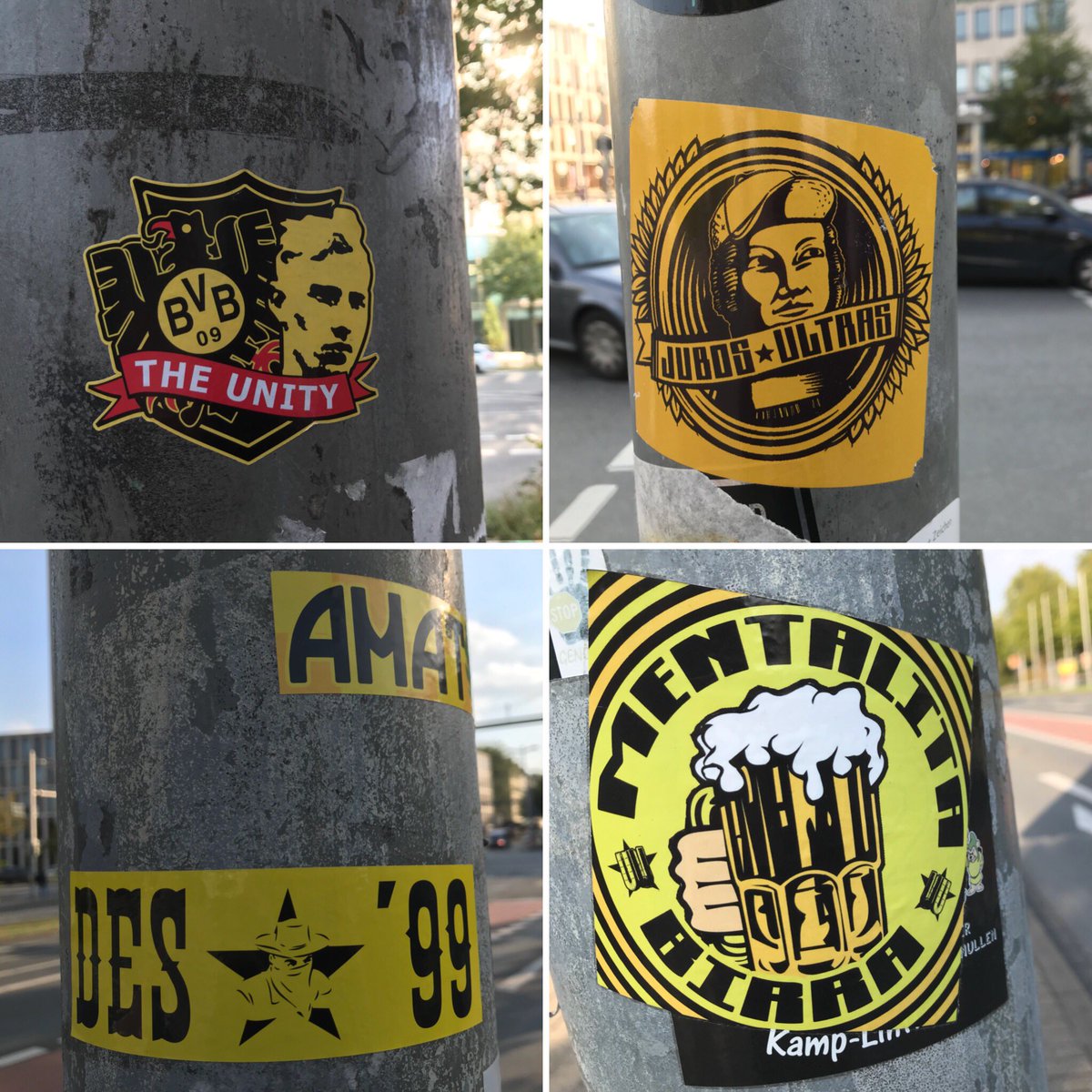 The Paco show
It looked like it could be another frustrating Friday however when Frankfurt equalised through Sebastian Haller in the second half. But then came the Paco show, meaning Dortmund will now go into those away games with renewed confidence that they have the quality to beak down even the toughest of defences.
"He understands football," Favre had said pre-match. "He moves forwards, he move backwards. He will help link up our game." Alacer's role in Dortmund's second proved his new manager right, and his own strike showed he is capable of the spectacular too – something that didn't go unnoticed by the Dortmund supporters.
"Paco, schieß ein Tor!" they chanted leaving the stadium – "Paco, give us a goal!" Next time he's asked, Daniel will have a lot more to say about Paco Alcacer.