The Swiss legend entered his 15th Australian Open semi-final this week
13:18, 28 Jan 2020
The superlative-defying Swiss is at it again. Roger Federer has muscled his way into the Australian Open Semi-Finals, for his 46th occasion in the last four at the quad of major tournaments, and the 15th at this particular one.
The 38-year-old all-time Grand Slam record-holder fought back the years and against seven match points that would have favoured his opponent Tennys Sandgren in Melbourne. On Tuesday afternoon Federer eventually took the quarter-final tie over the American 3, 2-6, 2-6, 7-6 (8), 6-3 at the Rod Laver Arena.
It was the second time of Federer's refusing to yield on the brink of getting the first plane out of Oz in the space of four days as, in the third round, the almost-quadragenarian came from 4-8 down in the fifth-set tie-break to win six points in a row and defy Brisbane-born John Millman passage.
The passion and fire still remains inside Federer, his internal Yanar Dag still blazing, evident with his outburst at umpire Marijana Vejovic at break point in the third game of the third set. The Australian Open is the site of his last Grand Slam title, when he beat Marin Čilić across five sets in 2018 for his sixth trophy in that competition, and it seems he is determined once again to add to his peerless collection.
A relatively disappointing 2019 saw Federer begin by failing to produce a convincing defence of his Australian Open title, which he had held for two years, by exiting in the fourth round to Stefano Tsitipas. The French Open ended in the semi-finals, the US Open the quarters, with his only Grand Slam final being at Wimbledon.
Though he helped contribute to the longest final in the competition's history, his eventual loss to Novak Djokovic helped to close the gap between the Serbian and the increasingly uncertain pedestal which has afforded Federer quite comfortably the title of being, statistically, the greatest men's player of all time.
It is the 32-year-old Djokovic who he faces in the next round of the Australian Open in what will be the 50th career meeting between the two, the overall result currently 26-23 in the younger man's favour.
To Federer's 20, Djokovic currently stands on 16 Grand Slam titles. The man seen as Federer's perennial rival, the Cristiano Ronaldo to his Lionel Messi, Rafael Nadal is even closer with 19, with the Spaniard a solid bet to gluttonize another title at Roland Garros to add to his 11 on the clay court this Spring.
When you survive 7 MATCH POINTS 😳
@rogerfederer is built different 💪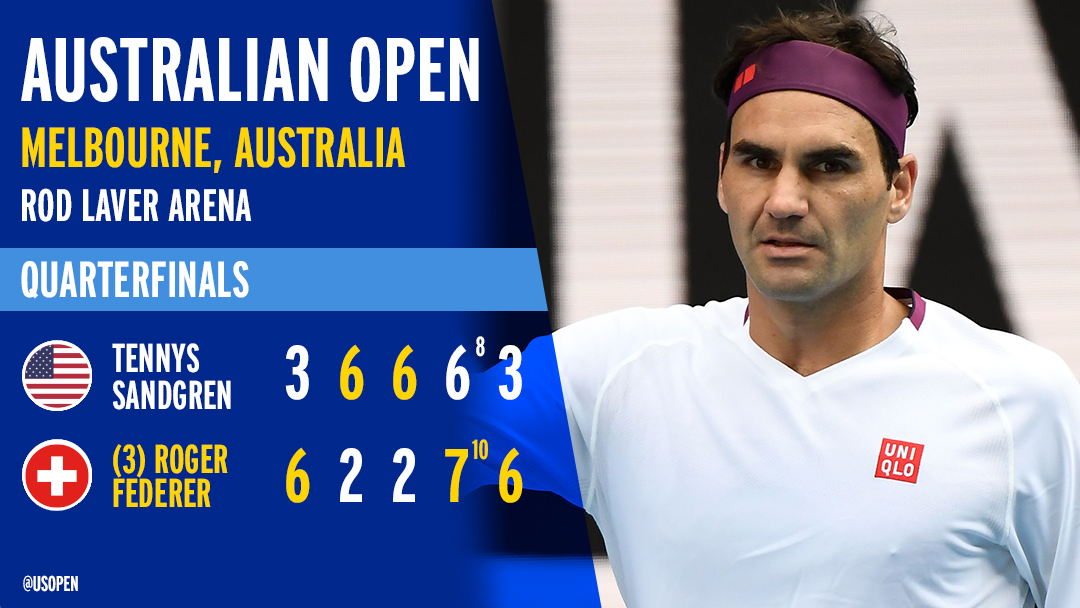 With Nadal five years Federer's junior, and Djokovic six, time is not on Federer's side. It is likely that his Grand Slam career tally will indeed be surpassed by one of the two, or indeed both. The most sensible thing now, as fans not just of the individual player but of the sport, is to admire the retained intensity of his drive and ambition, and his continued ability to produce on-court magic like no one who has ever taken up a racquet has ever done, the Swiss Sorcerer.
"The question of why doesn't he stop comes down to whether a person focuses on the outcome or the performance and process," Professor of Organisational Psychology Damian Hughes told The Sportsman, "Federer's won 20 Grand Slam titles, he's a legend in tennis, his name will be spoken forever, as long as the sport is played - that's the outcome. If he was focused purely on the outcome then the question becomes valid; he would stop because he's achieved what he set out to do.
"When you look at the numbers a normal person would think surely he would be happy: both financially and terms of tournaments won. But I suspect that Federer focuses very much on the process, just one foot in front of the other, just enjoying the game for the sake of enjoying it.
"I don't think he's viewing things purely for the outcome but for the process: game by game, tournament by tournament. Given his obvious love for the game and just playing the match in front of him is why he has kept on going, year after year."
Federer began his career in the last days of greats Andre Agassi and Pete Sampras and in the era of Lleyton Hewitt, Juan Carlos Ferrero, David Nalbandian, and Andy Roddick (all four of a similar age to Federer and all retired, Roddick almost one year younger).
He is currently existing within the tennis macrocosm comprised of stellar, highly-watchable contenders Daniil Medvedev, Alexander Zverev, and Dominic Thiem: all three would have been at varying levels of primary school when Federer certifiably announced himself at the All England Club to win his first in a record stack of eight at Wimbledon.
"The book 'Range' by David Epstein talks about a static world versus a dynamic world," says Professor Hughes. "Early specialisation in skills is fine when you're in a static world, i.e. Tiger Woods starting from the age of two. When you're in a dynamic world where things change and the moving parts like tennis demands a whole different set of skills, he highlights Federer who didn't start playing tennis properly until he was around 14, which is quite late, despite his mum being a tennis coach. Federer had engaged in a variety of other sports before he started taking tennis seriously.
"So you have to move the parameters a little bit: although he's going quite late into his career, he also started quite late.
"I think he's a guy that is relatively 'fresh', for want of a better word, it is, of course, hard to be fresh at 38. He has not been playing from the age of six so you have to look at it through a slightly different lens."
And what of the question as to whether for certain athletes such as Roger Federer and Cristiano Ronaldo, who turns 35 in a matter of weeks, this unique breed of sports superstar are instigating the thesis that the thirties' are the 'new twenties' in regards to sustained success?
"It is important not to underestimate these particular athletes' intelligence,' states Hughes. "Just because someone has experience doesn't necessarily mean they have intelligence.
"People who have married the rich experiences that they've had and combined that with their athleticism does give them that extra edge. It's the perfect marriage of experience, athleticism, and wisdom that makes them formidable."
For those who still remember Federer's tears in 2003 upon beating Mark Philippoussis for his first Grand Slam title at the venue he would become synonymous, Wimbledon's Centre Court, it has been an epic, unparalleled story we've been privileged to follow and witness.
"It's just incredible, I don't know how I did it," Federer told Sue Barker before the waterworks wet Wimbledon.
Seventeen years on, he's still incredible and we still don't know how quite how he does it.
From 2006 Monte-Carlo to 2020
#AusOpen
...
Federer v Djokovic Part 50 is ON