The winger is in familiar surroundings in his latest relegation struggle
15:10, 10 Aug 2022
"The theme is to keep smiling. When your head goes to the floor you stop believing in yourself".
Toulouse Olympique winger Matty Russell knows a thing or two about adversity. Having been left professionally shipwrecked by the financial implosion at Toronto in 2020, the Scotland winger joined the team who replaced the Wolfpack in the Betfred Super League - Leigh Centurions. The Centurions were swiftly demoted last season, so the 29-year old found himself in the south of France, where he is now staring down the barrel of relegation again.
"As a player in this side I feel we can beat anyone. It isn't the team against us that beats us, we beat ourselves," says Russell in an exclusive interview with The Sportsman. "Sometimes we don't stick to game plans and we shoot ourselves in the foot. We have struggled for momentum week to week, but I still feel we can get a couple of wins to stay up."
READ MORE:
Despite an impressive July that saw the French side win three games to leapfrog Wakefield Trinity at the bottom, Toulouse are back at the basement with five games to go, four of them away from home. Their only realistic hope is to once more catch Wakefield - who are two points better off - or Warrington Wolves a further two points clear. Toulouse are at Warrington on Thursday night on Sky in a game that will define their season.
"We can get back in the mix and if we can win at Warrington then it is game on," says Russell, who appeared in Challenge Cup and Grand Finals with Warrington in 2016 and lost them both. "If we beat them then it does bring them into it. They have more strength in-depth than us but we can suck them into it, it is anyone's. They will be looking over their shoulders at us as it is not a nice place to be. This is a relegation battle. "We are still pretty positive. Attack-wise we are a really good team. There are just a few other areas we need to sort out. Every game is a Grand Final for us now."
RUSSELL SCORES FOR WARRINGTON IN THE 2016 CHALLENGE CUP FINAL
Russell played almost 100 times for Warrington between 2014 and 2018 and has been stunned to see his former club's demise this season. Coach Daryl Powell was brought in as the final piece in the jigsaw to turn the club from contenders to champions, but instead the Wolves have endured a miserable first campaign under their new boss and are fighting to preserve their Betfred Super League status.
"It's a crazy one at Warrington because on paper they have arguably the best team in Super League," says Russell. "Pre-season I tipped them to be right up there so it is a shock for everyone. The coach obviously wants a certain style of play and you see it all the time in sport that it takes time to gel.
"They'll come good but they probably want the season written off now. They will have learned a lot from this year. I was in a team at Warrington where we struggled after being in finals the year before, we had a few players coming in like Kevin Brown and we thought it would strengthen us but we didn't gel as a team. It's just one of those years for them I think."
Russell is speaking to The Sportsman from a Toulouse restaurant at lunchtime, having trained in the morning before conditions become too hot.
"It is a totally different culture here, more relaxed and there is a massive market for rugby league," he adds. "I've been here since December, and floating around the city I see they are massive on rugby union. You see how well they do at that, they were European champions last year."
🤜 Voici les 21 joueurs retenus par notre entraîneur Sylvain HOULES pour la 23e journée de
@SuperLeague
, ce jeudi 11 août au Halliwell Jones Stadium face aux
@WarringtonRLFC
💪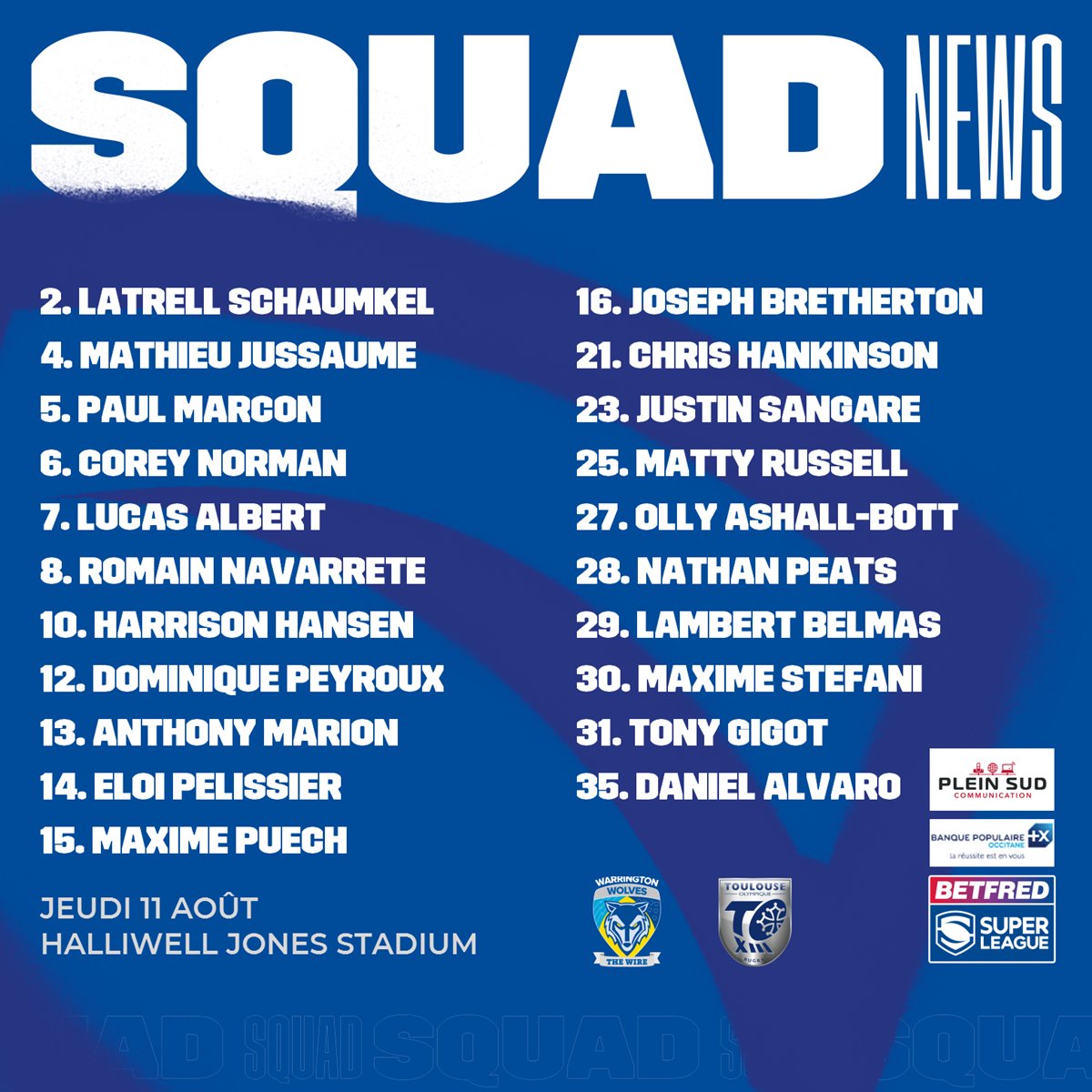 So as a Brit exiled in the south of France, what is Russell's take on the recent row over the value of the two French clubs in Super League? Catalans Dragons boss Steve McNamara was left incensed by stories claiming Huddersfield had questioned what the French sides brought to the competition.
"I was really young when Catalans came up but I remember the flares going off when the players got off the bus, and the atmosphere, totally different to anything else in Super League," Russell recalls. "I don't see why people wouldn't want two French teams involved in Super League. It is hard for players to comment as we don't know the financial side of it and the costs. I learned that at Toronto. I don't know about budgets but if every club is on an equal playing field then - 100 per cent - you need the French teams in it for what they bring that you can't see anywhere else in Super League. I just don't see why you wouldn't want them.
"To see how far Catalans have come is massive and if Toulouse can just stay up that is the groundwork to build each year towards doing the same."
As for the more pressing battle, Russell believes that in coach Sylvain Houles they have the perfect man to guide them through the stress of the next two months. The 41-year old former France international guided Toulouse to promotion to the Championship and has shown true leadership through this year's relegation fight, according to Russell.
"He is a really good coach and his man-management is exceptional. When we lose he is still positive. I don't get the impression that he ever doubts us. Even when I speak to the CEO at the club I see they are still planning for Super League next year.
"Everyone at the club is really positive. The theme is to keep smiling."
*18+ | BeGambleAware | Odds Subject to Change