Premier League Players-Turned-Managers: Charting The Dugout Debuts Of Frank Lampard, Steven Gerrard And Co
20:31, 28 May 2019
The domestic seasons in England and Scotland have now drawn to a close, thus bringing an end to a series of managerial debuts that took place during the course of the campaign, most notably by a number of notable former English Premier League players. Seven of which we've plucked out below, from Frank Lampard at Derby, and Steven Gerrard at Rangers, to Paul Scholes' ill-fated 31 day stint at Oldham.
Here's how they got on...
Frank Lampard (Derby)
Games: 57
Wins: 24
Draws: 17
Defeats: 16
Win Ratio: 42.1%
"Just meet him, see what you think and decide after you've met him."
It turns out that this line from Harry Redknapp to Derby chairman Mel Morris helped the veteran gaffer's nephew, Frank Lampard, grab his first job in management last summer. Throughout the past year the Chelsea legend has swatted away claims that inexperience would count against him as he led Derby to within one win of promotion up to the Premier League.
Monday's 2-1 defeat to Dean Smith's Aston Villa in the play-off final means that the Rams fell agonisingly short of the Promised Land, however Lampard can reflect back on a decent first season in the dugout during which his troops dumped Man Utd and Southampton out of the FA Cup, reached the play-offs for the first time in five years, then overcome Marcelo Bielsa's Leeds in the semi-finals in one of the duels of the year.
Lampard is now priced at just 1/4 to return to his beloved Chelsea as manager this summer.
🐏 👏 Frank Lampard's 1st season in management...
- Beat Man Utd in League Cup
- Took Derby to first Play-Off in 5 years
- 1st manager to overturn a home defeat in the first leg of a Championship Play-Off semi
Cracking effort from Frank and his young Rams this season!
#DCFC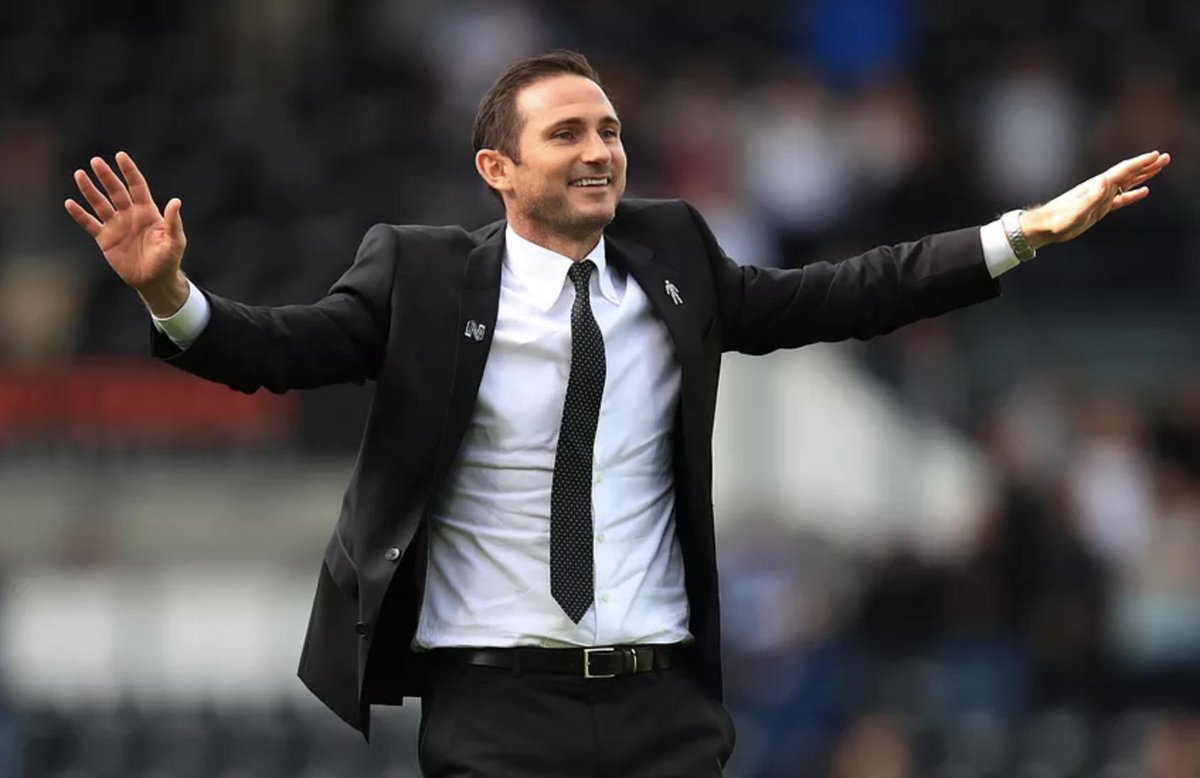 Steven Gerrard (Rangers)
Games: 60
Wins: 32
Draws: 18
Defeats: 10
Win Ratio: 53.33%
A monumental 1-0 win over Celtic at the end of 2018 drew Rangers level on points with their fierce rivals and in turn sparked optimism that Steven Gerrard actually had a realistic chance of leading the Gers to the title in his first season in senior management. Alas, it was not to be as a combination of dropped points and Celtic's dominant form resulted in the Hoops winning their eighth title in succession. The second-placed Gers were last victorious in 2011.
Inconsistency plagued Gerrard's debut campaign, temperament too was a big issue, pertinently reflected through Alfredo Morelos who was sent off a staggering five times. Dealings in the transfer market proved to be a mixed bag, cup showings were below-par, and while Rangers dazzled at times a big improvement is needed if they are going to knock treble-treble winning Celtic off their perch next season.
Gerrard has had his bedding in season, now he'll be tasked with winning a trophy in 2019/20.
Scott Parker (Fulham)
Games: 10
Wins: 3
Draws: 0
Defeats: 7
Win Ratio: 30%
Scott Parker's position at Fulham was only elevated from caretaker to permanent ahead of the club's final game of the season, but we've included him anyway.
On the whole it was a tumultuous season in the dugout for Fulham, who axed Slavisa Jokanovic in November, and gave his replacement Claudio Ranieri the boot a few months later. Coach Parker was then handed the job in a caretaker capacity but he was initially unable to reverse the slump, losing his first five games as the Cottagers lost their top-flight status.
However, encouraging results followed as the club at least bowed out on a more positive note, after they registered three wins from their final five games. It was enough for Chairman Shahid Khan to state that the rookie boss is "more than up to the task" of implementing an instant return next season.
Selected manager win rates from the 2018/19 season
Lee Bowyer (Charlton)
Games: 56
Wins: 30
Draws: 12
Defeats: 14
Win Ratio: 53.6%
Lee Bowyer took the reins at Charlton in March 2018, as caretaker, and proceeded to lead the club into the play-offs, only to agonisingly lose out to Shrewsbury at the semi-final stage.
Bowyer's impressive impact eventually resulted in a permanent appointment in September and he's since proved to be one of the managerial success stories of the season. Charlton finished 3rd in League One, missing out on the top-two by three points, but then swatted away the play-off disappointment from the previous campaign to come back from behind to beat well-fancied Sunderland in the Final, and thus book a return to the Championship, ending their three-year spell in the third-tier.
🎥 "I am so proud of you..."
Watch Lee Bowyer's speech to his players in the dressing room after an incredible day at Wembley...
#cafc
Joey Barton (Fleetwood)
Games: 54
Wins: 18
Draws: 15
Defeats: 21
Win Ratio: 33.3%
Fleetwood shocked the football sphere in April 2018 when the club announced they would hire Joey Barton as their manager once his betting ban had expired in July of the same year. Fast-forward to the here-and-now and the Lancashire side have finished Barton's debut season in 11th (League One) with 61 points; 12 points adrift of the top-six and 11 points above the drop zone.
Barton oversaw some pretty spectacular results, from a 4-0 win at Doncaster to a dramatic last-gasp win over Sunderland, fierce rivals to his former club Newcastle. However, there were also a number of lows, including an alleged assault on Barnsley boss Daniel Stendel.
The eagerly anticipated documentary should make for gripping viewing once it airs...
Paul Scholes (Oldham)
Games: 7
Wins: 1
Draws: 3
Defeats: 3
Win Ratio: 14.29%
It was over before it even began.
After years of constant rumours Paul Scholes eventually took the Oldham job in February. 31 days later and he was gone. But unlike many of the numerous managers that the Latics have had in recent years, the Man Utd legend wasn't sacked, instead he opted to walk...or Whatsapp his way out to be more precise.
Scholes actually started well, inspiring his boyhood club to a thumping 4-1 win over Yeovil. However, that proved to be his only success in seven games.
Scholes cited broken promises among other frustrations, and while only those in the know will know what really went on, from the outside looking in it appeared that when things got tough Scholes didn't really fancy the challenge.
Like his former teammate Gary Neville it's unlikely Scholes will return for a second stab at management anytime soon.
"You always think you might be the one person to change it."
"Once I get told "Don't play him"... Then it's time to go."
No hot water and a LOT of other frustrations...
But still no regrets.
Paul Scholes gives an honest view of his time as Oldham boss 🙌
#PLTonight
Sol Campbell (Macclesfield)
Games: 27
Wins: 7
Draws: 11
Defeats: 9
Win Ratio: 25.9%
After rejections from the likes of Oxford United, Grimsby and Oldham Sol Campbell finally bagged his first job in November 2018 after Macclesfield decided to place their faith in the Premier League legend. Many expected Campbell, who months earlier had boldly stated that he had "one of the greatest minds in football", to flop but he exceeded all expectations.
Macclesfield were rock-bottom and four points adrift of safety when Campbell arrived but he surprised everyone as he galvanised the club, lifted spirits, and improved results, securing the club's Football League status on the final day.
It will now be interesting to see what the future holds for Big Sol, especially after that interesting interview he gave to talkSPORT.
P.S. If you're not following him on Instagram you're really missing out!