We have come to the end of a spectacular 12 months of football
10:00, 27 Dec 2021
So we are approaching the end of the year and as always, it is a time for reflection after all the festivities. We've eaten and drank too much, but this isn't a time for our own self-wallowing, no. This is a time to look back on the Premier League calendar year. To celebrate the end of 2021, we have put together the league's best XI from the past 12 months. Every player must have been in the division for the entire year, so there is no room for the likes of Jose Sa or Cristiano Ronaldo, but here is the XI we have picked.
GK - Edouard Mendy - Chelsea
There were several decent candidates for this position including Arsenal's summer signing Aaron Ramsdale, but Mendy gets the nod based on the sheer number of clean sheets he has kept, and the impact he has had on the European champions. He's played 36 matches and kept 18 clean sheets in that time, as Thomas Tuchel's side moved from top four contenders to title hopefuls.
RB - Trent Alexander-Arnold - Liverpool
The Liverpool right-back has once again proven himself to be one of the best in the world in 2021 as Liverpool look to beat Manchester City in the race for this title this time around. His four goals are impressive, but it's his 13 assists and sixteen clean sheets that get him into this team. He also has only missed two matches in the entire year.
CB - Reece James - Chelsea
Yes, we are cheating a little bit here, but James has played as the right-centre back on occasion for Chelsea, as well as in central midfield - but of course it has been a wing-back where his best performances have come. His four goals and five assists are a good return while he has contributed to 17 clean sheets when he has been on the pitch. Top class.
CB - Ruben Dias - Manchester City
Given Virgil van Dijk's long-term injury in the first half of the year, Dias has been the standout centre-back in the division over the last 12 months. City look so much more assured when he is on the pitch while he has contributed to a ridiculous 20 clean sheets out of the 38 games he has played, as well as chipping in with four goals.
LB - Joao Cancelo - Manchester City
Like Gareth Southgate, we absolutely love a right-back, but in our defence, the Portuguese star has now settled into his role on the left side of Pep Guardiola's back line. Few would argue with his inclusion and it is his passing ability, three goals and six assists that just take him past Andy Robertson in our eyes. A delightful footballer.
Joao Cancelo: The Best Full-Back in the World. 💫🇵🇹
CDM - Declan Rice - West Ham United
West Ham deserve huge recognition for their achievements over the past twelve months which saw David Moyes' side secure a sixth place finish, before they reached the knockout stages of the Europa League - all while contending for top four spots this year. One man who is irreplaceable for both club and country now is Rice, who has bagged three goals and assists in the league this year, but his game is about far more than those numbers.
CM - Thomas Soucek - West Ham United
West Ham have had the best central midfield duo in the league this year. Soucek's impact on the team is almost as critical as Rice's but importantly the Czech has hit a huge ten goals this year. Those goals came at pivotal moments for his team, but arguably just as impressively has been the fact he hasn't missed a single league game for the Hammers. Ever present, and he just edges out the in-form Conor Gallagher.
CM - Bernardo Silva - Manchester City
It was between Silva and teammate Phil Foden for this spot but in the end, the man who was recently named City's Fans' Footballer of the Year, takes it. He was a great squad player during their title run-in, but this season has stepped up to become their star man, when it looked like the exit door was looming. 9 goals, 7 assists and a new starring role in central midfield for Pep. We don't think he is going anywhere.
Get in!! Thanks for the support City fans! We love you 🔵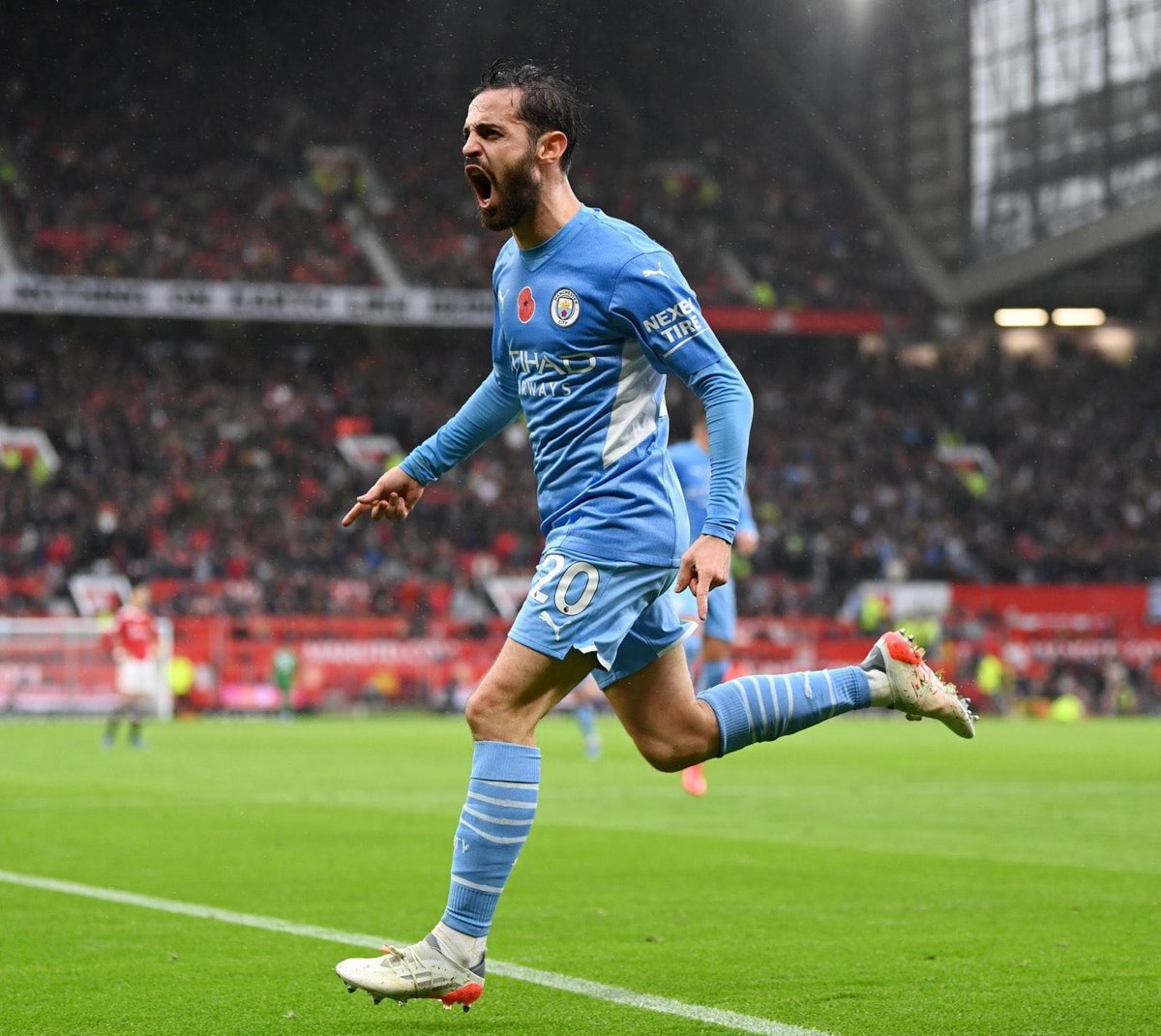 RW - Raphinha - Leeds United
The man who has lit up the top flight for Leeds United is well deserving of a spot in our front three. Playing for one of the most exciting teams in the league, the Brazilian has bagged twelve goals and 8 assists as Leeds finished 9th on their return to the Premier League. The start to this campaign has been tougher, but he is still their key man.
LW - Diogo Jota - Liverpool
Nobody thought Jota's impact on the Reds would be this great. His injury, which caused him to miss the first two months of the year, was one of the key reasons the Reds could not retain their title as they lost six matches during that spell. Since his return, he has been utterly superb, hitting 10 goals in 17 matches so far this term, taking his total to 14 for the year. He is now utterly crucial for Jurgen Klopp.
ST - Mo Salah - Liverpool.
It's Salah. One of the best players in the world this year, Salah has played every single league game for Liverpool, scoring 24 goals and registering 13 assists. The best player in the Premier League in 2021 by quite some margin.
*All stats correct as of 25/12/2021
The Sportsman's Premier League team of the year for 2021 in formation.