Snooker's Prince of Persia Hossein Vafaei proved himself to be king of the Shootout on Sunday night. The 27-year-old claimed an emotional first ranking title in the quickfire tournament by beating three-time world champion Mark Williams in the final in Leicester.
The success earned world 42 Vafaei a cool £50,000 – and he played an immaculate frame in the final beating Williams 71-0 with a single break. And his earnings were boosted by an extra £5,000 for making the highest break of the tournament in round one with a run of 123.
It was an especially poignant moment for Vafaei, who had suffered a family bereavement with the death of his grandmother shortly before the event. Vafaei has worked harder than most for his breakthrough – hampered at almost every turn in his younger life by visa issues that stopped his development and participation.
The first Iranian to win a major title said: "That one is for you, grandma. It is Mothers' Day in Iran, and I am very proud and couldn't be any happier – I thank God.
"I have lost a few semi-finals including to Mark Williams in China, so I am very happy to finally win a tournament. I have been working very hard.
"To be the first Iranian to win a big snooker tournament is a very big thing for a country Iran, people now know all about the game and are asking me 'Why did you play that shot?' I can't wait to go home one day with the trophy. Thank you to the crowd, they have been fantastic all week giving me great support."
Vafaei could easily have lost in the semi-final against Liang Wenbo but for a horrible miscue and foul on the black from the Chinese player on a break of 48. From 48-0 down, Vafaei won the frame 92-48 helped by a break of 61. Earlier in the tournament he beat amateur Daniel Womersley, Michael Georgiou, Allan Taylor, Barry Pinches and Peter Devlin with the high-break of 123.
Williams , 46, said: "I thought I played a good break-off shot – but what a fantastic first red that was from Hossein. There's not many that coujd have potted that and screwed it back.
"Sometimes you just have to take your hat off, it was a brilliant break to win the tournament from him. And I'd like to thank the crowd for some brilliant support."
Your 2022 Snooker Shoot Out champion - Hossein Vafaei! 🏆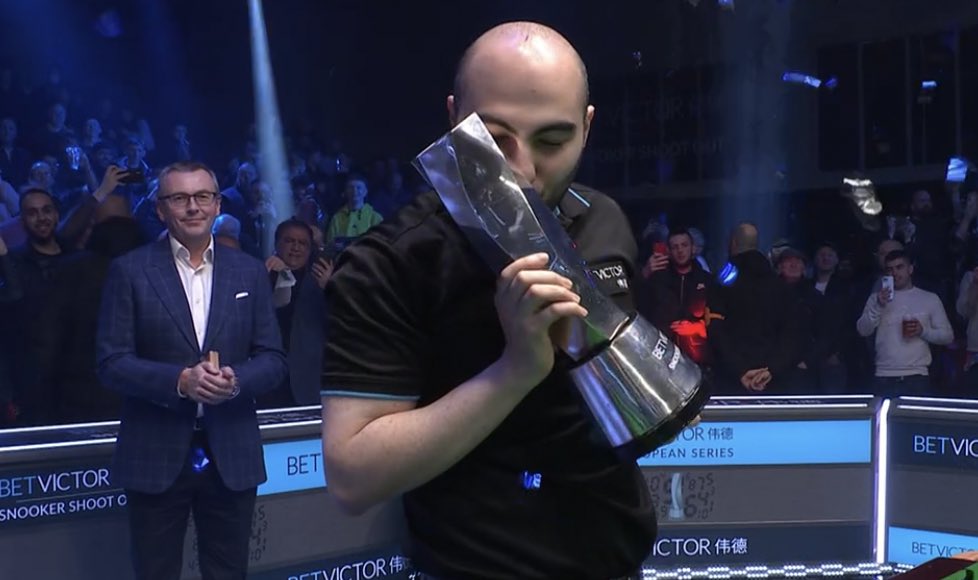 There were other notable aspects to the tournament this year. The Leicester venue meant there was huge support in the stands for one of the city's favourite sporting sons Mark Selby – the world No1, and reigning and four-time world champion.
The 38-year-old Selby had bravely and frankly revealed during the Masters earlier in the month that he was seeking professional help after suffering a marked deterioration in the state of his mental health.
For the time being Selby - praised by mental health charity MIND for speaking out and encouraging others to do likewise - has opted to carry on playing without taking time out from snooker, believing that to offer the best way of working his way back to better health alongside the work he is doing alongside his job in the background.
And Selby, a very popular player on the tour and highly regarded in the wider sporting community for his many achievements, cannot have been left in any doubt as to the esteem in which he is held after the tremendous reception received during his three rounds in the event before eventually exiting to Robbie Williams on Sunday in the third round.
In a now perennial debate, former world champion Ken Doherty, who fell at the last-32 stage in this year's tournament, was quick to back the ranking-event status of the event.
Many professionals see the Shootout as good fun but essentially a lottery – and as such not worthy of having actual rankings determined by the results.
But world No77 Doherty, who last a last-32 thriller 52-50 to Chris Wakelin on Sunday afternoon, said: "Look, whoever wins this deserves it.
"It wouldn't be right if you won seven matches, got the prize money but it didn't count to your rankings. That would be very harsh.
"So players should roll with it. Snooker is a test of many things including nerve and extreme conditions, and you need plenty of that in the Shootout.
"Plus also this could be a financial lifeline for players outside the top 16 who don't earn so much – and I wouldn't begrudge them anything."