Vieira has been sacked by Crystal Palace with the club 12th in the Premier League
11:00, 18 Mar 2023
Patrick Vieira has always been one of two things.
Anyone who dares front up human firework Roy Keane - the man who makes Conor McGregor look like Mary Berry - is either incredibly brave or just brainless.
But Vieira's ability to disengage logic and self-preservation is in danger of being surpassed by the decision to sack him as manager of Crystal Palace.
READ MORE:
There are 11 games of the Premier League season left for the Eagles. The team has not won in the last 11 either and right now it is difficult to predict where the next points are coming from.
Yet Crystal Palace sit in 12th position. There are only three points between them and the bottom three but there are also five teams in an equally precarious if not worse position than them.
West Ham for example have won only two of their last 14 league matches. A similar run of abysmal form to their neighbours in South London.
Yet chairman David Sullivan is sticking with boss David Moyes because he knows it is probably too late to turn things around now.
There is also a huge question of what Palace are and what they expect out of life.
Now, I am not privy to the conversations chairman Steve Parish holds with his American business partners Josh Harris and David Blitzer. But was the decision to dispense with Vieira made because of relegation fears or because the current run of form is threatening the challenge for a top four finish? I think we all know the answer to that.
One end of Crystal Palace's Selhurst Park ground is a Sainsbury's - it's not the Bernabeu.
Where they are now in the table is where they finished last season. The year before it was 14th. Wilfried Zaha is still widely regarded as the best player in the squad. He is 30 years old and has not scored a goal since November 6.
🦅 Crystal Palace are bottom of the Premier League form guide with just three points from their last six games.
@TCPalacePod |
@CPFCHQ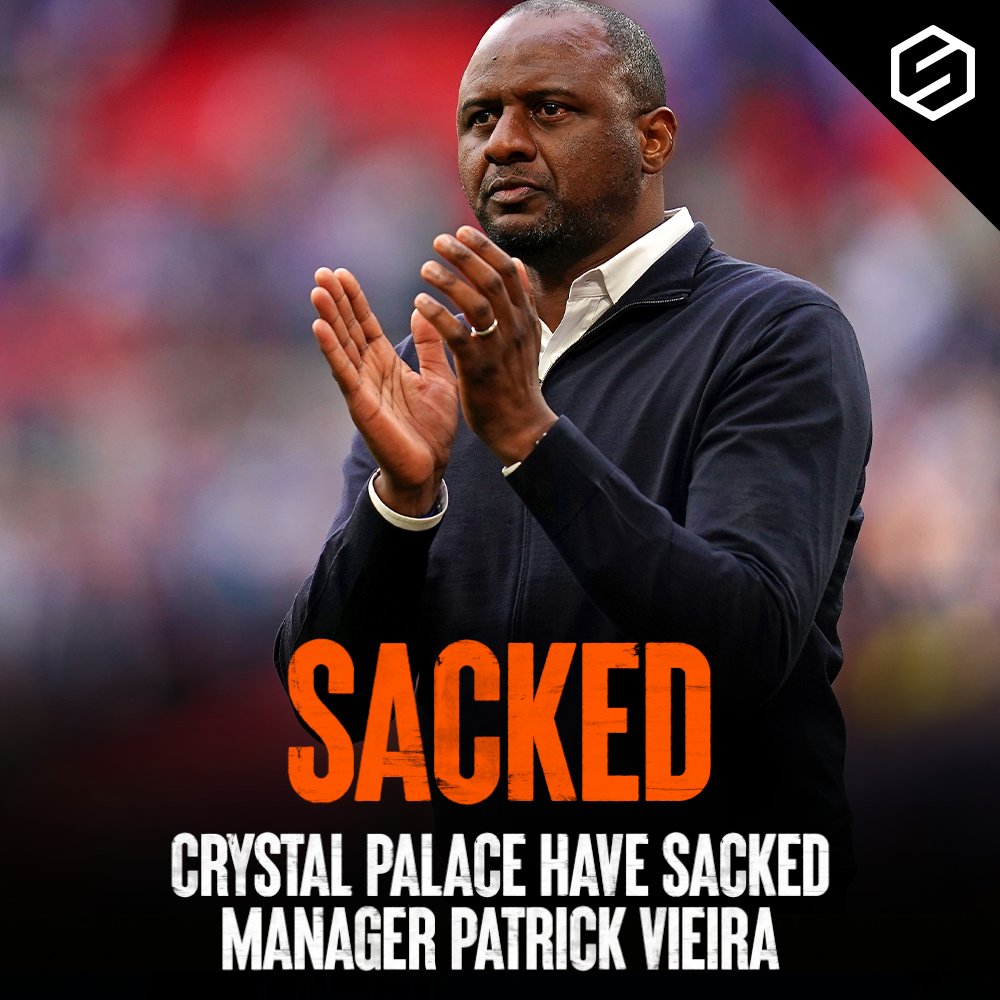 Like the vast majority of teams in the top flight these days, Palace are there to make up the numbers. They exist, just like West Ham, just like Aston Villa, Wolves, Leicester and many others.
The decision to axe managers sometimes runs a lot deeper than simply results. The numbers are there as a smokescreen to mask more lingering problems behind the scenes that won't be fixed with a home win and a point away in the next two games.
The feeling down in SE25 is that Vieira was too soft. The giant Frenchman who once faced down a foaming at the mouth Keane in the tunnel at Arsenal, is actually just a big teddy bear.
Apparently he did not dish out enough rollockings. He was too easy going on players not delivering what is expected.
Apart from the fact this is an enormous surprise, it underlines the growing belief that recently retired players do not make for good managers in the cut-throat world of the money mad English football.
Vieira joins Steven Gerrard, Frank Lampard and at a push Scott Parker as the latest on-field Premier League legend to find out the hard way that playing credentials count for nothing once you start picking the team instead of playing in it.
What it also suggests in Vieira's case is that Parish and his pals did not do their homework properly.
Vieira has always been a softly-spoken, laid back kind of guy to deal with. I put that down to the fact he was as big as the Holmesdale Road end so didn't need to show off about how hard he is.
But he was sacked by Nice before being recruited by Crystal Palace. Surely someone on the Cote d'Azur would have been able to explain that Vieira is too friendly to succeed over here?
Personality traits are probably as important as tactics and transfers for a manager. And it's why boards of directors are not blameless when things go wonky with their head coach.
Directors of football clubs should also be prepared to dig in when the going gets tough. In a way, Sullivan is to be admired for keeping West Ham on a knife edge. Sticking with Moyes with his team hovering above the bottom three on goal difference is refreshing.
Parish must have known what he was getting in Vieira, a lion of a player but a pussycat manager.
It's also difficult to work out exactly what is required at Selhurst Park because while form is temporary they are not really much worse off than normal and the odds are against them going down - the sole requirement for most top flight teams these days.
*18+ | Be Gamble Aware