Fabinho and Jordan Henderson have been getting more respect this year, but Wijnaldum deserves that too
12:15, 07 Feb 2020
When Liverpool took the lead against Southampton on Saturday, through Alex Oxlade-Chamberlain two minutes into the second half, questions were asked. Danny Ings had gone down in the area moments prior, and he was expecting the referee to award a penalty. He didn't, neither did VAR, and just a few seconds later, the Saints were behind; the Reds countered with typical precision and ruthlessness, showing exactly why they are going to win their first Premier League title in 30 years, breaking all sorts of records in the process.
While most people reacted one of two ways to that goal, either with outrage that it was allowed to stand, or appreciation for its quality, something, or someone, went rather unnoticed in the build-up; Dutchman Georginio Wijnaldum. The way he opened his body up and played the ball out to the left was crucial to the goal being scored as quickly as it was; his involvement was the turning point.
But he is used to a lack of acclaim, and that is testament to both he and Jurgen Klopp; he has adapted his game superbly since arriving from Newcastle United three-and-a-half years ago, to become a vital cog in the Anfield machine. With his contract running out, speculation is growing over his future, but tying him down to a new deal must be high on the priority list.
Sadio Mane, Roberto Firmino and Mohamed Salah have been the poster boys of the Klopp era since they came together; last season, Allison and Virgil van Dijk made the difference as they won the Champions League and came within a whisker of lifting the Premier League title. With a 22-point lead, going one step further is already looking a formality, and attention has turned to the fullbacks.
In midfield, Liverpool haven't perhaps got the credit they deserve; Jordan Henderson may be pushing himself into the conversation for Player of the Year, but in some ways Wijnaldum sums up the great work Klopp has done more than anyone. Wijnaldum came to England in the summer of 2015, joining Newcastle as a goal-scoring midfielder. He had impressed at PSV Eindhoven the previous season, winning the biggest individual award ahead of teammate Memphis Depay as the club lifted the Eredivisie crown.
Back then, his game centred around impacting in attacking areas, scoring with late runs into the box or picking a pass. His energy was used in different ways, though; he needed to be brought into games, and while he scored 11 times that season for the Magpies, including twice against Liverpool, he did so only at St James' Park and couldn't stop the club getting relegated.
MASSIVE WIN! 💪🏾 We keep pushing 👊🏾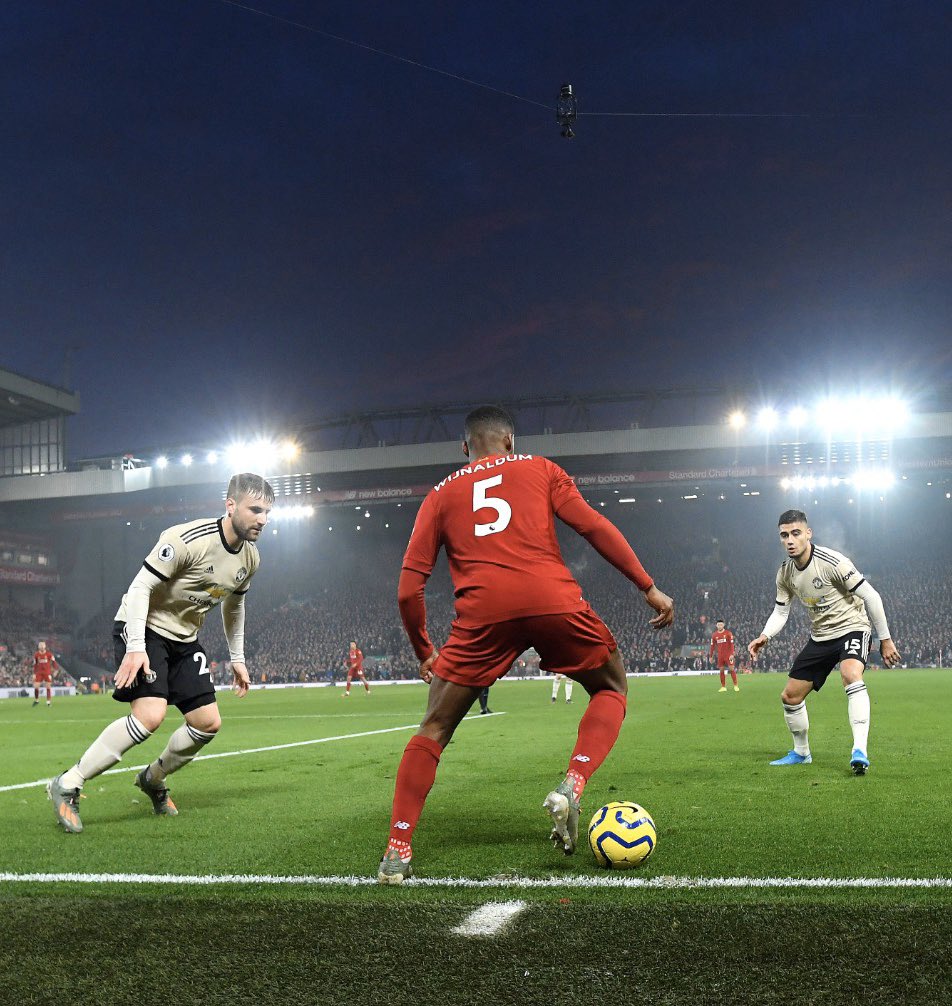 Klopp spotted something not many others did, and acted despite the £25million fee, a £10.5million profit for Newcastle, appearing to suit the sellers a lot better. Wijnaldum had impressed, but not in a way that necessarily suggested he could play a key role in the new 'Gegenopressing' style.
He instantly showed that his natural fitness levels allowed him to be all-action in getting around the pitch and connecting the dots. His is a role that cannot be done by just anybody, and that transfer fee now looks worth paying twice over in the current market. It is patently obvious that Liverpool don't have any weaknesses, to drop just two points from 25 league games is nothing short of astonishing.
But a lack of creativity had been levelled at them, especially after the sale of Philippe Coutinho to Barcelona. They may lack guile in the middle of the pitch at times, but what they do bring, intensity and balance, more than makes up for it. The reason Liverpool are sweeping aside all they face is because they never allow teams to settle in midfield before spraying the ball wide to exceptionally wide fullbacks or up to their potent attack.
Fabinho and Henderson have been getting more respect this year, but Wijnaldum deserves that too. Liverpool are a team who can go from zero to 100 in two seconds flat; they showed as much against Southampton, whom they dispatched 4-0 after enduring a tough first half. Wijnaldum has become an underrated hero for them over the past three seasons, and they should do everything in their power to make sure he remains on Merseyside.