Red Bull secured a one-two in Baku as Ferrari suffered an unmitigated disaster as both Charles Leclerc and Carlos Sainz both failed to finish in Azerbaijan. Max Verstappen took the race win from Sergio Perez to gain his first podium here after an impressive overtake, but this felt like a seismic weekend in the battle for both the Drivers' and Constructors' Championship.
Leclerc has become the first driver since Juan Pablo Montoya in 2003 to get four pole positions in a row, but fail to win any of those races as two mechanical failures in that quartet has spoilt his chances. Ferrari were ahead in the Constructors' heading into the Spanish Grand Prix but now they are a whopping 80 points behind.
A season that started so brightly for Ferrari now has now turned sour, while Mercedes escaped from a damaging weekend for Lewis Hamilton's spine with a third and fourth place finish. It was George Russell who continued his record of finishing in the top five of every race so far this season with another podium, while Hamilton got up from seventh, to finish just behind his teammate.
READ MORE:
The heat played a major factor with track temperature hitting 46 degrees in the pit-lane but Verstappen and Red Bull kept their composure and the Dutchman became the sixth different winner at a track that is yet to produce a repeat victor.
Perez, who won here from sixth last time out, got a great start and dove up the inside of Leclerc to take the lead of the Grand Prix as Verstappen held onto third place from Sainz. For the Red Bull team, things began well, but would get even better as their rivals wilted in the heat.
Sainz on lap nine went into the run-off area after a mechanical failure as the Spaniard had a hydraulic issue in his Ferrari. That led to a virtual safety car which changed the strategy of several of the teams, as Ferrari scrambled to set Leclerc up to challenge both Red Bulls.
Red Bull faked to pit which forced Ferrari to bring Leclerc and put him onto hard tyres. With 42 laps to go, Lewis Hamilton and George Russell went onto the same strategy and aimed to get to the end of the race on one stop in blisteringly hot conditions.
VERSTAPPEN WINS IN BAKU!! 🇦🇿🏆🎉
Perez makes it a Red Bull 1-2, with Russell claiming the final podium place 👏👏👏
#AzerbaijanGP
#F1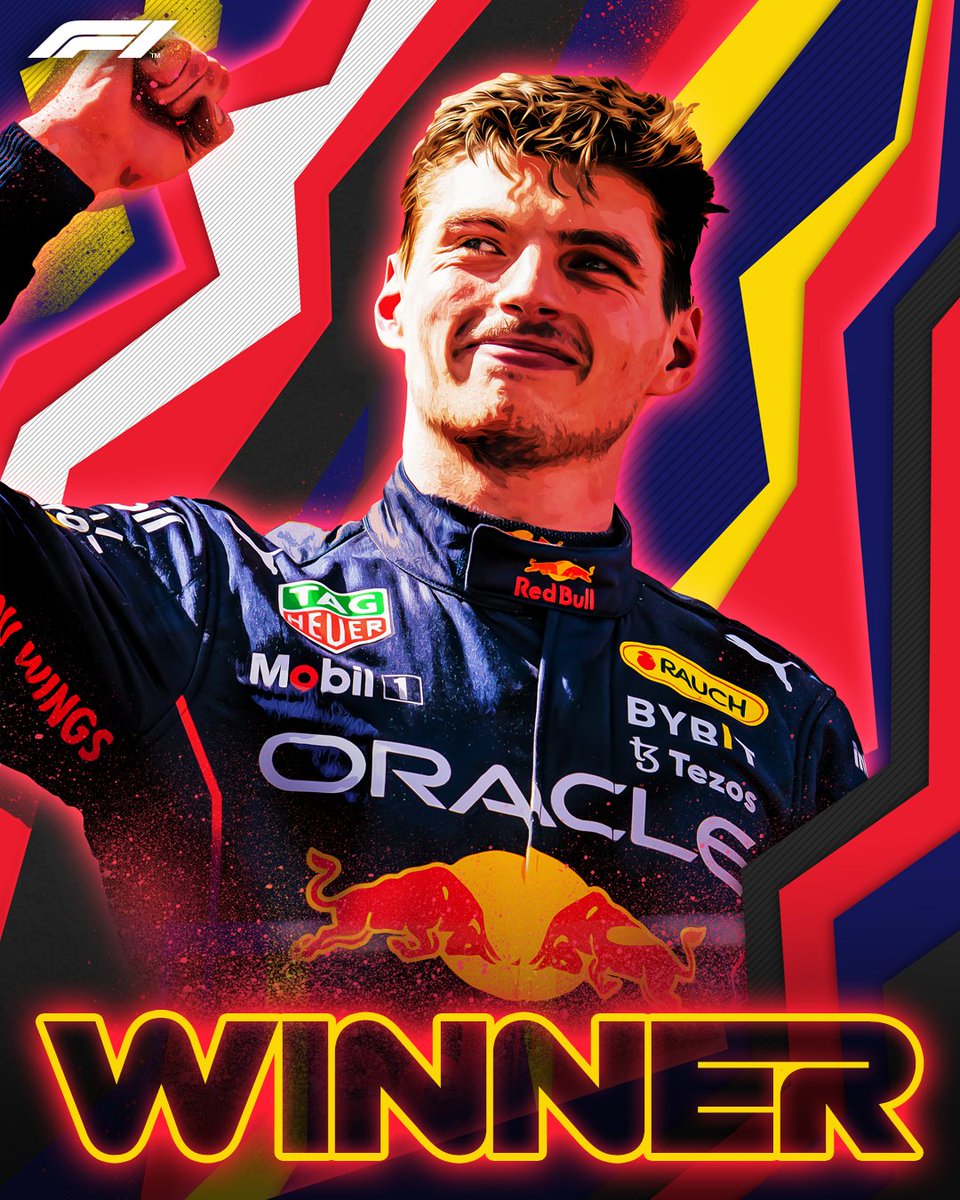 Sebastien Vettel after stopping went for a move around Esteban Ocon, but locked up and went into the run off area, before producing an incredible 180 spin and getting back onto the track.
Verstappen had found an incredible level of pace as his tyres got up to speed and closed the gap on race leader Perez, before using DRS to get past him heading into turn one. Christian Horner pleaded 'no fighting' from the pit wall but these two racers are both in contention for the Drivers' Championship.
Both Red Bulls pitted onto hard tyres nine laps after Ferrari had, but the Scuderia's worst fears would soon be realised. Leclerc's engine began smoking just as he had taken the race lead and from pole position and the race lead, suddenly Ferrari had two DNFs.
Russell moved up to third, Pierre Gasly was running in fourth and Hamilton passed Daniel Ricciardo into fifth, as the Australian went over halfway into the race without pitting. Another VSC, after Kevin Magnusson retired meant that both Red Bulls and Mercedes pitted again, and Hamilton came out in sixth, and got past Yuki Tsunoda, before he began to chase down Pierre Gasly in fourth. He may have been bouncing up and down on the long straight, but remarkably he got the move done to secure a profitable weekend for a Mercedes team that are still finding their feet this season.
Verstappen extends his lead at the top of the Drivers' Championship as Red Bull head to Canada on a high after this one-two, while Ferrari are left to pick up the pieces as they desperately look to find some reliability.
*18+, terms and conditions apply, odds subject to change.