Manchester City are on the march. On a simple afternoon against Leicester City, Erling Haaland scored twice in a 3-1 win to equal Mo Salah's record of 32 goals in a 38-game Premier League season.
This is the time of the season that Pep Guardiola's teams go into business mode. There is no room for error as they hunt down Arsenal and it is looking increasingly likely that they will win their third Premier League title in a row, as well as being in the final four of the FA Cup, and probably the Champions League.
Haaland was so good in that first half, converting a penalty to make it 2-0, before he teamed up with Kevin De Bruyne to finish his second of the match. That through ball was De Bruyne's 100th Premier League assist for Manchester City and the game was dead and buried before the clock had struck 30 minutes.
READ MORE:
The Norwegian is now almost certain to break the all-time Premier League goalscoring record. Andy Cole in 1993/94, and Alan Shearer in 1994/95 both scored 34 times in a 42-game season, as there were 22 sides in the top flight back then. Haaland will now turn his attention back to the Champions League, where he will look to add to the amazing 47 goals he has registered in all competitions this term.
It was so easy for the home side that Guardiola took off both Haaland and John Stones, scorer of the first goal, at half-time. Stones scored a spectacular volley with his left-foot and has been brilliant for Man City so far this campaign. He's been used in a right-back and centre-back role, but been given the licence to move into midfield - especially in the Champions League tie against Bayern Munich last week.
To have an English centre-back with that level of technical ability and positional awareness perhaps doesn't get spoken about enough, but Stones has fulfilled the potential we saw at Barnsley and Everton before his big money move to the Etihad. He's certainly been helped by Guardiola, who has given him the confidence and tactical awareness to star in this City side.
For all of the chat around England's lack of centre-backs, and the form of Harry Maguire, in Stones they have one of the best in Europe. He perhaps hasn't been given the credit he deserves given the attacking talents in this Man City team but he's shown this term that he should be praised far more than he is.
🔵 Erling Haaland scores… AGAIN.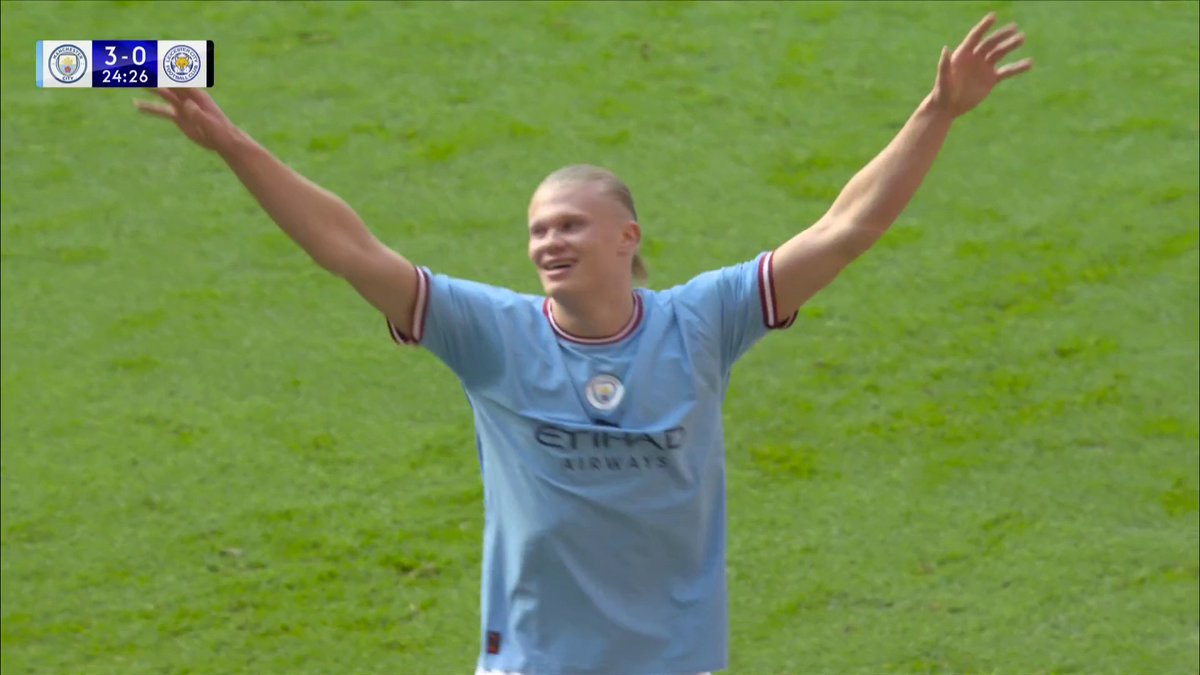 Once he'd gone off, Pep continued to ring the changes. Jack Grealish, Rodri and Kevin De Bruyne were all taken off and City lost their complete dominance of the game. It was almost as if the players off the bench couldn't inject any pace and there was certainly a sense of complacency from those on the pitch.
Guardiola had decided the 3-0 lead he has over Bayern Munich was more threatening than the 3-0 lead here and their casual attitude allowed Leicester to pull a goal back. Harry Souttar rose highest from a corner and Ederson and Kalvin Phillips got in each other's way to allow Kelechi Iheanacho to tap home.
The Foxes could have pulled another back when James Maddison intercepted the ball, but he couldn't continue his good goalscoring form at the Etihad as Ederson stopped his low effort.
But this was an easy afternoon, despite the late scare for Guardiola. Haaland is on the cusp of another record. Man City are surely on the cusp of major silverware this season.